Ready for a healthy Thanksgiving dinner?
Thanksgiving is just around the corner. A day for family, eating too much, and either playing football or sacking out on the couch.
My family has never placed a lot of emphasis on Thanksgiving. We keep our dinner relatively low key, and often times, will simply go out to dinner. Not a lot of preparation or high stress.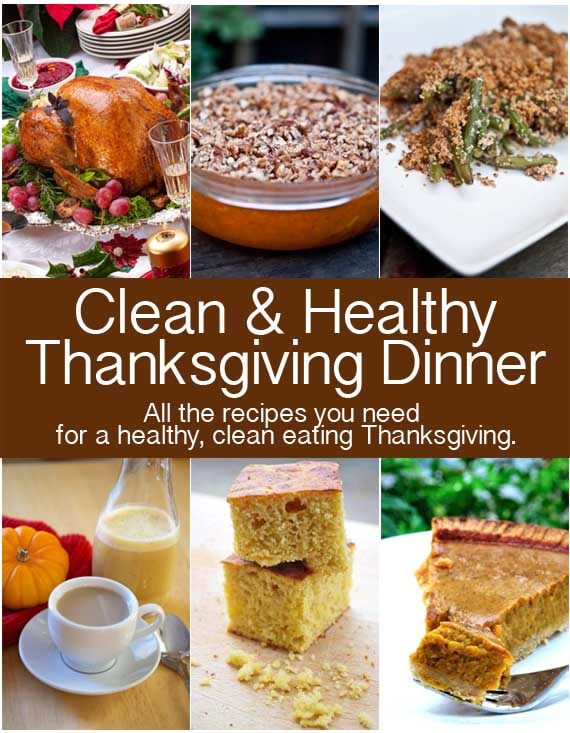 My mom (a German immigrant) always says,
Leave it to Americans to put a major holiday that close to Christmas.
And I have to agree with her. You see, in Germany, "Thanksgiving" is in October when the harvest actually comes in. Of course, they don't have Halloween, but that gives them the entire  two months to prepare for Christmas. And believe me, it can take them the full two months to prepare. So you can see why my Mom is a little disgruntled with Thanksgiving.
But now that Mini Chef is getting a little older, I'm starting to become a bit more inclined towards cooking a whole clean eating Thanksgiving dinner with all the fixings. My German upbringing is losing it's hold, and this all-encompassing American tradition is squeezing it's way in.
I have tried to clean up a few dishes every year so that eventually I can do an entirely clean dinner. So here's the collection I have so far. I'll add a few more next year, and the year after that….
WANT ALL THESE RECIPE IN ONE HANDY DOWNLOAD?
I have collected all my Thanksgiving recipes to date and put them in this handy ebook so you can have them all in one spot for only $5. Find it here.
All ebook sales are final. Book is delivered via email with a download link and is in pdf format.
FREE THANKSGIVING PLANNING CALENDAR!
I try to give you guys something free to go with your purchase. So here is a calendar to help you plan and get everything done for the big meal! Get it here.

CLEAN EATING THANKSGIVING DINNER RECIPES: