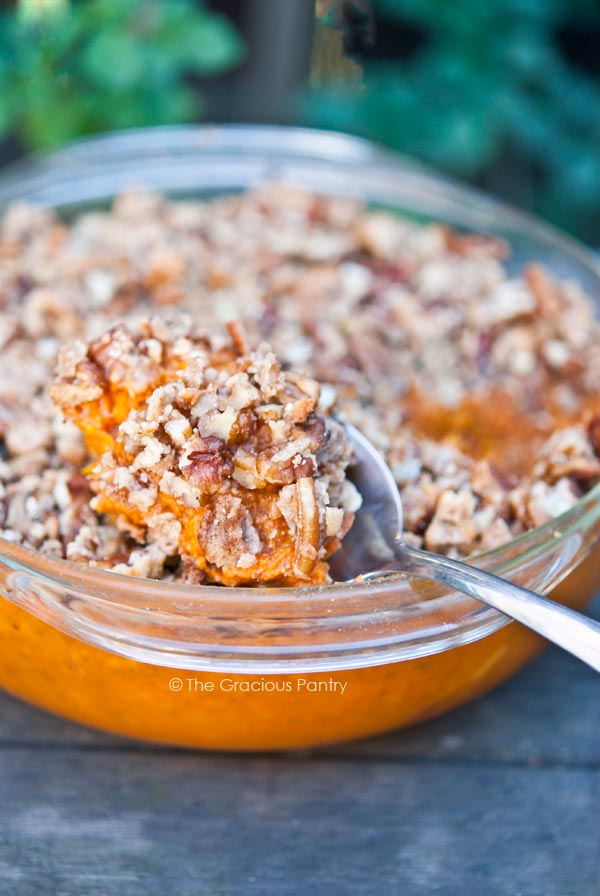 I have to admit, I've never made a sweet potato casserole before, clean eating or otherwise. Maybe because I've never hosted Thanksgiving before. But DA-ANG!! This turned out yummy!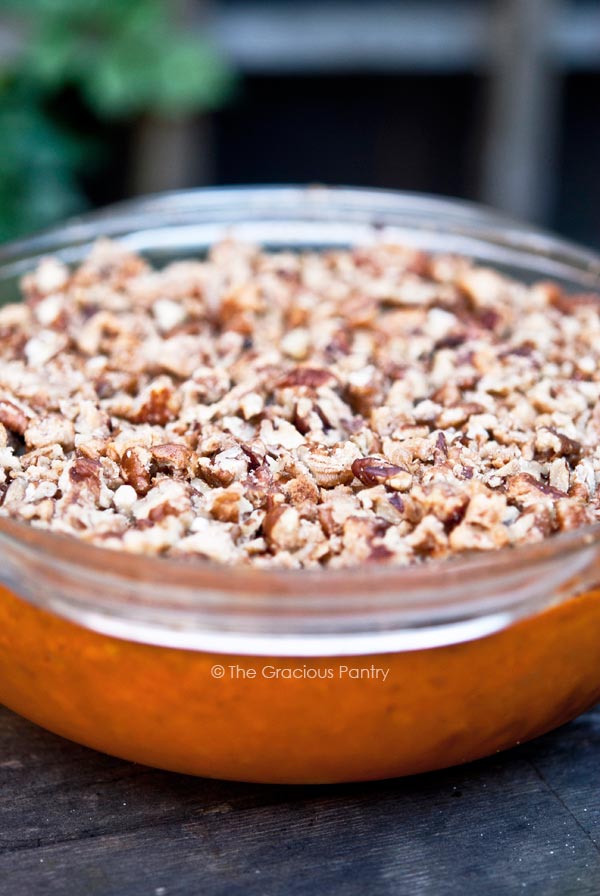 This is a combination of two recipes that I put together and then converted to clean eating. One recipe was from AllRecipes.com and the other was an annual favorite of my sister-in-law's mother. Neither recipe was clean, but the combination just sounded so good! So I combined the two and then converted the whole thing. I have to say, I'm really impressed with the results!
The filling is good all by itself. But the topping really "tops it off". I'll make this again year after year.

Clean Eating Sweet Potato Casserole
(Makes 8 small servings)
Topping Ingredients:
1 cup pecan pieces
1/4 cup honey
1/4 cup whole wheat pastry flour
1 tablespoon safflower oil
1/2 teaspoon cinnamon
Filling Ingredients:
3 pounds sweet potatoes
1/2 cup clean orange juice
1-1/2 teaspoons cinnamon
3/4 teaspoon ground nutmeg
1 tablespoon honey
Topping Directions:
In a large mixing bowl, combine all topping ingredients together using a wooden spoon. It will be clumpy and sticky.
Spread out mixture the best you can on a parchment lined cookie sheet.
Bake at 350 degrees F. for approximately 10-15 minutes. The mixture should have a nice golden color to it.
Remove from oven and allow to cool.
Transfer small portions to a large cutting board and chop roughly. Set aside.
Casserole Directions:
Wash the sweet potatoes and rub with oil. Place on a parchment lined cookie sheet and bake until easily pierced with a fork (about 30-40 minutes).
Remove from oven and allow to cool until you can handle them without burning yourself.
Peel the potatoes and place the inside in a large mixing bowl.
Add all other filling ingredients and mash with a potato masher or blend with a hand blender.
Transfer the potato mixture to a serving bowl. Sprinkle the pecan topping evenly over the potatoes and serve.
Note: You will most likely have some topping left over depending on the size of the dish you use. The leftovers are great for topping oatmeal or mixing in with granola.