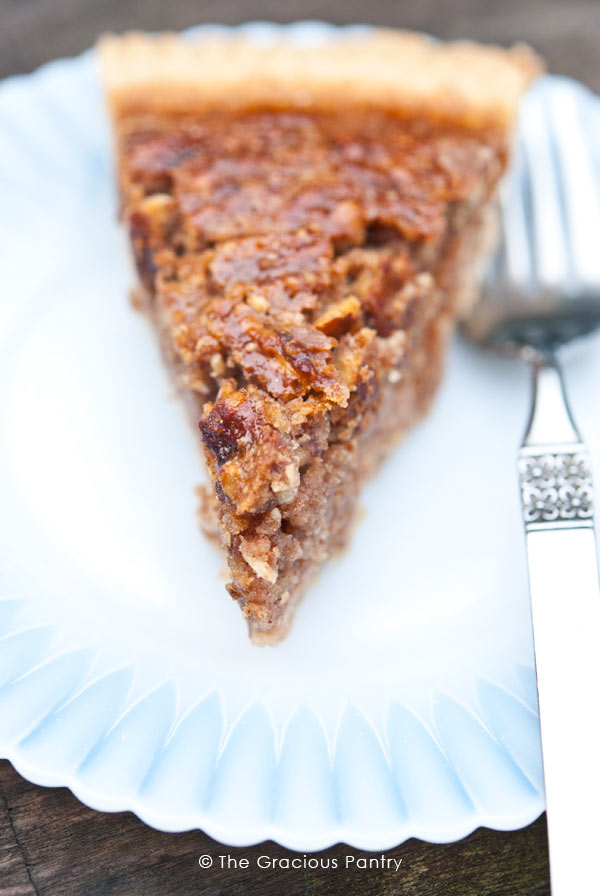 You asked for it! But I won't sugarcoat this for you. This pie may be clean, but it's definitely not conducive to losing weight. It is, however, technically clean.
Any time you have pecans, you're going to get a lot of fat. There's no way around that. Even this pie has a lot of fat. But the difference is, all the ingredients are real, whole food. So your body actually gets nutrition from it. Plus, the fat from the pecans is healthy fat. So even though this is still high in fat, it's far better than the stuff you buy or get in a restaurant.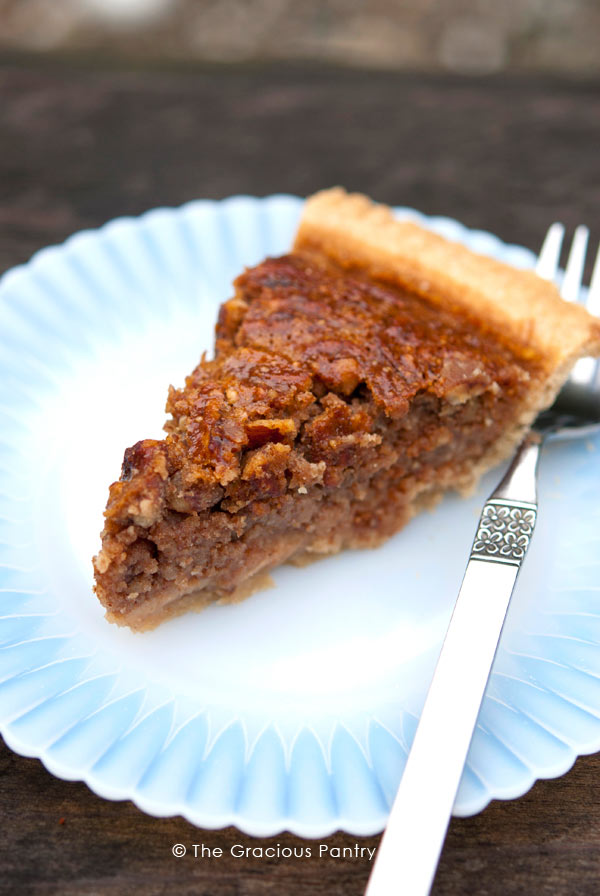 YOU MIGHT ALSO ENJOY:

Clean Eating Pecan Pie
(Makes 16 servings – One 9 inch pie)
NOTES ON THE HONEY: Please note that increasing or decreasing the honey will give you more or less filling. Using 3/4 cups honey is just right for filling a 9 inch pie. When I made my pie, I only used 1/2 cup honey and I have to say that it was plenty sweet. But I know that by other people's standards, it would be hardly sweet at all. I enjoy the natural sweetness from the nuts. So I didn't feel the pie needed much. So just be aware that if you go up to 1 cup of honey, you are really, honestly going to get a pie that is sickeningly sweet by my standards (which some people like).
Ingredients:
1 batch Clean eating pie crust recipe (Makes 2 pie crusts)
1/2 cup honey for a less sweet pie OR
3/4 cups honey for a medium sweet pie OR
1 cup honey for a sickeningly sweet pie
3 egg whites, whipped with a fork
2 tablespoons safflower or other light flavored oil
1 cup raw pecans pieces (chop fine after measuring)
1 cup raw pecan pieces
4 teaspoons vanilla extract
1 teaspoon ground cinnamon
3 tablespoons whole wheat pastry flour
Directions:
Preheat oven to 400 degrees F.
Mix all ingredients together in a large mixing bowl.
Pour batter into raw pie crust and bake for 10 minutes. Reduce heat to 350 degrees F, and continue to bake for 20-25 minutes. The pie should raise in the oven and have small cracks in the top when it's done.
Remove from over and allow to cool overnight.