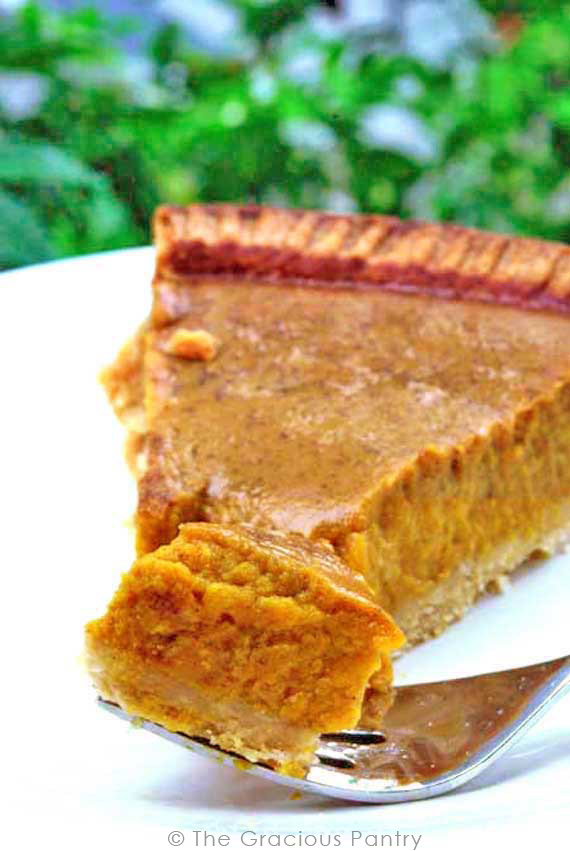 This recipe is one of my husband's favorites. He loves pumpkin pie, and I love that this recipe is not only easier on the waistline than most, but clean to boot!
I adapted this recipe from the book, Laurel's Kitchen Caring: Recipes for Everyday Home Caregiving
by Laurel Robertson. Although difficult to find in most book stores, it's well worth the search. The recipes are clean, but the focus is on nourishing and nurturing with food. I can't say enough about this book. I was lucky enough to find it for a $2 in a used book store. But a find like that is rare.

Clean Eating Pumpkin Pie
(Makes 2 traditional sized pies)
Ingredients:
2 cups prepared pumpkin
1/2 cup honey
4 egg whites, room temperature
1 1/2 teaspoons cinnamon
1/2 teaspoon ground ginger
1/4 teaspoon ground cloves
1 1/2 cups milk (you can substitute unsweetened soy, almond or rice milk)
Directions:
Combine all ingredients in a large mixing bowl, and mix thoroughly.
Pour mixture into pie crusts. (I used this recipe)
Bake at 425 degrees F. for 15 minutes.
Reduce oven temperature to 350 degrees F. and bake for 45 additional minutes.
Side Notes: This pie is not very sweet. If you prefer a sweeter pie, add an additional 1/4 cup of honey.