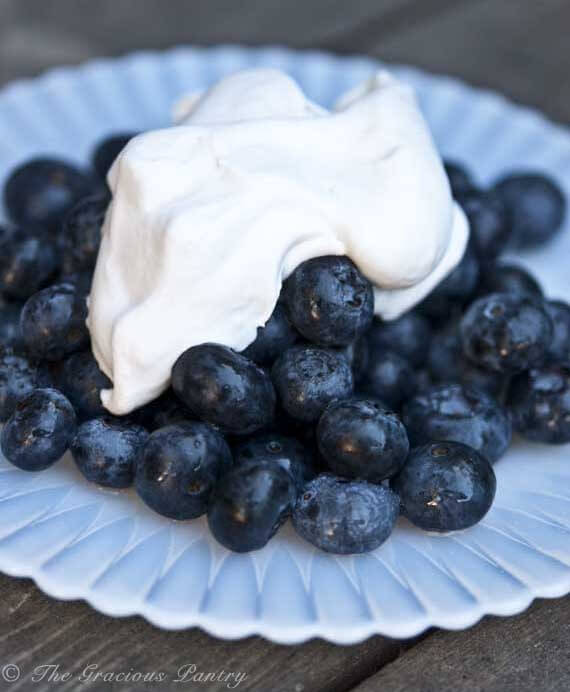 This post is in direct response to all of you who have emailed me or contacted me on Facebook looking for a clean eating version of Cool Whip. I've never had the stuff, but apparently, many of you find it quite addicting and tough to give up in your efforts to clean up your diet.
One of my wonderful readers, Kelsey, has her own clean eating blog (UPDATE: This blog appears to no longer exist.). She's an amazing 16-year-old who has a better head on her shoulders now than I did at 30! She's an amazing kid with tons of talent, and one of those talents just happens to be clean cooking. On her blog, she featured a recipe for Cream of Coconut. And although she didn't "advertise" it as such, it's the PERFECT replacement for whipped cream! While it may not be an exact replica of Cool Whip, I urge you to give this a try, because frankly, it's just like eating regular whipped cream (the real stuff)!
I should also tell you, that like real whipped cream, this is not something you want to eat every single day. It is high in fat. BUT, it's high in GOOD fats. And that, my dear readers, is a very important distinction. We all need our healthy fats. And I just cannot think of a better or tastier way to include them in your diet!
With Kelsey's permission, I've done my own version of her recipe which I will share with you here. It's not too far off from the original, but different enough to post here.
YOU MIGHT ALSO ENJOY:

Clean Eating Coconut Whipped Cream
(Makes approximately 32 servings)
NOTE: Be sure to purchase regular coconut milk in a can (not light coconut milk) and put it in the fridge overnight (minimum) so the cream will raise to the top of the can. I've found the longer it's in the fridge, the easier it is to get the cream out. I put mine in for two days the second time I made this. And hang onto that leftover coconut milk! I'll show you what to do with it in my next recipe.
Ingredients:
1 cup coconut cream (this is the approximate measure that you will get from 2 cans of coconut milk)
1 tablespoon honey
1 teaspoon vanilla extract
Directions:
Open your cans and scoop out the cream. You will have a bit of cream left behind in the coconut milk, but that's okay. You want avoid getting milk in with the cream as much as possible.
Using a blender or hand blender (you can try an electric mixer if you have a powerful one), beat together the coconut cream, honey and vanilla extract.
Put your coconut cream in a container and place it back in the fridge for a few hours to allow it to really solidify (if you can stand the wait!).
Note: If you find that even after chilling, the cream won't stiffen up, put it into a blender with 1 package of unflavored gelatin. Let it sit out for about an hour. Once it's thick as it should be, put it back into the fridge to chill further.
Nutritional Content:
(Data is for 1 tablespoon)
Note: There was no nutrition data for coconut cream on the NutritionData.com web site calculator, so I used the data for coconut oil. I'm sure there's a difference, but it's all I could find for this recipe.
Calories: 61
Total Fat: 7 gm
Saturated Fats: 6 gm
Trans Fats: 0 gm
Cholesterol: 0 mg
Sodium: 108 mg
Carbohydrates: 1 gm
Dietary fiber: 0 gm
Sugars: 1 gm
Protein: 0 gm
Please Note: Nutritional information estimated at Nutritiondata.com. Data may not be accurate and is subject to the availability of specific foods in their database. Where one ingredient is not listed, substitutions must be used. Therefore, you should not refer to this data as being exact. It's more of a ballpark figure. The Gracious Pantry does not take responsibility for the inadequacies of the nutrition calculator used. This data is provided as a courtesy and general reference only. It is not exact.