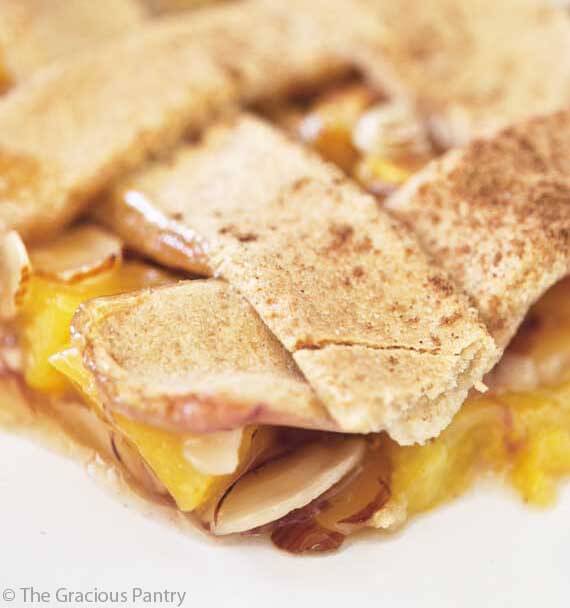 I buy my agave at Costco. It's a fantastic deal. And with those two bottles comes a little hang-tag that has a recipe on the back. A recipe for fruit cobbler.
Well, I just couldn't let that one pass me buy with all the peaches I have hanging around here at the moment.
And being the cook that I am, I just couldn't leave the recipe alone. I just HAD to change it, add to it, and personalize it. I just cannot help myself. It's a sickness really.
But the good news is, from my mental instability culinary creativity comes some really yummy recipes!
I should tell you that this recipe looks like it will be very time consuming. But the truth is, once the pie crust was made and the peaches were chopped, I put the whole thing together in under 10 minutes.
YOU MIGHT ALSO ENJOY:
UPDATE: Since writing this post, and I have discovered that agave is not clean. So this recipe now calls for honey.

Clean Eating Peach Almond Cobbler
(Makes 15 servings)
Ingredients:
PASTRY INGREDIENTS:
3 cups whole wheat pastry flour
1/4 teaspoon salt
1/2 cup safflower oil
1/2 cup milk or unsweetened almond milk
1/4 cup honey
1 teaspoon vanilla
FILLING INGREDIENTS:
6 cups peaches, chopped
1/2 cup honey
1 teaspoon tapioca starch or organic cornstarch
2/3 cup sliced almonds
TOPPING:
Cinnamon (for sprinkling)
Milk or unsweetened almond milk(for brushing over crust)
Pastry Directions:
Knead all ingredients together in a bowl.
Roll out dough on a flat work surface until it is no more than 1/4 inch thick.
Using a pizza cutter, cut 1/2 inch strips about the length of the casserole dish you will be baking the cobbler in. (Both width and length wise)
Filling Directions:
In your casserole dish, mix all filling ingredients together with a spatula.
Now preheat your oven to 350 degrees F.
Putting It All Together:
Since your filling is already in the casserole dish, all you have to do is weave your pastry strips "under and over".
Using a pastry brush, brush your milk over the pastry.
Sprinkle a light layer of cinnamon over the top of the cobbler.
Place in the oven and bake for 40 minutes. The filling should be nice and bubbly when it's done.
Note: This recipe will use only about half the pastry dough. What a great time to make an extra cobbler for a friend!