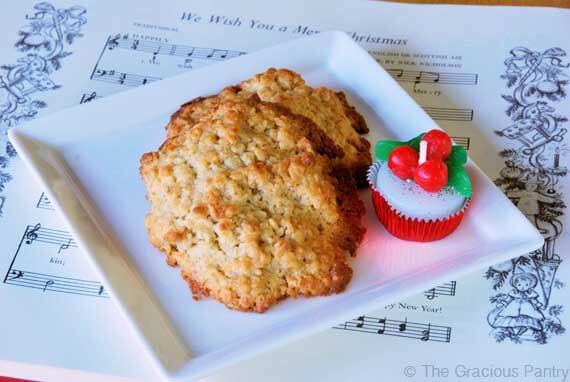 Oatmeal is great stuff if made properly. And these cookies are very… well… "proper"!
While these are a little high in fat, they are only to be enjoyed once in a while, and certainly make a much healthier treat than what you can buy in the stores.
Clean Eating Holiday Oatmeal Cookies
(Makes approximately 30 cookies)
Ingredients:

250 grams organic butter (1 cup + 2 tablespoons)
250 grams honey (Scant 1/2 cup)
2 whole eggs
225 grams whole wheat pastry flour (2/3 cup + 1 tablespoons)
250 grams quick cook oats (2 1/3 cups)
1 teaspoon baking powder

Flavor Options:
If you would like other flavors, you can divide the dough into 4 equal parts and mix in the following additions:
1 teaspoon unsweetened cocoa powder
1/4 cup chopped almonds or hazelnuts
2 teaspoons vanilla
1/4 cup cranberries, raisins or chocolate chips.
Directions:

Preheat oven to 350 degrees F.
In a large mixing bowl, beat butter, honey and eggs together until creamy.
In a separate bowl, mix flour, baking powder, and oat meal together.
Slowly, combine the two mixtures together.
Spoon small amounts out onto a parchment lined cookie sheet.
Bake for 10-15 minutes or until light, golden brown.
Nutritional Content:
(Data is for 1 cookie)
Calories: 129
Total Fat: 7 gm
Saturated Fats: 4 gm
Trans Fats: 0 gm
Cholesterol: 18 gm
Sodium: 21 mg
Carbohydrates: 15 gm
Dietary fiber: 1 gm
Sugars: 6 gm
Protein: 2 gm
Estimated Glycemic Load: 9
PLEASE NOTE: Nutritional Information estimated at Nutritiondata.com. Data may not be accurate and is subject to the availability of specific foods in their database. Where one ingredient is not listed, substitutions must be used. Therefore, you should not refer to this data as being exact. It's more of a ballpark figure. The Gracious Pantry does not take responsibility for the inadequacies of the nutrition calculator used. This data is provided as a courtesy and general reference only. It is not exact.