These delicious cookies are delightfully different and easy to top with just about any festive topping you like!
Made with a hefty dose of almond butter, these cookies are best served either warmed or at room temp. (They tend to get a little hard in the fridge, even though that is where you should store them).
This post created and shared in collaboration with eBay.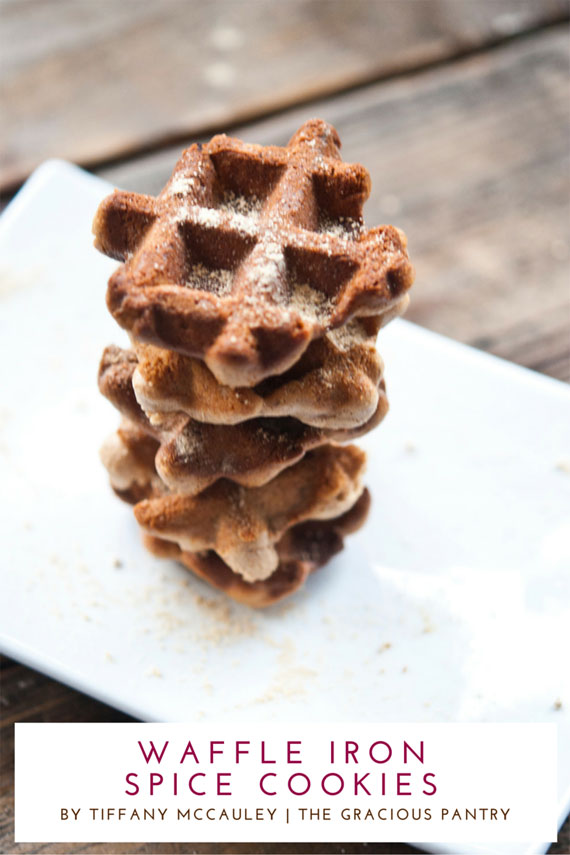 These would be great on any holiday dessert table and I can definitely see these being amazing with some clean, chocolate fondue! Oh my, I'm drooling…
YOU MIGHT ALSO ENJOY:

Clean Eating Waffle Iron Spice Cookies Recipe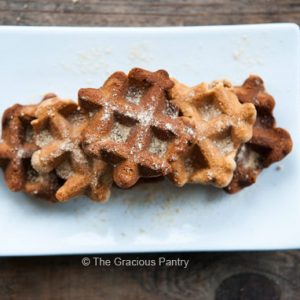 Author:
Tiffany McCauley | The Gracious Pantry.com
Yield:
Depends on the size of your cookies.
Ingredients
1 cup creamy almond butter
¾ cup honey
1 egg
1½ tsp. pure vanilla extract
¼ tsp. ground allspice
⅛ tsp. ground ginger
⅛ tsp. ground nutmeg
⅛ tsp. ground cloves
1½ tsp. ground cinnamon
1 cup whole wheat pastry flour
Instructions
Set your waffle iron to a low to medium temperature. You may have to sacrifice a test-cookie or two to get the temperature just right for these.
Combine all ingredients in a medium mixing bowl and whisk together until smooth. Add and adjust the flour last and as needed.
If the batter is too runny, add about ¼ cup flour at a time, mixing well after each addition, until you have a thicker batter. You want it to be scoopable.
With a small dough or ice cream scoop, scoop small amounts of batter and place in the middle of each quarter of your waffle iron. Close the lid and cook until you have a nice golden color.
Remove from waffle iron and cool. Flip them over to see the waffled side.
Sprinkle with some powdered Sucanat or coconut sugar and serve.
THIS RECIPE CREATED FOR EBAY. YOU CAN VIEW THE ORIGINAL RECIPE WITH ADDITIONAL PHOTOS HERE: