Thanksgiving Turkey Recipe
This post may contain affiliate links. Read my
Privacy Policy.
As an Amazon Associate I earn from qualifying purchases.
This Thanksgiving turkey recipe is sure to please the entire family this holiday season!
Well, I did it. I have put it off for years, but this year I finally got it done. A recipe for my family's Thanksgiving turkey.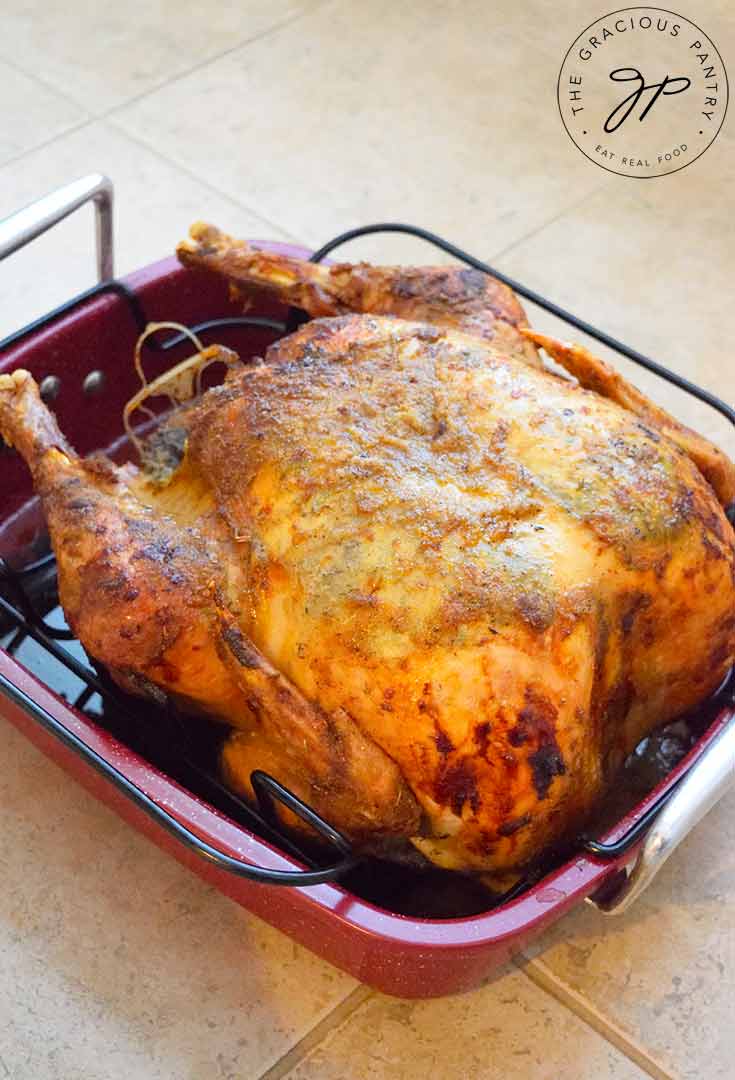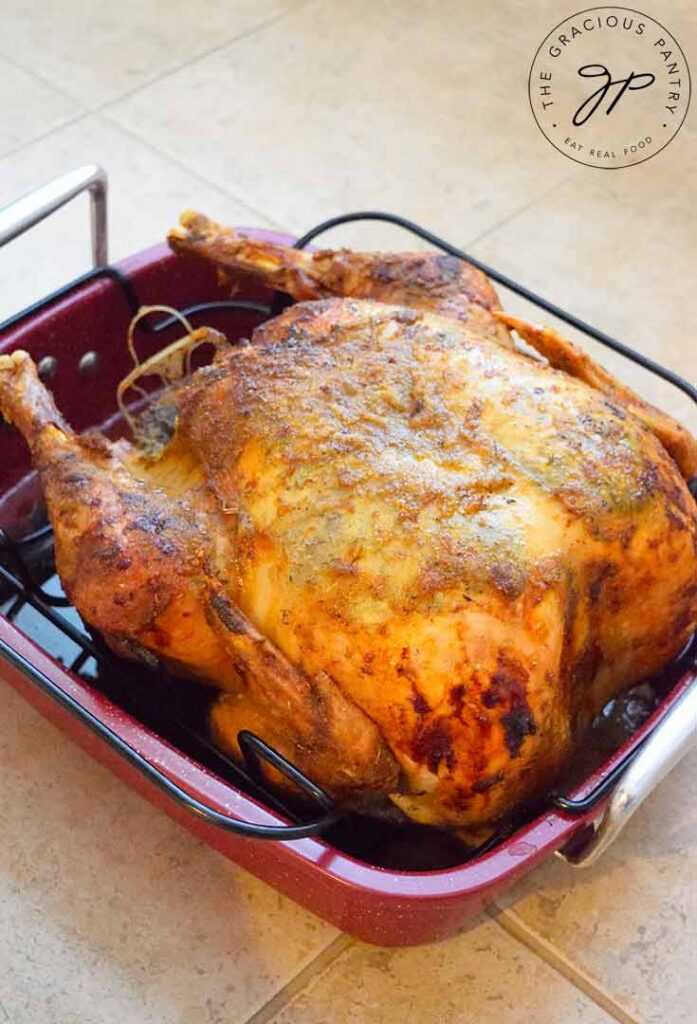 Find All My Thanksgiving Recipes Here!
LET'S GET STARTED!
Cooking a turkey is no harder than baking a whole chicken. You are just dealing with a bigger bird. Here I will share with you how I do it, step by step, to get a moist, delicious turkey every time. And I promise it's not as hard as you may think!
If you are new to cooking a whole turkey, you may want to pick up a small one and practice early, particularly if you will be hosting. But outside of that, just follow the steps.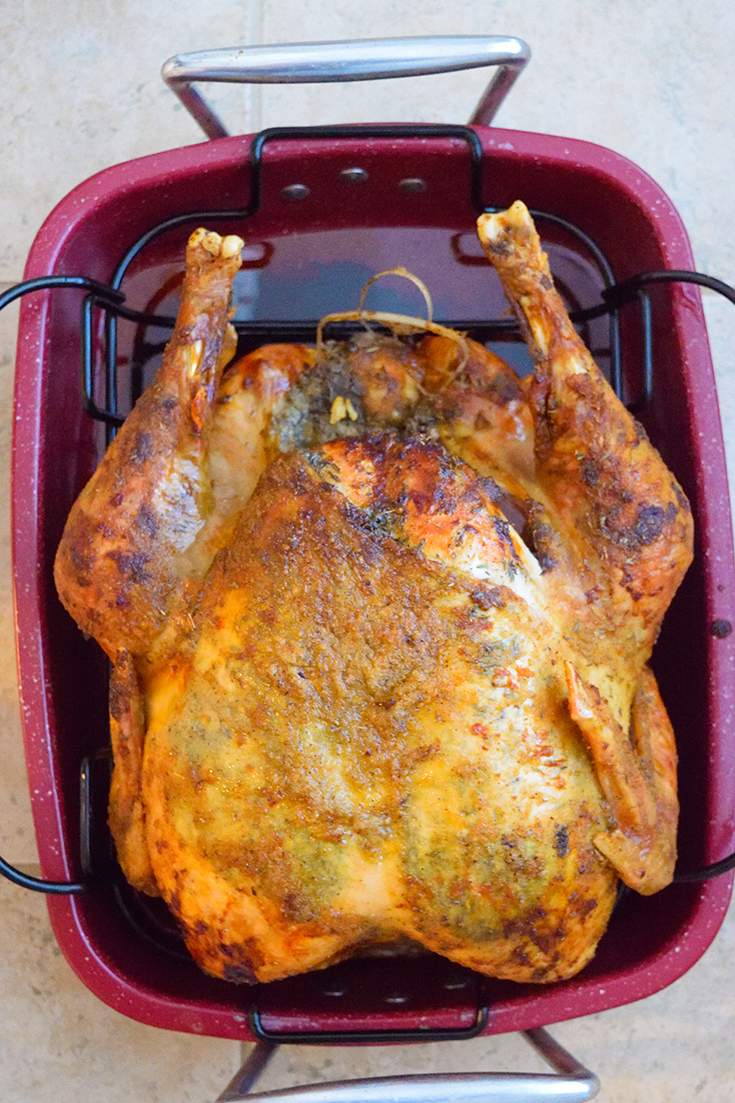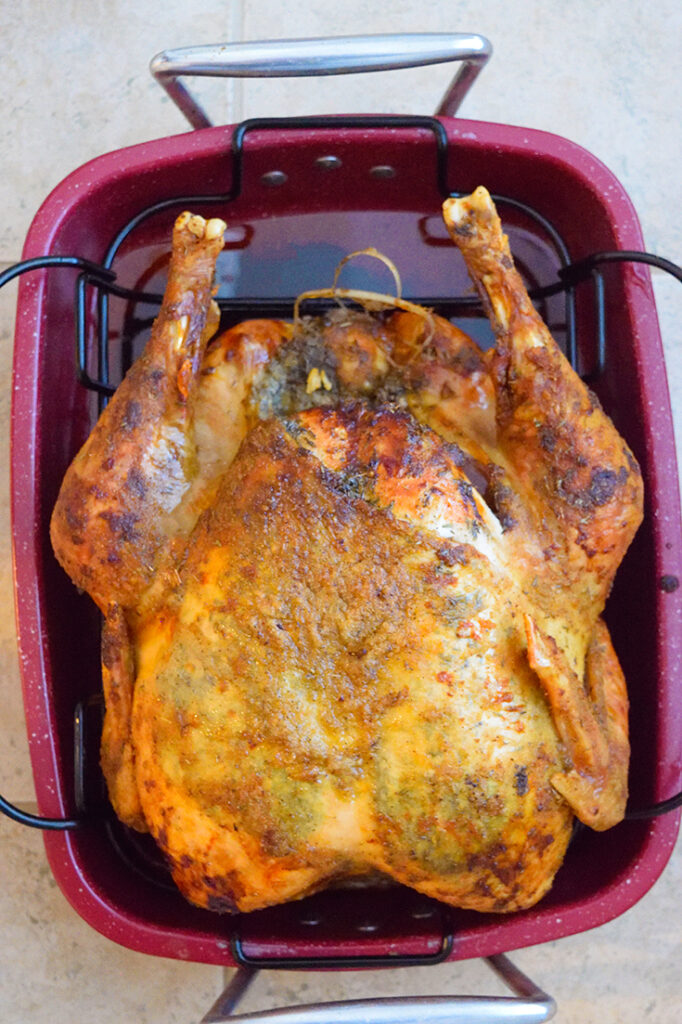 How Big Of A Turkey Do You Need?
You will want to have a chat with your butcher if you've never done this before. Purchase your turkey based on the number of people you will be feeding. Generally speaking, you want about 2 pounds per person. However, if you feel better being exact, here is a calculator on the ButterBall website that will help you figure out exactly how big of a bird to buy, or just talk to that very knowledgeable butcher behind the meat counter!
How To Thaw A Turkey
The number of days it will take to thaw your turkey is again, dependent on the size of the bird. You can ask that same butcher, or follow these simple instructions on the ButterBall website. But basically, you want to allow 1 day for every 4 pounds of bird.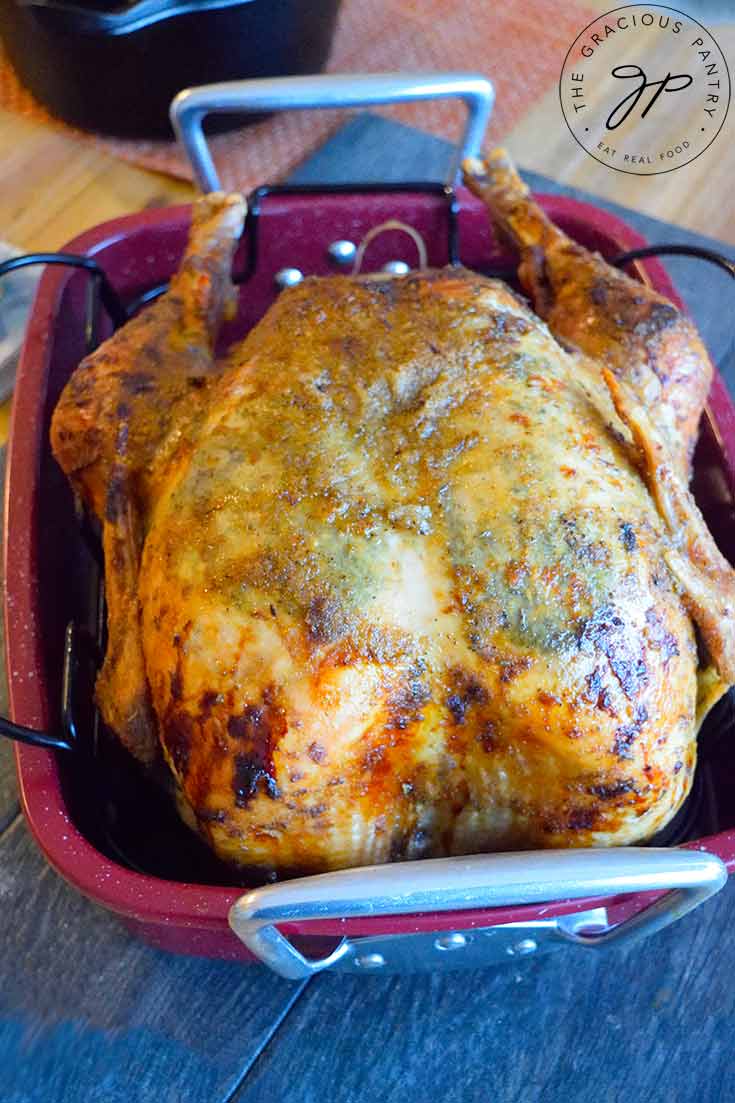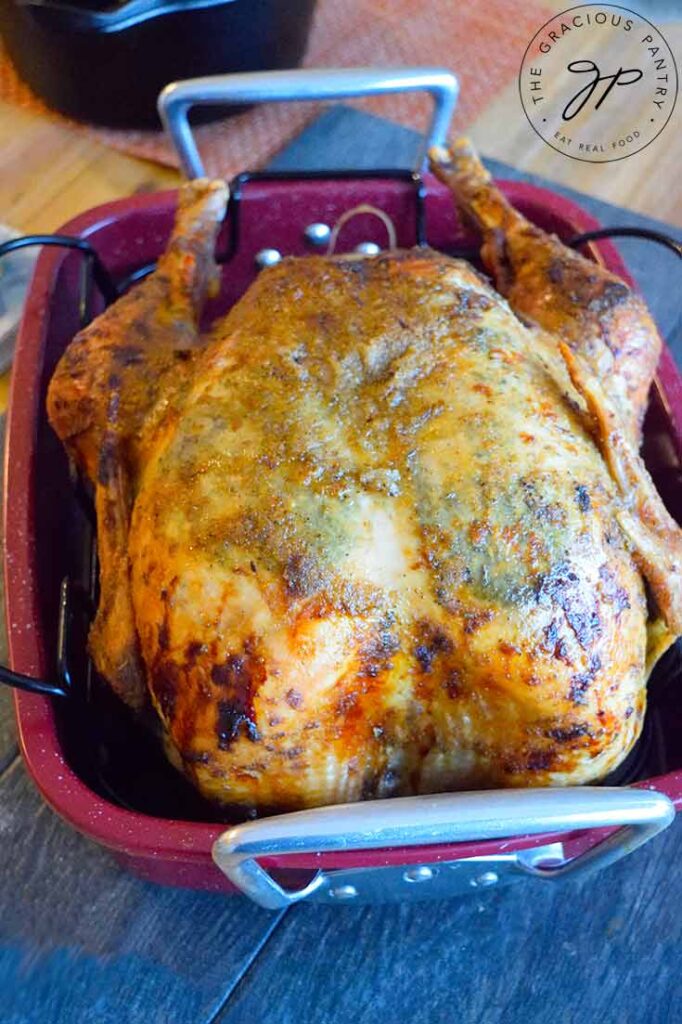 Prepping A Turkey
Once thawed, you want to remove the neck and gizzards stored inside the turkey cavity. I make my gravy from turkey drippings, but if you prefer, you can save the neck to make gravy from that.
I always rinse my turkey and remove any left-behind feathers. Then I place it on the rack and get to work seasoning it. (Instructions below)
TROUBLESHOOTING
The only issue I ever have with cooking my turkey is that some of the deeper parts of the bird can sometimes still be raw. Here's how to troubleshoot an undercooked turkey.
AFTER SERVING
Don't forget that you can make excellent broth from a turkey carcass. So be sure to save the bones once all the meat has been removed.
ABOUT THE OIL
My turkey was about 12 lbs. With a smaller turkey, use ½ cup oil. For a larger turkey, use 1 cup. For a very large turkey (like 20 lbs.), use 1 ¼ cup.
Get all my most popular Thanksgiving recipes in this one handy download!
Get it here!
More Healthy Thanksgiving Recipes
Thanksgiving Turkey Recipe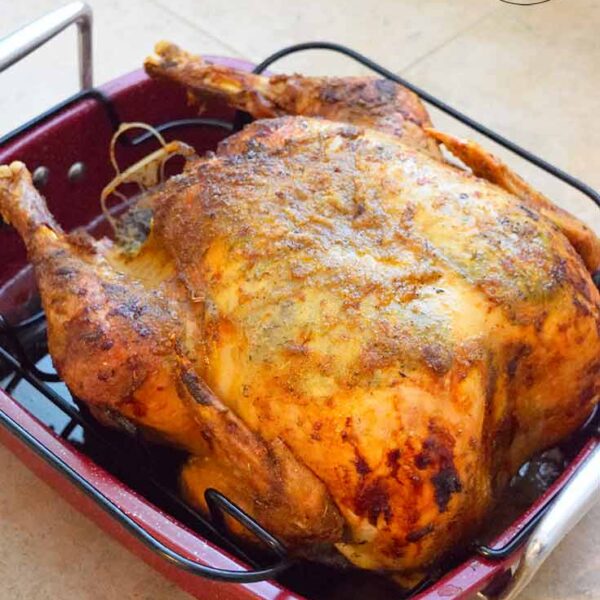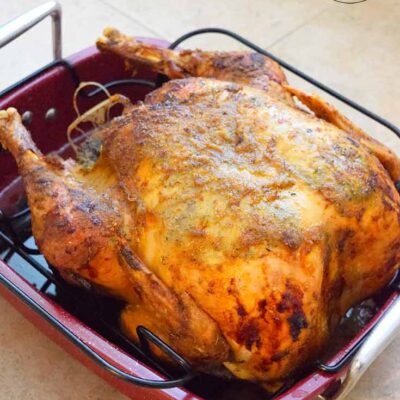 Thanksgiving Turkey Recipe
Thanksgiving isn't complete without a delicious turkey decorating the table.
Print
Pin
Rate
Add to Collection
Go to Collections
Ingredients
¾

cup

oil

1

tbsp.

garlic powder

1

tbsp.

onion powder

1

tbsp.

dried parsley

1

tbsp.

dried rosemary

1

tbsp.

poultry seasoning

(no sugar added)
Instructions
Place the prepared turkey on the cooking rack inside the roasting pan.

In a small mixing bowl, combine the oil and spices.

Run your hand between the skin and the breast of the turkey, separating them. Do this slowly and gently so you don't rip the skin.

Once that is separated, spoon plenty of the oil mixture under the skin. As much as is needed to get good coverage with the herbs.

The remainder of the herb mixture can be rubbed and massaged into the entire exterior of the turkey, as well as a little inside the turkey too.

IMPORTANT: If you want a moist, tender turkey breast, rotate the turkey on the rack so that it is "breast-down". NOT breast up, as many people tend to do. Cooking your bird breast-down allows all the moisture to settle into the breast.

Cook according to package directions that came with your turkey (usually printed on the plastic wrapper), basting it about every ½ to 1 hour once you have drippings in the bottom of the baking pan.

In the last 20 minutes of baking, quickly remove the turkey from the oven and rotate it so that the breast is on top. Baking the turkey breast-up for the last 20 minutes will allow the breast to become that nice, golden-brown color we all like to see at the Thanksgiving table.

Insert a thermometer into your turkey to ensure it is done. Never go by the outside color alone. A thermometer is critical. Here are the places on the turkey you can insert a meat thermometer to get an accurate reading.

Notes
Nutrition data not available for this recipe.
Recipe from the Gracious Pantry archives, originally posted 11/14/15.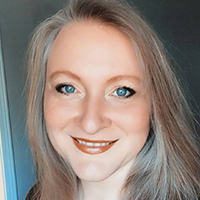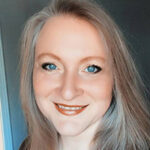 Who me?
I'm Tiffany, a cookbook author, food lover, mom, and writer for MSN and the AP Newswire.
   
Looking to stock your freezer for busy weeknights?
I wrote the book! Grab a copy of my book, Clean Eating Freezer Meals on Amazon here, or at select bookstores nationwide!   
Did you make one of my recipes?
Tag @graciouspantry on Instagram or post your pic on Facebook! I love to see my recipes in action!