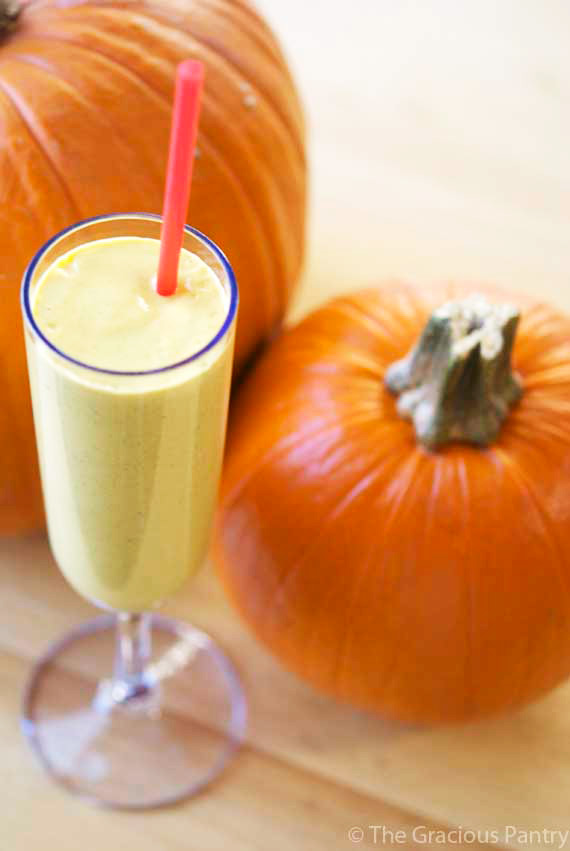 This is the closest you'll ever get to drinking pumpkin pie.
And the nice thing is that the oats will keep you full for hours! I promise!
I've really been on a smoothie kick lately. Maybe it's a mental thing because I know I'll be giving up grains and dairy soon (doctor's orders). But for some reason, I just cannot get enough smoothies.
Since pumpkin week is going on right now as well, I guess I felt a little inspired too. I mean, fall and pumpkin (and pumpkin spice!) just go hand in hand. What better time of year to have a pumpkin oatmeal smoothie???
I will say that this one should be a once-in-a-while treat since it a little higher in sugar. But even once in a while, this is a wonderful recipe to have on hand.
Stay tuned, I'm working on a gingerbread oatmeal smoothie next. Yum!
YOU MIGHT ALSO ENJOY:

Clean Eating Pumpkin Pie Oatmeal Smoothie
(Makes 6 cups)
Ingredients:
2 cups plain, non-fat Greek yogurt
1/2 cup rolled oats
1 cup pumpkin puree (canned or homemade)
2 teaspoons pumpkin spice, no sugar added if purchased
1/2 cup honey (you can use less. Just add to taste.)
2 teaspoons vanilla extract
Ice, any amount you want
Directions:
Blend all ingredients until smooth and serve.
Note: I have a very powerful blender. If you find your blender can't handle the thickness of this smoothie, feel free to add some milk or water to get things flowing smoothly.