Clean Eating Mango Oatmeal Smoothie Recipe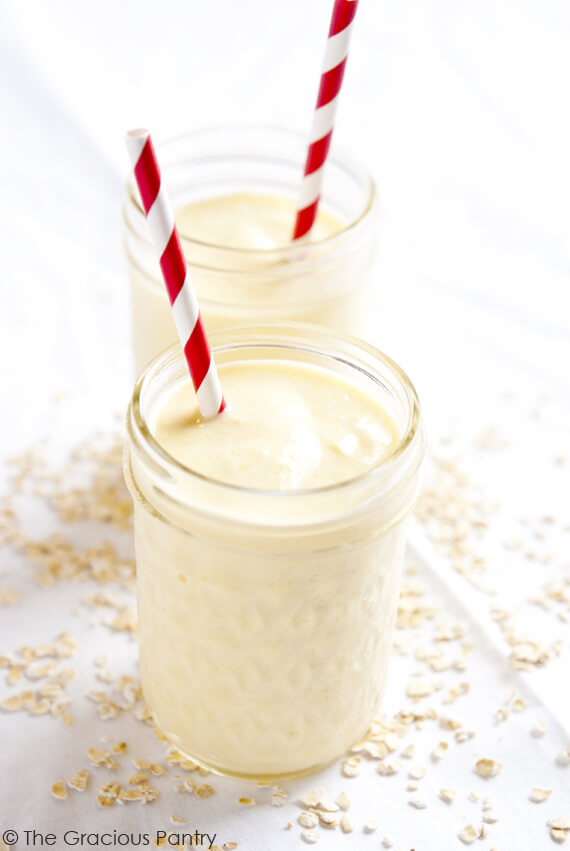 Need a quick breakfast that will travel with you in the car? With just a travel mug, you can have breakfast ready in under 5 minutes and be out the door!
This refreshing smoothie will also keep you full longer due to the protein from the cottage cheese and the raw oats. This make a great after-workout smoothie as well. Plenty of protein, fiber and flavor. It hits the spot every time!
Note: Most cottage cheese is not clean. I have heard of some people that have found some, but I have never found a brand that is completely clean. That being said, if cottage cheese is the worst thing in your eating plan, I'd say you're doing pretty good. You just can't beat the convenience of a good cottage cheese. I say, buy the best quality cottage cheese you can afford and call it a day. Just my two cents…
YOU MIGHT ALSO ENJOY:

Clean Eating Mango Oatmeal Smoothie Recipe
Author:
Ingredients
3 cups frozen mango, no sugar added (fresh works too, but cut back a bit on the milk initially)
1 cup cottage cheese
1/3 cup milk (more as needed to reach desired consistency)
1 tbsp. raw honey (optional if needed, add to taste)
1/4 cup raw, uncooked oats (quick oats give the best texture but are a bit more processed than whole oats)
Instructions
Put all ingredients in a blender and blend until smooth.
Note that there may still be a bit of texture due to the raw oats. But it's the oats that will keep you full until lunchtime.