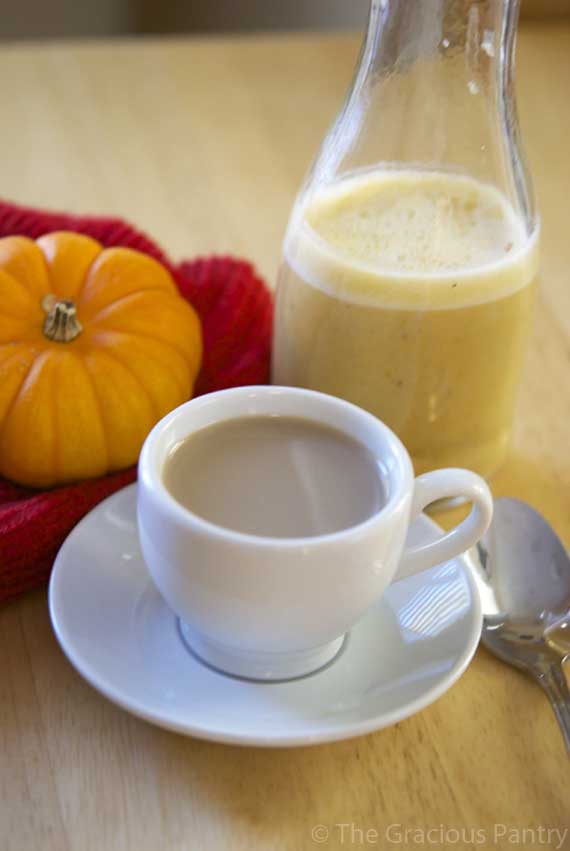 I do love pumpkin time. And pumpkins. And eating them. And now, I can even drink them! Oh, when did life become so perfect?
I absolutely adore this creamer. It's just creamy enough, you can taste the REAL pumpkin in it (nothing worse than fake pumpkin flavoring… yuchhhhh!), and it's totally low in fat and calories! (Providing you don't add the entire bottle to an enormous cup of coffee like my husband did.)
Yup, needless to say I had to make two batches of this to get any. But it was so worth the five minutes it took to make it. Seriously worth it. You'll see….
YOU MIGHT ALSO ENJOY:

Clean Eating Pumpkin Pie Coffee Creamer
Ingredients:
1 cup unsweetened almond milk
1/2 cup raisins
2 tablespoons pumpkin puree
1/4 teaspoon pumpkin spice, no sugar added if purchased
1/2 teaspoon vanilla extract
Maple syrup to taste (optional)
Directions:
In a medium mixing bowl, combine the milk and raisins, cover the bowl with plastic wrap and set in the fridge overnight.
In the morning, strain out the raisins from the milk.
Using a blender or immersion blender, blend in the rest of the ingredients.
Note: There will be a lot of sweetness from the raisins. But once the creamer is in the coffee, you may actually need a bit more sweetness, depending on your tastes. That's where the maple syrup comes in. You can add it to your creamer or simply to your coffee. Either way. I've also found that you can actually blend the raisins into the creamer and then strain out the chunky bits. That increases the sweetness as well.