How to Make Peanut Brittle Without Corn Syrup
This post may contain affiliate links. Read my
Privacy Policy.
As an Amazon Associate I earn from qualifying purchases.
Use this recipe to learn how to make peanut brittle without corn syrup! Then, you can enjoy the old-fashioned candy without feeling guilty about the calories, sugar, and processed ingredients. It makes a great holiday food gift!
When I was a little girl, my grandmother would make a peanut brittle recipe every year for Halloween and Thanksgiving. It was a staple in her house and I looked forward to it all year long. She had an electric skillet she used and I loved digging it out for special occasions because I knew only something good and tasty would come from it.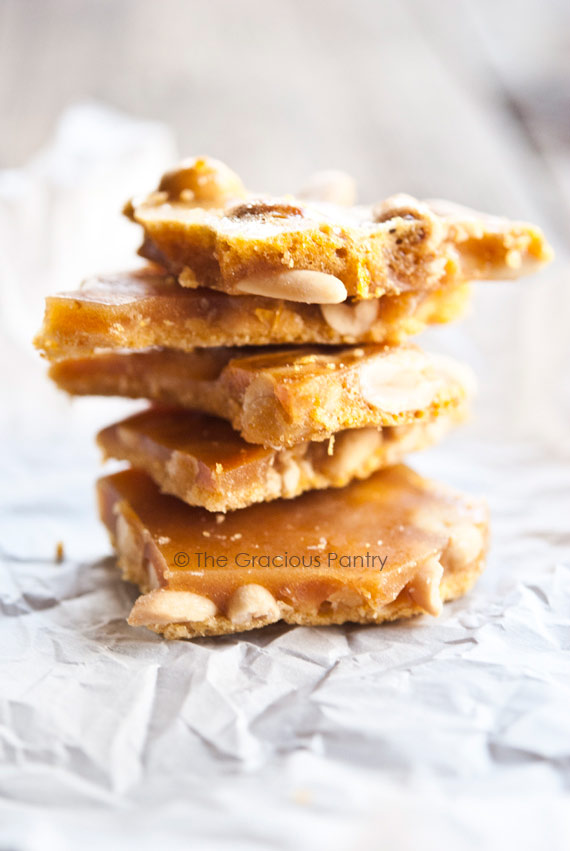 While it's definitely a once-in-a-while treat (it still has lots of sugar, even if it is honey), it's a tradition I'm keeping alive for Mini Chef.
I just got an electric skillet for $20 off craigslist (don't you just love craigslist???!!!) and we immediately got to work on this recipe. You don't have to have an electric skillet for this, but it sure helps because you can set the temperature so easily. But again, totally not necessary.
How To Make Peanut Brittle
The first batch we tried didn't get hard enough and was pretty sticky. But the issue was that I tried to make it without using a candy thermometer and that did not work out so well. I also heated the honey to the temp in the recipe I adapted from (275 F.), and it just didn't do the trick. Maybe it was my cooking method or a difference in altitude or any other number of things. It's hard to say. So the second time around, I took the temp up to 302 F. (hard crack stage) using a candy thermometer and it did much better.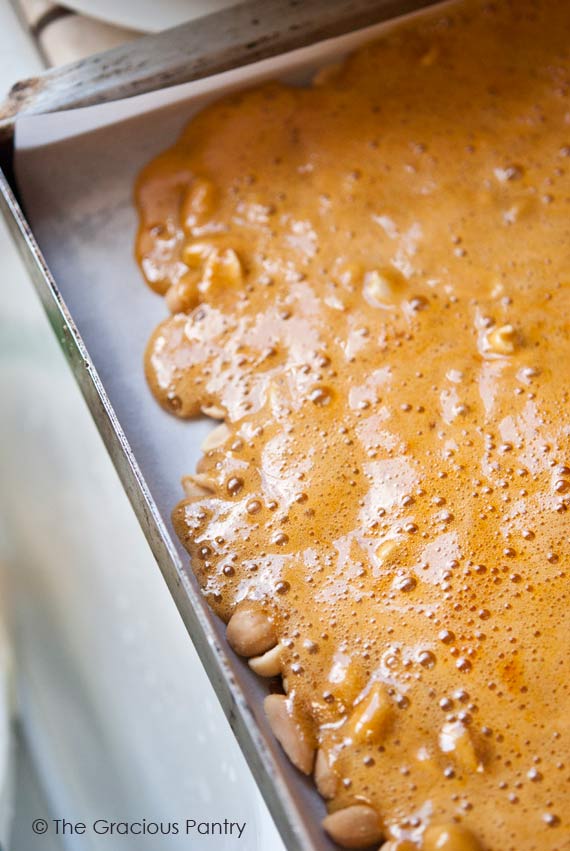 Please know that the parchment paper called for is an absolute necessity unless you want to scrape hard candy off your cookie sheet for an hour or two, or waste the whole thing by soaking it off. So don't skip that!
Recipe adapted from The Nerdy Farm Wife.
More Naturally Sweetened Candy Recipes
Peanut Brittle Recipe W/Out Corn Syrup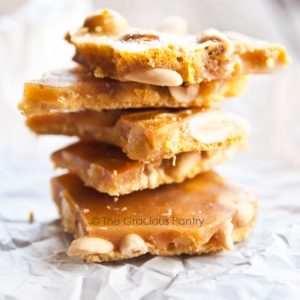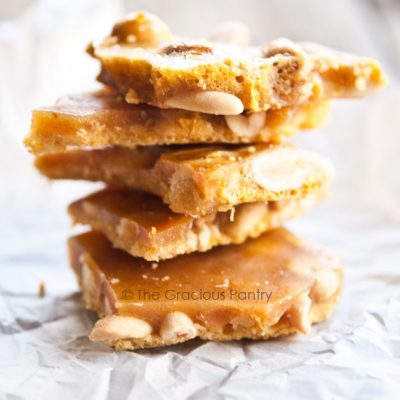 Peanut Brittle Recipe without Corn Syrup
I make this once a year, and once a year, I suddenly have long lost friends who track me down. This Clean Eating Peanut Brittle Recipe is absolutely perfect for the season.
Print
Pin
Rate
Ingredients
1

lb.

roasted, lightly salted peanuts

3

cups

honey

¾

cup

good quality butter

2

tsp.

baking soda

1

tbsp.

pure vanilla extract
Instructions
Prep your freezer so you have a place to place your cookie sheet. Remember, the bottom will be hot.

Spread the peanuts out over a parchment-lined cookie sheet with edges, spreading them out in an even, single layer.

Using an electric skillet or large, stainless-steel pan, heat the honey until it reaches 302 F. on a candy thermometer.

Stir in the butter first, melting it completely.

Then stir in the baking soda and finally the vanilla (which will sizzle). You want to stir everything in pretty quickly. Don't dawdle.

Let it cook for about 30-60 more seconds to let everything combine well, stirring constantly.

Pour the honey mixture over the peanuts and transfer the tray to your freezer for about 1 hour. It's okay if it doesn't reach the sides of the cookie pan. Just make the whole thing as level as you can.

Make sure you can lift the brittle out of the pan after freezing. Loosen the edges if needed. Break into pieces of an appropriate size and store in a zipper-top bag in the freezer until you are ready to eat.

Notes
Nutrition data not available for this due to being unable to divide into equal servings.
Recipe from the Gracious Pantry archives, originally posted 12/7/15.