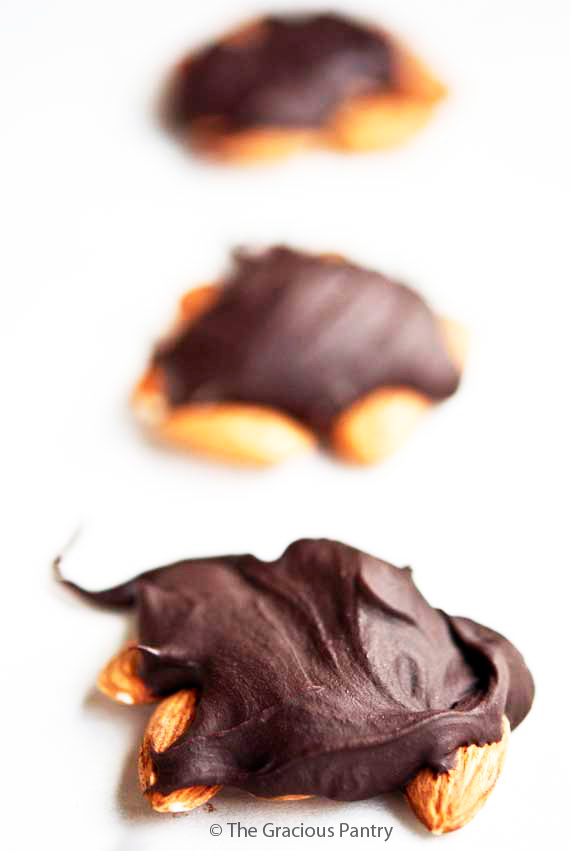 I just couldn't help doing a candy post for the upcoming holiday. I mean, who doesn't like a good chocolate turtle?
And far be it from me to tell anybody that they can't have a treat such as chocolate on their clean eating diet. I would be quite the hypocrite, because frankly, I just couldn't stop eating these little morsels!
So go ahead! It's a holiday! Indulge! You can thank me later.
YOU MIGHT ALSO ENJOY:

Clean Eating Chocolate Turtles
(Makes 18 turtles)
Ingredients:
4 squares unsweetened baker's chocolate
3 tablespoons brown rice syrup
1 tablespoon honey
108 almonds (I used raw almonds – 6 for each turtle)
Directions:
Melt chocolate in microwave for 2 minutes. Stir. (Or, melt in a slow cooker on low heat until melted)
Continue melting chocolate in microwave in 30 second intervals, stirring after each one.
When you have very small clumps left, stop microwaving and just stir until the chocolate melts completely.
Stir in brown rice syrup and honey.
Portion out 6 almonds for each turtle on a parchment lined cookie sheet.
Pour approximately 2 tsp. chocolate over each cluster of nuts.
Refrigerate for at least 2 hours.
Storage: Keep in refrigerator.