I refer to this shake rather lovingly as, "The Elvis Shake". While it may not convince you to start doing pelvic thrusts down your driveway on your way to the car in the morning, it will certainly put a spring in your step!
And lets face it, there are a lot of peanut butter lovers out there. So I know many of you will enjoy this. Don't let the green color throw you off either. You can't taste the spinach. I promise! Just pure, peanut buttery deliciousness. Promise!
So go ahead. Try a few pelvic thrusts in the kitchen while you make this. You'll be singing Jailhouse Rock in no time and slicking back your hair like it's made of silk. Go ahead… I dare ya…. (just don't throw your back out please…)
NOTE: For those doing the No Sugar Challenge, this entire recipe equals 1 serving of the 3 allowed fruit servings per day. Therefore, 1 serving equals 1/2 of one fruit serving.
YOU MIGHT ALSO ENJOY:

Clean Eating Peanut Butter And Banana Smoothie Recipe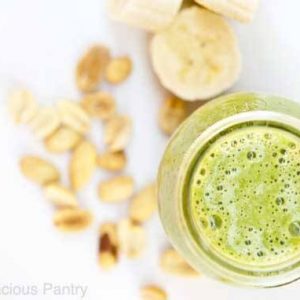 Author:
Tiffany McCauley | The Gracious Pantry.com
Ingredients
1 cups unsweetened almond milk
1 cups spinach
1 medium banana
1 tablespoon peanut butter, no sugar added
½ teaspoon vanilla extract
Instructions
Blend and serve.