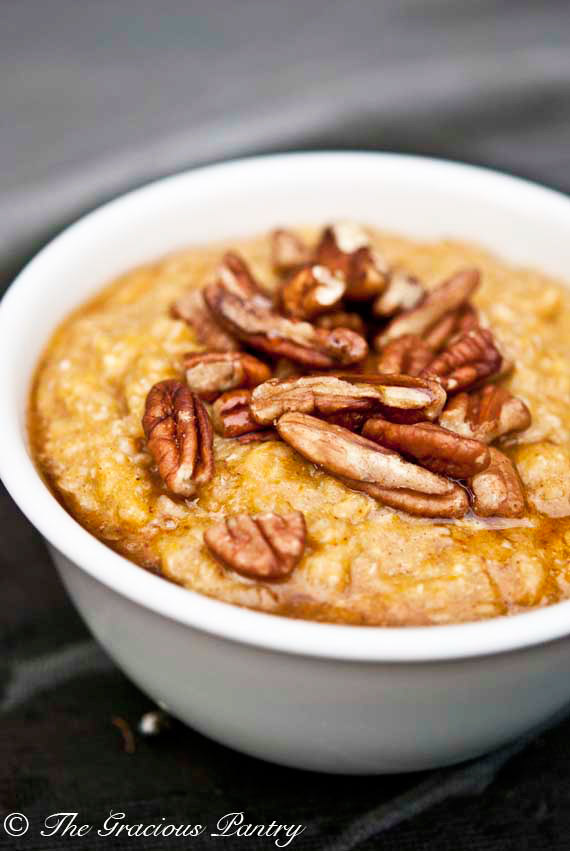 A while back, I started "The Oatmeal Project". My intent was to create 365 ways to eat your morning oats. The response I have gotten has been so amazing, that I'm considering starting an entirely new blog for this little project of mine! How fun would that be!?!
But until I do, I had to share this incredible oatmeal recipe with you. It was submitted by Lynn (Comment #96).  In one word, A.M.A.Z.I.N.G!
This one is right up there with the peanut butter oatmeal for me. Definitely one of my favorites so far. If you like pumpkin pie, you'll love having this for breakfast! The aromatic pumpkin spices, crunchy pecans, and delicately sweet maple syrup will make you beg for the holidays to come back. It might even force a Christmas tune or two out of you. You never know. Stranger things have happened.
YOU MIGHT ALSO ENJOY:

Clean Eating Pumpkin Pie Oatmeal
(Makes 4 servings)
Ingredients:
1 cup dry oats, cooked
1/2 cup pumpkin purée
1 teaspoon pumpkin pie spice, no sugar added
4 egg whites (optional)
1/4 cup pecans per serving
Maple syrup to taste
Directions:
Cook the oats according to package directions.
In the last 5 minutes of cooking (just take a guess, the oats should basically be pretty much done cooking), quickly stir in the eggs, being sure to stir vigorously so they get well-distributed. Then, stir in the pumpkin purée and pumpkin spice.
Put some oats in a bowl and top with pecans and maple syrup.
Note: the egg whites were added in order to get more protein. They are optional.