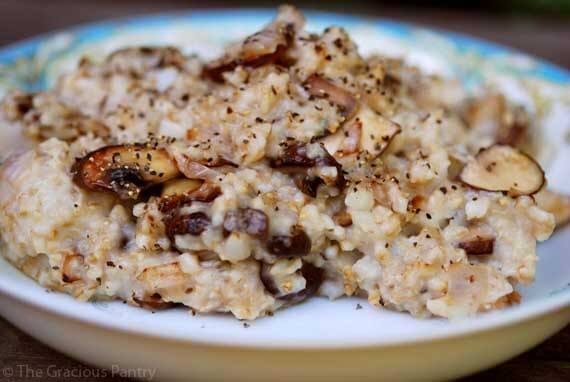 One of you wonderful readers suggested this fabulous recipe.
I was really hesitant to try it. I've always eaten my oatmeal with fruit and other sweet things. The thought of savory oatmeal really kind of made my stomach turn. But I've been feeling a little brave in the kitchen as of late, so I went for it.
OMG! I swear to you, this is my new FAVORITE way to eat oatmeal. I could eat it this way every day for the next year and never get tired of it. It's really that good.
So thank you Mary (comment #32), for sharing this incredible recipe! My husband and mother-in-law thank you too. They don't like oatmeal, but they really liked this!
YOU MIGHT ALSO ENJOY: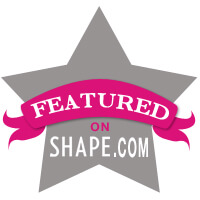 Clean Eating Savory Oatmeal
(Makes 1 serving)
Ingredients:
1/2 cup chopped red onion
4 crimini mushrooms – sliced
1 cup cooked oatmeal
1 tablespoon parmesan – grated
Olive oil – preferably in an oil sprayer/mister (1/2 tablespoon approximately)
Directions:
Saute your onions and mushrooms in a non-stick pan, using the smallest amount of oil you can get away with.
Stir in your oatmeal and blend well. Since the oats are already cooked, you only have to worry about getting them warm enough to melt the cheese.
Once the oats are hot enough, stir in the parmesan. Turn off the heat and allow the cheese to melt. Continue stirring to distribute the cheese a bit.
Add salt and pepper to taste.
Nutritional Content:
(Data is for entire recipe)
Note: These amounts are very general. It will very according to how much oil you use. These amounts are based on 1/2 tbsp. If you really want to cut the fat, try using chicken or vegetable broth instead of oil.
Calories: 275
Total Fat: 9 gm
Saturated Fats: 2 gm
Trans Fats: 0 gm
Cholesterol: 4 mg
Sodium: 97 mg
Carbohydrates: 42 gm
Dietary fiber: 6 gm
Sugars: 7 gm
Protein: 9 gm
Estimated Glycemic Load: 18
Please Note: Nutritional information estimated at Nutritiondata.com. Data may not be accurate and is subject to the availability of specific foods in their database. Where one ingredient is not listed, substitutions must be used. Therefore, you should not refer to this data as being exact. It's more of a ballpark figure. The Gracious Pantry does not take responsibility for the inadequacies of the nutrition calculator used. This data is provided as a courtesy and general reference only. It is not exact.