Peanut Butter Oatmeal Recipe
This post may contain affiliate links. Read my
Privacy Policy.
As an Amazon Associate I earn from qualifying purchases.
This amazing, peanut butter oatmeal is the perfect breakfast for peanut butter lovers!!
I don't know about you, but peanut butter is pretty close to heaven for me. If I'm in the right mood, nothing other than peanut butter will do. I mean, what's not to love? Add whole grains to that, and you get pretty close to topping out on nutrition as well. Lots of fiber and healthy fats to start your morning off right!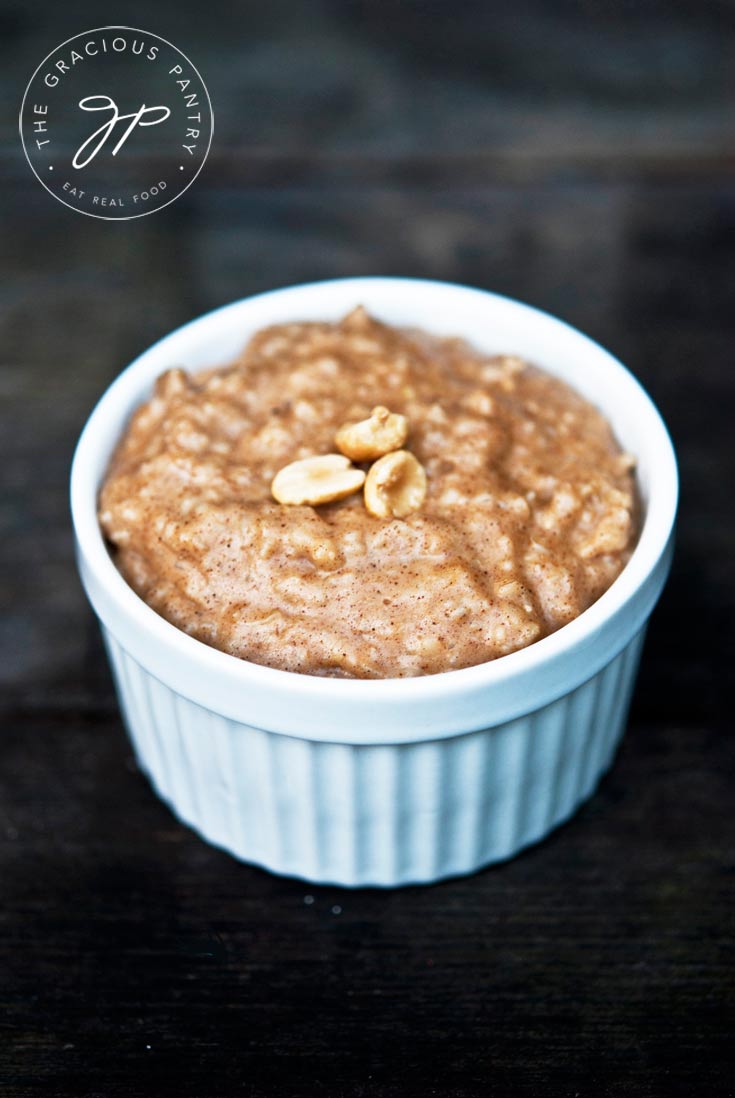 The funny part is, I don't feel the same way about peanuts. But turn them into butter and YUM!!!
I love peanut butter in my morning oatmeal. It's extra protein and the flavor is incredible! Add a little sweetener and it's something pretty close to a peanut butter cookie. And who wouldn't want THAT for breakfast???
You can adjust the amount of peanut butter any way you like. But I have found that two tablespoons make the perfect cookie flavor.
In fact, if you are looking for some extra protein, you can mix in some egg or egg white just after turning off the heat on the oats. Stir fast! A whisk is best, and no. You can't taste the egg at all!
So go ahead and give this oatmeal bowl a try! Have a "peanut butter cookie" for breakfast!
Is Oatmeal And Peanut Butter Good For You?
While peanut butter is somewhat high in fat, it has other qualities that make it pretty darn healthy, provided you don't have a peanut allergy, of course. Oats and peanut butter together make a very filling breakfast that will keep you full pretty well into lunchtime!
Gluten-Free Peanut Butter Oatmeal
If you need this to be gluten-free, the most important part is to make sure you purchase gluten-free oats. Oats do not contain gluten naturally, but they are some of the most cross-contaminated grains there are due to processing. So purchase a package with a gluten-free label.
And while peanut butter is also naturally gluten-free, cross-contamination can sometimes (rarely) happen here too.
So the takeaway here is, to be as careful as you need to be with the individual ingredients when it comes to gluten. But as the recipe stands, it is naturally gluten-free if your ingredients are gluten-free. There is no gluten added (such as wheat flour).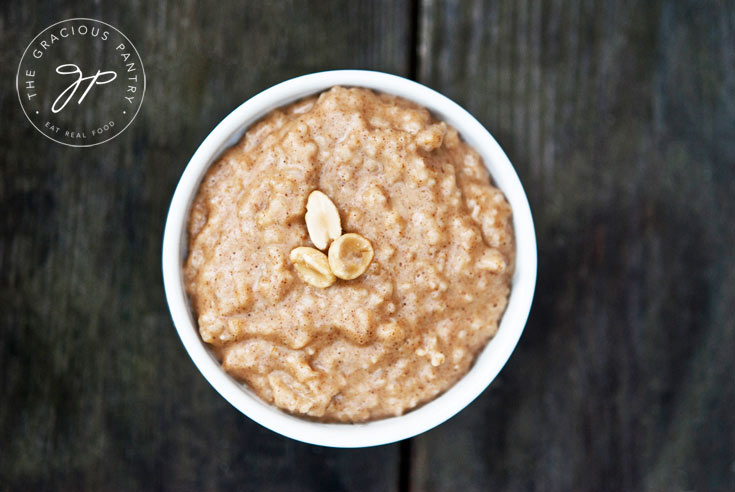 Recipe Variations
Can you use another nut butter? Absolutely! Try one of the following:
Almond butter
Cashew butter
Hazelnut butter (Nutella anyone?)
Allergic To Nuts?
Try using a seed butter instead such as sunflower seed butter. Then just make sure all your other ingredients are labeled as safe, as well.
Recipe Additions
Try adding one or some of the following to increase nutrition and vary the flavor:
Chia seeds
Flax seed
Flaxmeal
Sunflower seeds
Pumpkin seeds
Chopped apples
Sliced banana
1 teaspoon vanilla extract
Fresh strawberries
Fresh blueberries
Fresh raspberries
Dark chocolate chips
A pinch of salt – to bring out the sweetness
Can This Be Made Vegan?
Yes! Simply switch out the honey for maple syrup or some other vegan sweetener. Everything else is naturally vegan!
Health Benefits Of Peanut Butter
Peanut butter is pretty healthy stuff. Its best qualities are…
The fat it contains is a healthy fat.
It has a nice dose of protein.
It's low in carbs.
Rich in vitamins, minerals, and antioxidants.
Gives you a moderate but nice serving of fiber too.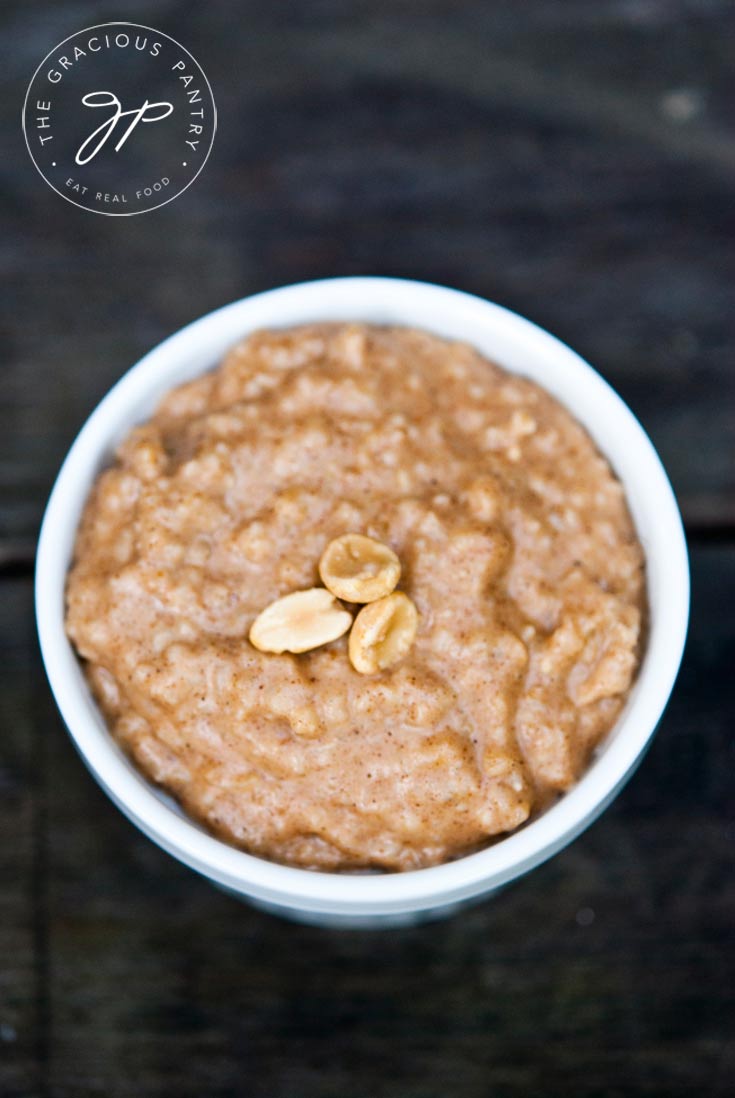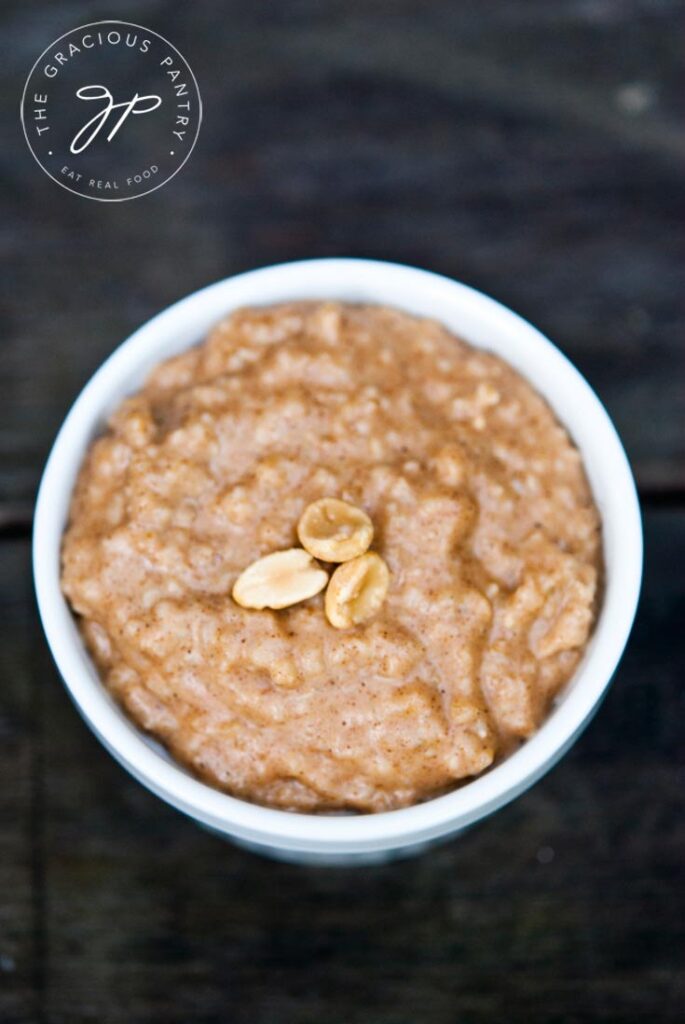 About The Ingredients
Cooked oats – I cooked mine with unsweetened almond milk instead of water. Make sure these are whole oats (old-fashioned, rolled, or traditional oats – not quick-cooking oats) Even steel-cut oats can work here.
Peanut butter – Read the ingredients! Avoid any peanut butter that contains anything other than just peanuts and maybe some salt. Jars labeled as "Natural peanut butter" usually qualify.
You can also adjust the amount of peanut butter you use. Here is the general rule of thumb:
2 tbsp = light peanut butter flavor
4 tbsp. = medium peanut butter flavor
6 tbsp. = heavy peanut butter flavor
Ground cinnamon – Not a cinnamon mix with sugar. Just plain, ground cinnamon. You can add as much or as little as you like. Adjust the amount to taste.
Honey – You can use any sweetener you prefer. You can also add as much or as little as you like.
The honey has its own rule of thumb just like the peanut butter.
1 tbsp. = mildly sweet
2 tbsp. = medium sweet
3 tbsp. = very sweet
How To Make Peanut Butter Oatmeal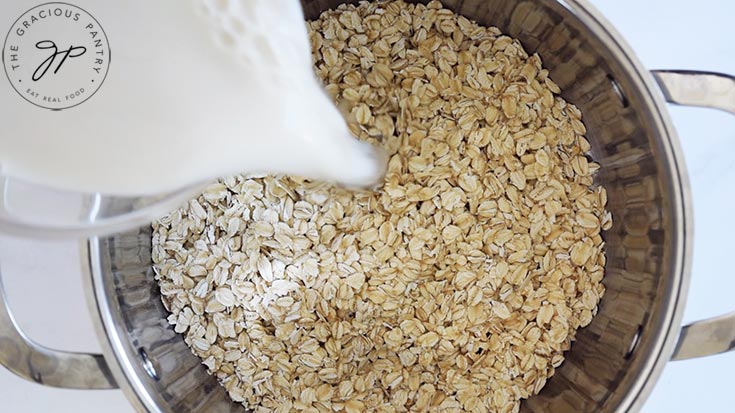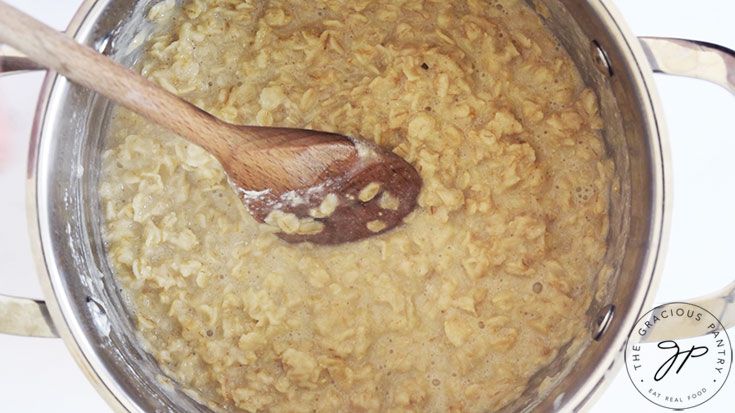 Cook oats to package directions using any type of milk.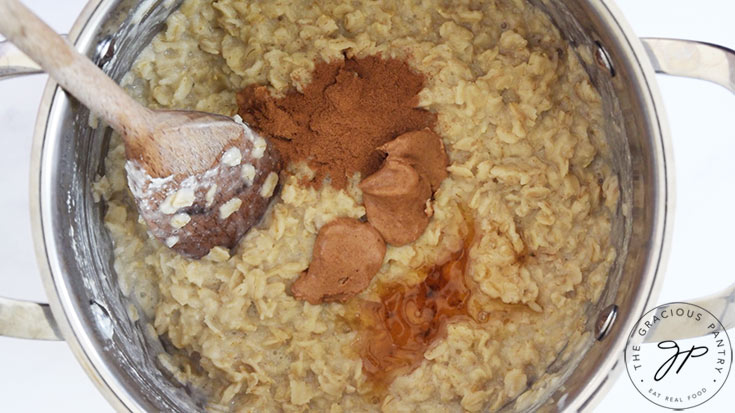 While your oats are still hot from cooking, combine all the remaining ingredients in the pot and mix until well combined.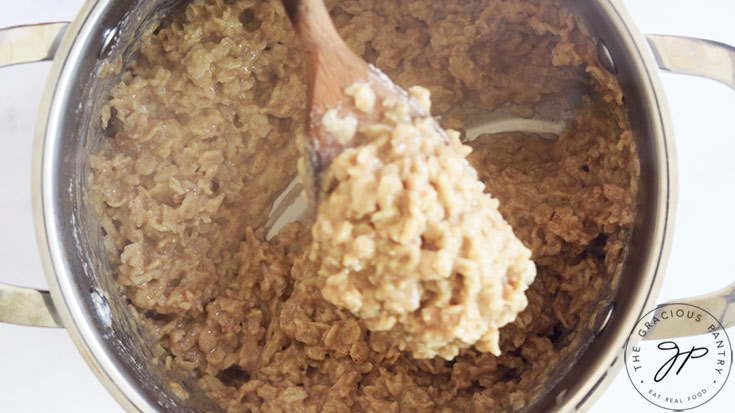 Add any additional mix-ins or toppings you like and serve.
How To Store Peanut Butter Oatmeal
If you have leftovers, store them in an airtight container and keep this in the fridge for up to 4 days.
How To Freeze Peanut Butter Oatmeal
If you won't eat the leftovers fast enough, you can certainly freeze this. Place it in an airtight, freezer-safe container and store it in the freezer for up to 4 months.
How To Reheat Peanut Butter Oatmeal
If frozen, thaw in the fridge overnight.
You can warm this either in a microwave or in a pot on the stovetop. If you warm it in a pot, you will need to add a splash of milk to reinvigorate the oats and get a texture you'll enjoy.
Recipe Supplies
For this recipe, you'll need a medium pot, a wooden spoon, and some serving bowls. Click any of the images here to be taken to that product on Amazon if you wish. (Affiliate links)
More Healthy Oatmeal Recipes
Peanut Butter Oatmeal Recipe Card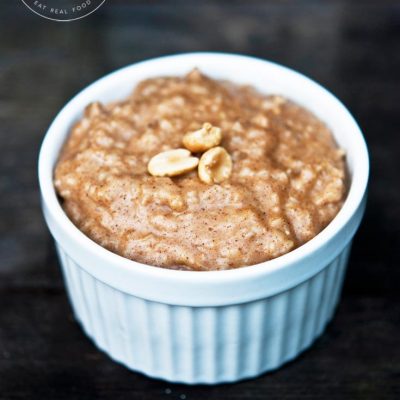 Peanut Butter Oatmeal
If you're a peanut butter fan, you'll flip over this easy oatmeal recipe!
Print
Pin
Rate
Add to Collection
Go to Collections
CLICK TO WATCH THIS RECIPE IN ACTION!
Ingredients
1½

cups

cooked oats

(I cooked mine with unsweetened almond milk instead of water)

2

tbsp.

clean peanut butter

(See notes on amount in post above)

1

tsp.

ground cinnamon

(See notes on amount in post above)

1

tbsp.

honey

(See notes on amount in post above)
Instructions
Cook oats to package directions.

While your oats are still hot from cooking, combine all the remaining ingredients in the pot and mix until well combined.

Add any additional mix-ins or toppings you like and serve.
Notes
Please note that the data below is a ballpark figure. Exact nutrition data is not possible.
Nutrition
Serving:
0.5
the recipe
|
Calories:
240
kcal
|
Carbohydrates:
32
g
|
Protein:
8
g
|
Fat:
10
g
|
Saturated Fat:
2
g
|
Sodium:
75
mg
|
Potassium:
218
mg
|
Fiber:
5
g
|
Sugar:
7
g
|
Calcium:
47
mg
|
Iron:
2.1
mg
This recipe from the Gracious Pantry archives, originally posted 10/22/10.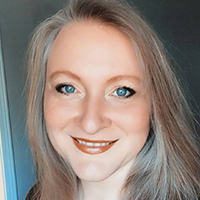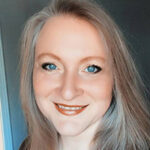 Who me?
I'm Tiffany, a cookbook author, food lover, mom, and writer for MSN and the AP Newswire.
   
Looking to stock your freezer for busy weeknights?
I wrote the book! Grab a copy of my book, Clean Eating Freezer Meals on Amazon here, or at select bookstores nationwide!   
Did you make one of my recipes?
Tag @graciouspantry on Instagram or post your pic on Facebook! I love to see my recipes in action!