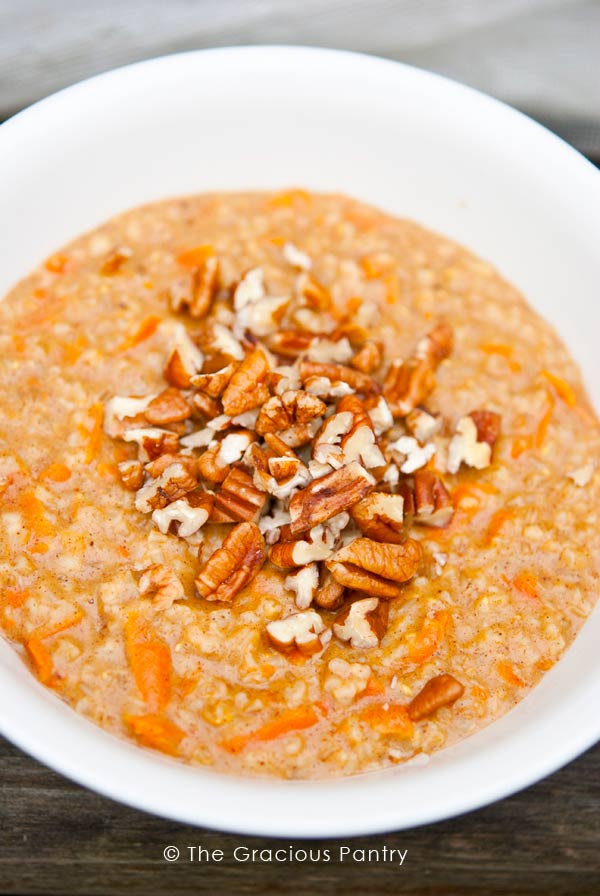 I was a member at the Tosca Reno forum boards when they still existed. It's was a fantastic clean eating community.
Sheri Hyman (Brooklyn, NY) was also a member there, and she posted this recipe for Clean Eating Carrot Cake Oatmeal. I just couldn't pass up the chance to try it, so I contacted her to ask if I could share the recipe with all of you here. She was most gracious about it.
Thanks Sheri! Fantastic recipe!
While it's not exactly cake, it definitely delivers that "spice" you expect from carrot cake. It's tasty, and a really great way to work some veggies into your breakfast!
I didn't use the coconut flakes she suggests, but I did stir in 1 tsp. of honey. Next time, I'll forgo the honey and add a few raisins instead. Yum!

Clean Eating Carrot Cake Oatmeal Recipe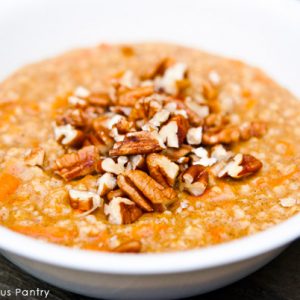 Author:
Tiffany McCauley | The Gracious Pantry.com
Ingredients
⅔ cup steel-cut oats (dry)
2 cups milk of choice
½ cup shredded carrots
1 teaspoon vanilla extract
1 teaspoon ground cinnamon
½ teaspoon nutmeg
Instructions
Bring milk, vanilla extract, carrots, nutmeg and cinnamon to a boil.
Add oats.
OPTIONAL TOPPINGS:
Chopped walnuts or pecans
Toasted, sweetened coconut flakes
Raisins