This post may contain affiliate links. Read my
Privacy Policy.
As an Amazon Associate I earn from qualifying purchases.
Start your morning off right with this healthy apple pie oatmeal recipe!
Few things are as American as apple pie. Except maybe…. oatmeal.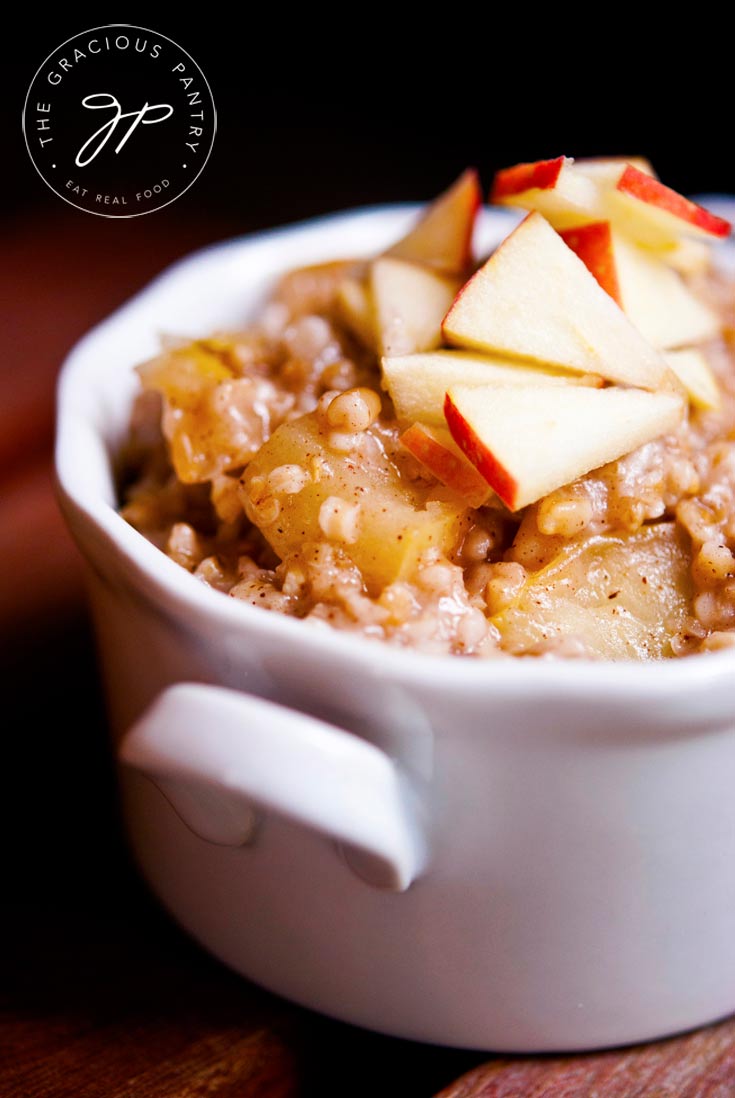 Healthy eaters have all seen our share of oatmeal in the mornings. Maybe even at other times during the day as well. I mean, let's face it. It's a quick and healthy dish that travels well. You can't beat it. Sweet or savory, oatmeal is awesome stuff.

Is Eating Oatmeal Good For You?
The term "good for you" is just as subjective as the term "healthy". These terms mean different things to different people.
However, if you eat grains as a healthy part of your eating plan, then absolutely, yes! Eating oatmeal is good for you!
Oats are among the healthiest grains on earth. They're a gluten-free whole grain and a great source of important vitamins, minerals, fiber and antioxidants. Studies show that oats and oatmeal have many health benefits. These include weight loss, lower blood sugar levels and a reduced risk of heart disease.

Healthline.com
Is It Okay To Eat Oatmeal Everyday?
Absolutely! As with most things, portion control is key. But oatmeal is a great source of fiber, which is something we all need more of.
Why Is Oatmeal Bad For You?
This is a question that gets asked in certain circles. And the answer is, it's not.
That is, unless you eat low carb.
One study done on 12 young boys (a very small study, indeed!) showed that oatmeal may spike blood sugar. But this is in direction opposition to the majority of other studies done on oats.
In fact, oats are considered a low glycemic grain, coming in at a 55 on the glycemic index. A scale that considers low glycemic foods to measure between 1 and 55. So while it's high up in the range, it's still considered a low glycemic food.
While some folks may not be able to tolerate it, most should do just fine with oats. Keep in mind, what you add to them can change things a bit.
S
Can You Eat Too Much Oatmeal?
Yes. But that should be a a surprise.
Any food eaten in excess will be too much, no matter how healthy it is.
Excess consumption of oats can cause some belly bloat in some people as well as weight gain.
But that is usually associated with the addition caloric consumption.
Can Oatmeal Make You Gain Weight?
Absolutely, if you eat too much of it.
What you add to it can also make a big difference.
How Do You Make Apple Cinnamon Oatmeal From Scratch?
Oatmeal is really easy in this way. Simply add what you want to add and cook according to pacakge directions.
In most cases for traditional oats, the ration will be 1 part oats to 2 parts liquid. What you add for flavoring after that doesn't affect anything much unless you are adding more liquid.
Liquid For Oats
Water – Water is what is called for on oatmeal packages. It will give you a non-mushy oatmeal that leaves the individual oats a bit more separated.
Milk – You can use equal amounts of milk in place of water to cook your oatmeal. But the finished oats will be thicker and more porridge-like.
Juice – This will give you an oatmeal texture that is similar to water, but is much sweeter, making it less necessary to add any sweetener to your finished oatmeal.
Non-dairy milk – Non-dairy milk will give you varying textures in your finished oats, depending on the milk used. Thicker milks such as cashew or coconut milk will give you a thicker oatmeal like you would get from using milk. Thinner milks like almond milk would give you something more similar to using water with only a slight variance.
What Can I Add To Oatmeal?
Oatmeal toppings are pretty endless. But here are a few ideas.
Sweet Oatmeal Toppings
Fresh fruit
Honey
Maple syrup
Cinnamon
Chia seeds
Nuts of any kind
Sunflower seeds
Savory Oatmeal Toppings
Sautéed mushrooms
Cheddar cheese
Swiss cheese
Parmesan cheese
Cooked veggies such as peas and carrots
What You'll Need For Apple Pie Oatmeal
½ cup traditional oats – Do not use quick cook oats for this.
1 cup water – You can substitute with other liquids. See suggestions above.
1 cup chopped apples – Chop these to bite-size pieces. Tart apples taste best, but use whatever you have on hand.
½ tsp. ground cinnamon
¼ tsp. ground allspice
Maple syrup – to taste after cooking. Pour on as a topping and stir in.
How To Make Apple Pie Oatmeal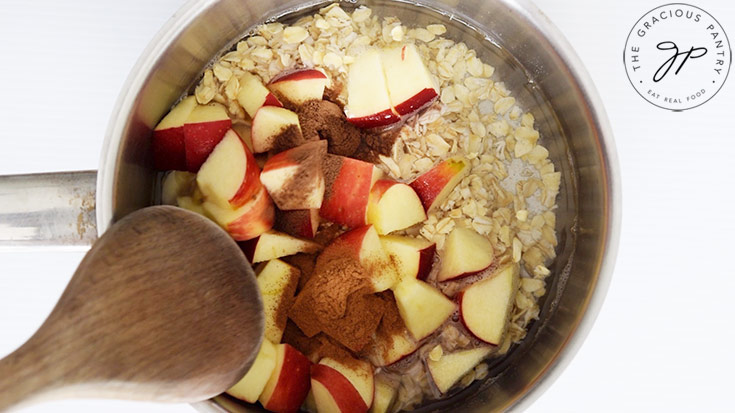 Combine all ingredients and bring to a boil, reduce heat and simmer until fully cooked to oatmeal package directions.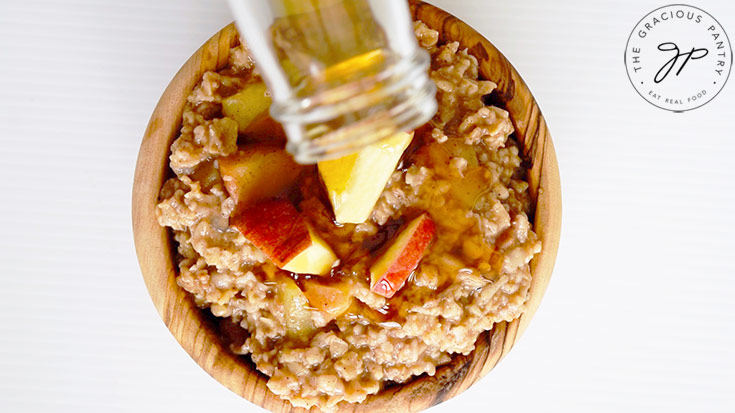 Top with your favorite sweetener and enjoy.
SUBSCRIBE
Remember to subscribe to my free, Gracious Pantry Newsletter to receive all my latest recipes in your inbox! Click here to sign up!
More Health Oatmeal Recipes
This Recipe Featured On:

Apple Pie Oatmeal Recipe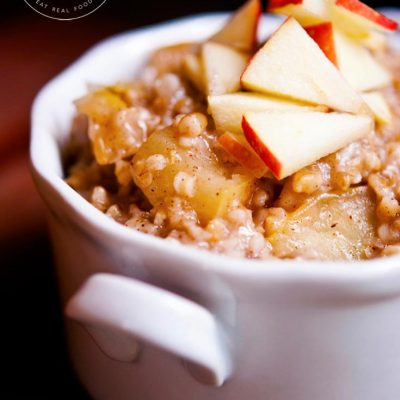 Apple Pie Oatmeal Recipe
Start your morning off with apple pie! Or at least, it will seem that way. This delicious bowl of oatmeal will feel like you're eating dessert for breakfast!
Print
Pin
Rate
Add to Collection
Go to Collections
CLICK TO WATCH THIS RECIPE IN ACTION!
Ingredients
½

cup

traditional oats

(old fashion oats)

1

cup

water

1

cup

chopped apples

(approximately 1 small apple)

½

tsp.

ground cinnamon

¼

tsp.

ground allspice

maple syrup

to taste after cooking
Instructions
Combine all ingredients and bring to a boil, reduce heat and simmer until fully cooked to oatmeal package directions.

Top with your favorite sweetener and enjoy.
Notes
Please note that the data below is a ballpark figure. Exact nutrition data is not possible. Data does not include honey added to taste.
Nutrition
Serving:
0.5
the recipe
|
Calories:
191
kcal
|
Carbohydrates:
36
g
|
Protein:
6
g
|
Fat:
2
g
|
Sodium:
13
mg
|
Potassium:
66
mg
|
Fiber:
6
g
|
Sugar:
6
g
|
Vitamin A:
35
IU
|
Vitamin C:
2.9
mg
|
Calcium:
40
mg
|
Iron:
1.8
mg
Recipe from the Gracious Pantry archives, originally posted 4/13/12.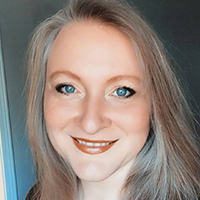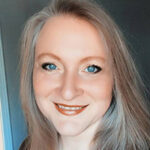 Who me?
I'm Tiffany, a cookbook author, food lover, mom, and writer for MSN and the AP Newswire.
   
Looking to stock your freezer for busy weeknights?
I wrote the book! Grab a copy of my book, Clean Eating Freezer Meals on Amazon here, or at select bookstores nationwide!   
Did you make one of my recipes?
Tag @graciouspantry on Instagram or post your pic on Facebook! I love to see my recipes in action!