This post may contain affiliate links. Read my
Privacy Policy.
As an Amazon Associate I earn from qualifying purchases.
These Buckwheat Crepes are simple to make and can be made in advance, then reheated when you're ready to eat. They're much more filling than flour-based crepes, with just as much flavor.
Crepes can be enjoyed with a sweet or savory filling, and are a delicious and easy way to turn some protein and vegetables into a morning meal.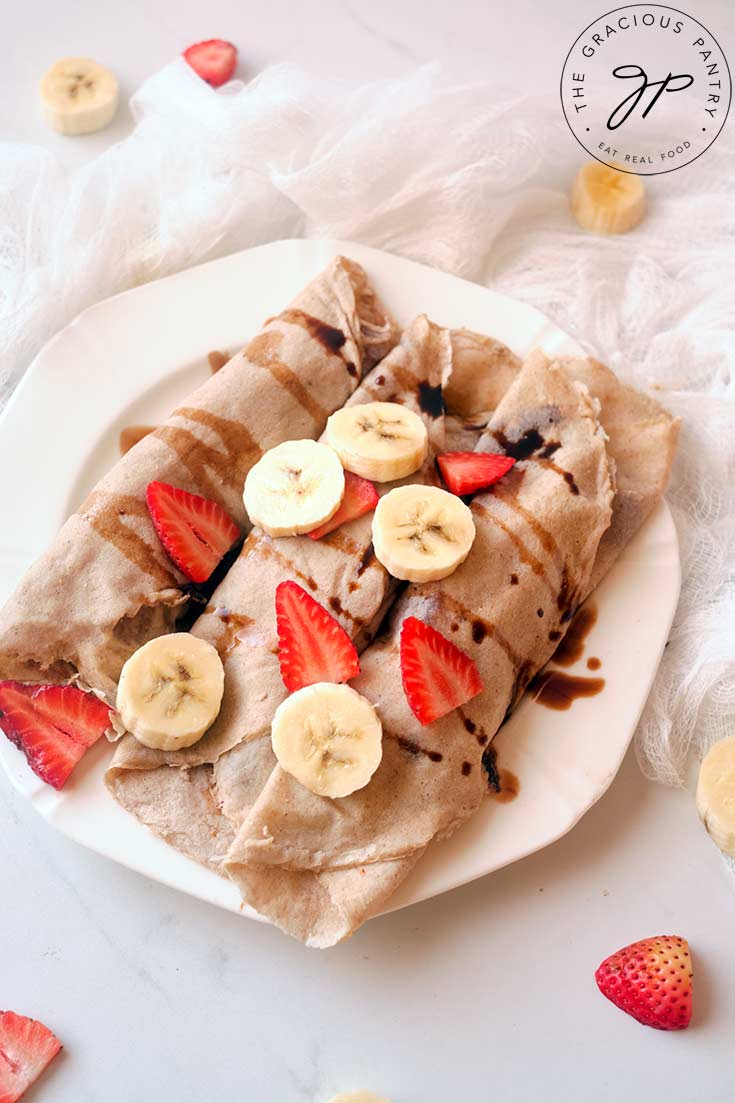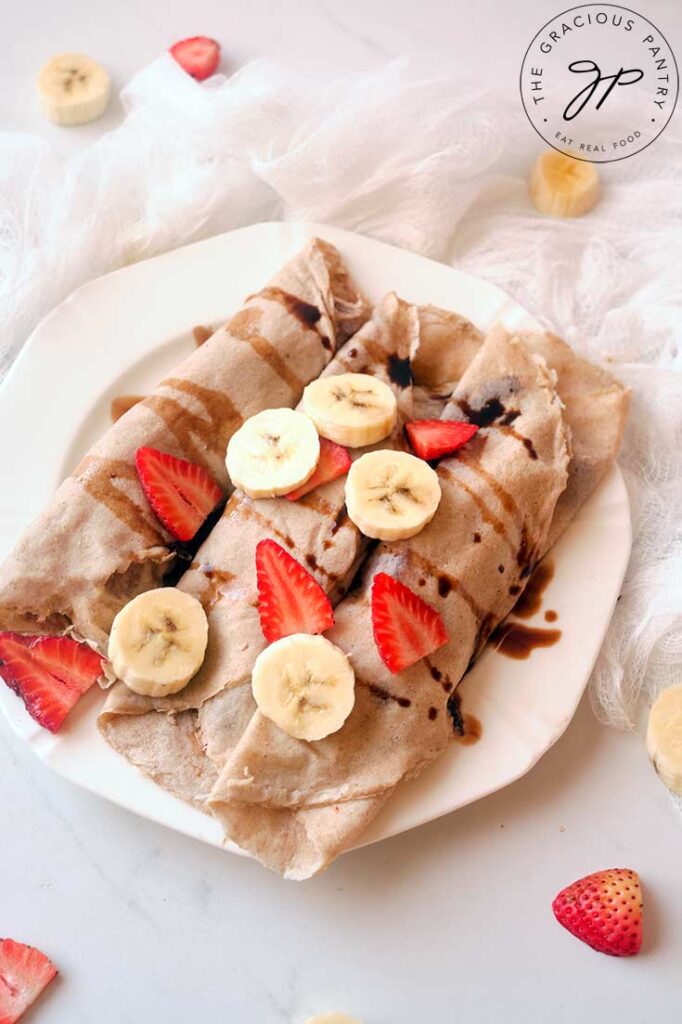 What Is Buckwheat
Buckwheat is a grain-like seed. Buckwheat is not related to wheat at all, I promise!
What Are Buckwheat Crepes Called?
Buckwheat crepes are known in Northern Europe as "blini" or "Dutch pancakes".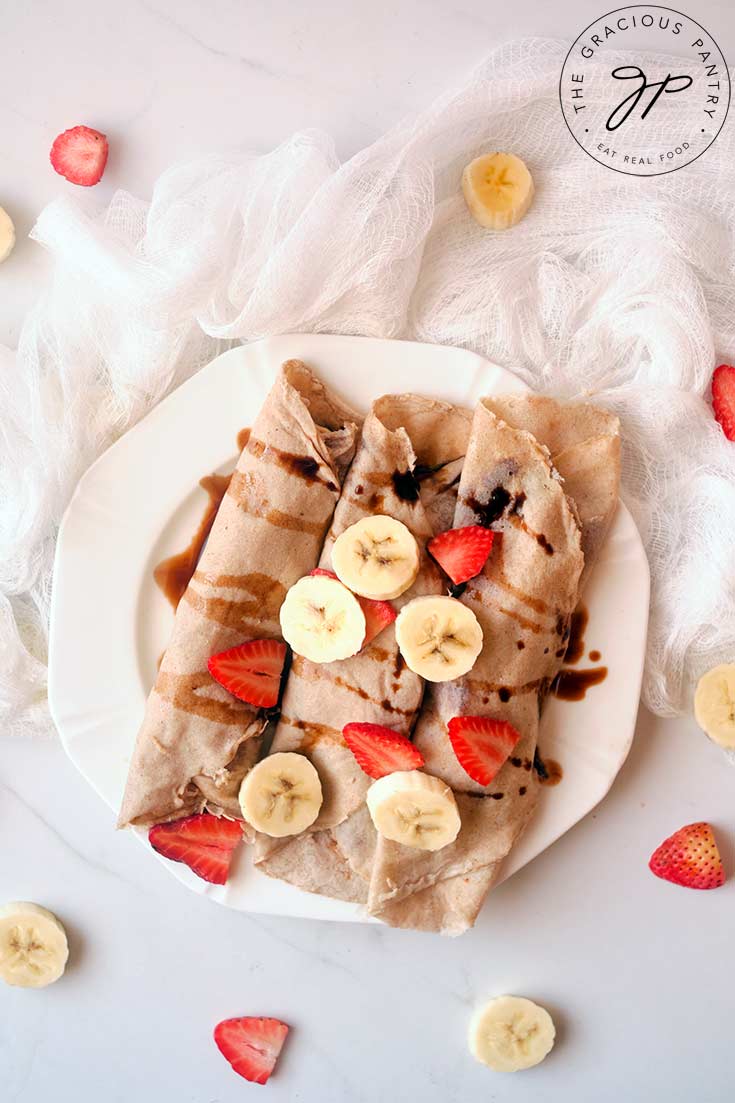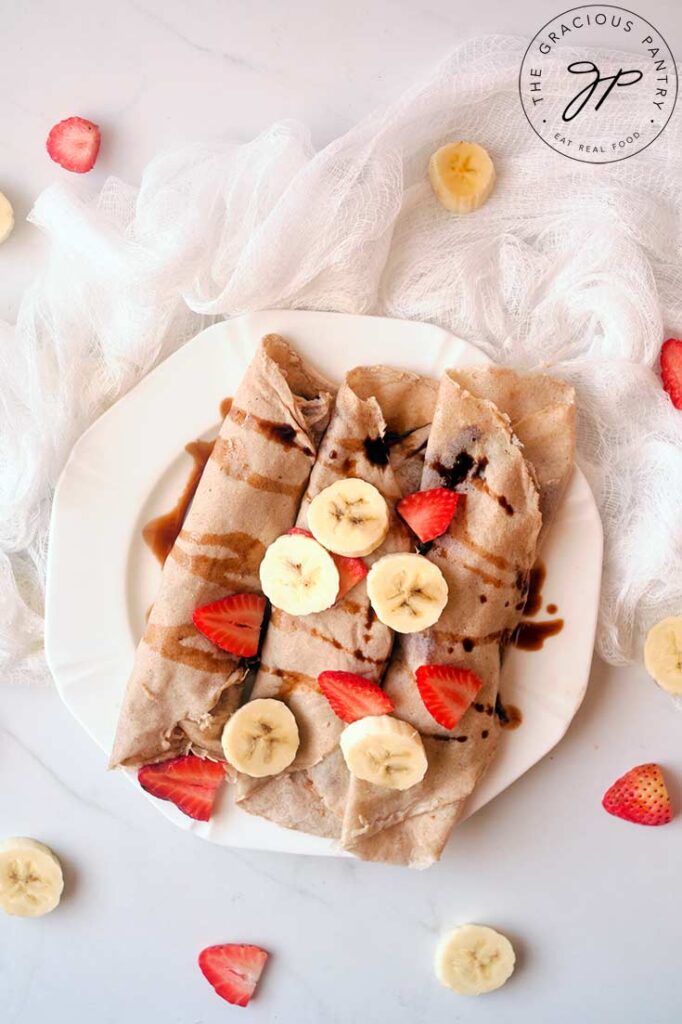 FAQs
Are Crepes French?
While Crêpes are generally associated with France (as far back as the year 472!), Buckwheat pancakes are actually associated with the more northern regions of Russia and Ukraine. However, you can find different versions of buckwheat pancakes in France, Korea, and Canada. This recipe combines the thin, French crepe with the Buckwheat pancake of the north, and they don't disappoint.
Is Buckwheat Good For You?
It is! Buckwheat has certain proteins, as well as magnesium, quercetin, and rutin. These have antioxidant properties that are quite good for your heart.
Are Crepes And Pancake The Same?
This can be answered differently, depending on what part of the world you live in. But generally speaking, pancakes are thicker, sturdier, and heartier, while crepes are thinner and more delicate which makes them pliable for rolling or folding.
Are Buckwheat Crepes Gluten-Free?
Despite its name, buckwheat is actually, naturally gluten-free. Whether it contains gluten from cross-contamination is another matter. But buckwheat itself is indeed gluten-free.
Are Buckwheat Crepes Healthy?
As with most foods, it all depends on how you fill them! If you fill them with healthy fillings (sweet or savory), then there is no reason to consider them anything but healthy.
What To Do If The Crepe Batter Is Very Dark In Color
This is not uncommon. The color of the flour can change based on where the buckwheat is grown. It can range from very light in color to quite dark. If your batter is dark, there is nothing wrong with it. Proceed with cooking your crepes. They are not bad and there will be no difference in flavor or in your finished crepes. It's perfectly normal, even if it looks a bit odd.
Can You Substitute Buckwheat For Regular Flour In This Recipe?
No! I do not recommend it. If you want to use a different flour, try these recipes for either wheat flour crepes or oat flour crepes.
What Kind Of Pan Should I Use For My Buckwheat Crêpes?
While it's not impossible to make crepes in a regular skillet, you will have a MUCH easier time making them in a crepe pan. This is the pan I have myself, and it's been a fabulous pan from the start. It's easy to clean, doesn't scratch easily, and makes great crepes every time. It also comes with a crepe spreader, which is pretty much an indispensable tool for making crepes. If you don't have the pan, you'll need, the crepe spreader at the very least. (affiliate link – amazon)
What To Serve With Buckwheat Crepes?
If you are serving these for dinner and filling them with savory fillings, then a brothy soup is a great thing to pair with these.
However, if they are for breakfast, or filled with sweet fillings, they are really more of a stand-alone meal. However, with sweet fillings, I highly recommend a good cup of coffee!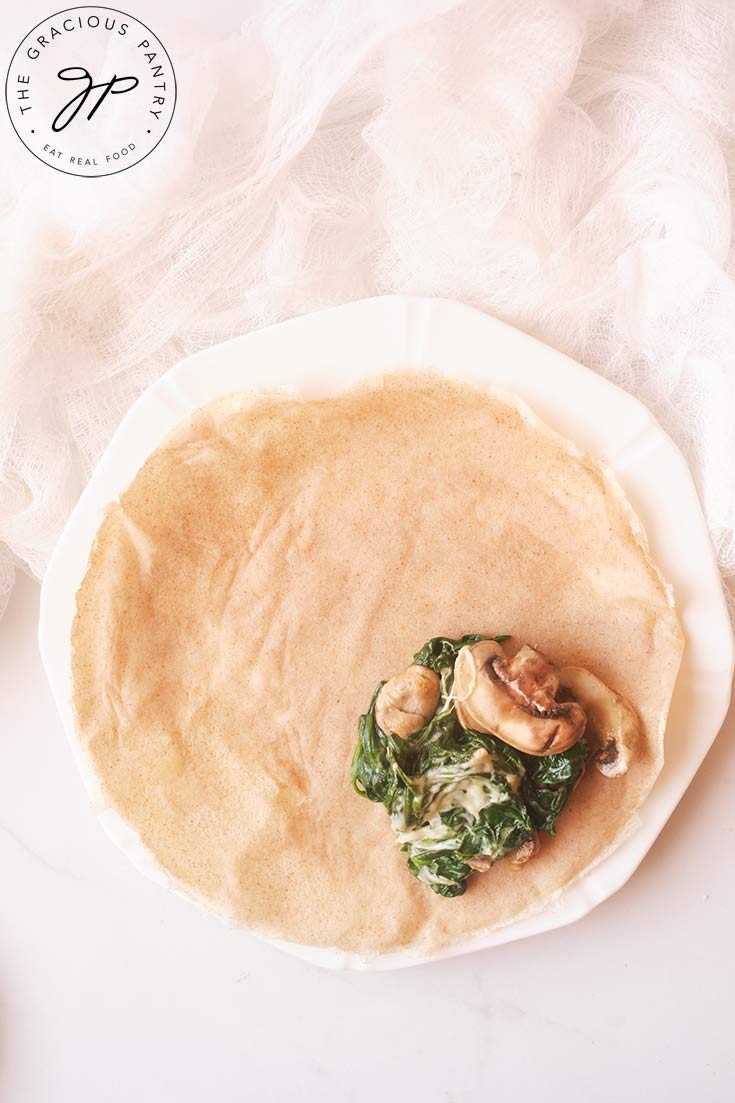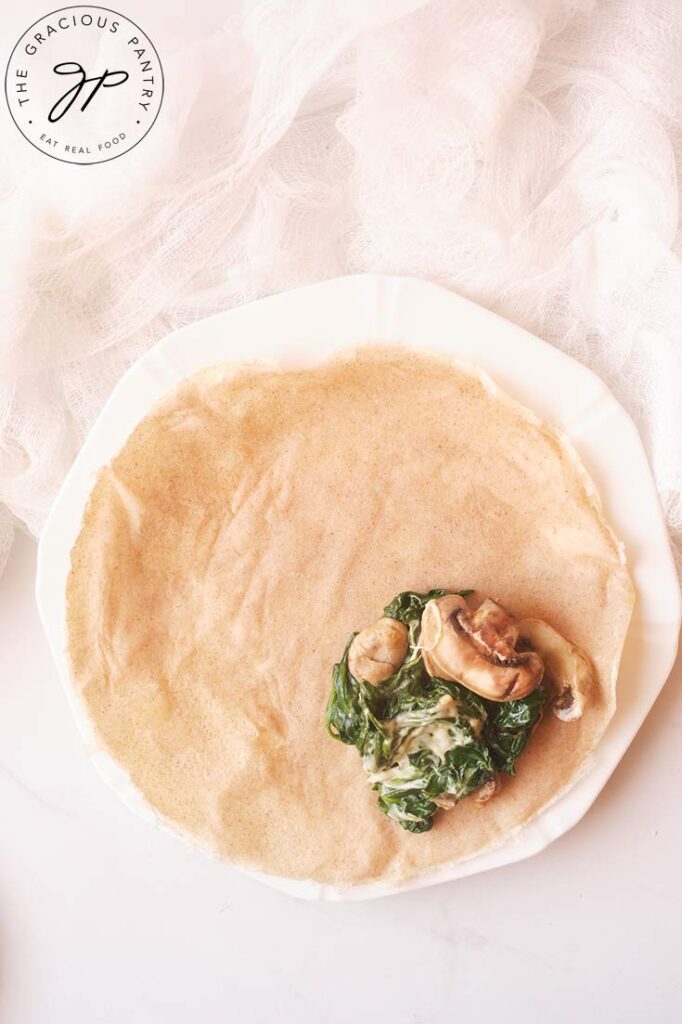 What To Put In Buckwheat Crepes
As with regular crepes, you can fill them with just about anything. Here are some ideas.
Sweet Crepes
Pears
Berries
Banana
Apples
Strawberry
Maple syrup
Cinnamon
Peanut butter
Apple butter
Cottage cheese
Savory Crepes
Spinach
Mushrooms
Peanut butter
Cheese
Mixed veggies (carrots and peas are delicious with cheese)
Ham and cheese
Cottage cheese
Making Vegan Crepes
While I have not tried this myself, you could use an egg replacer if you want these to be vegan. And of course, use non-dairy milk.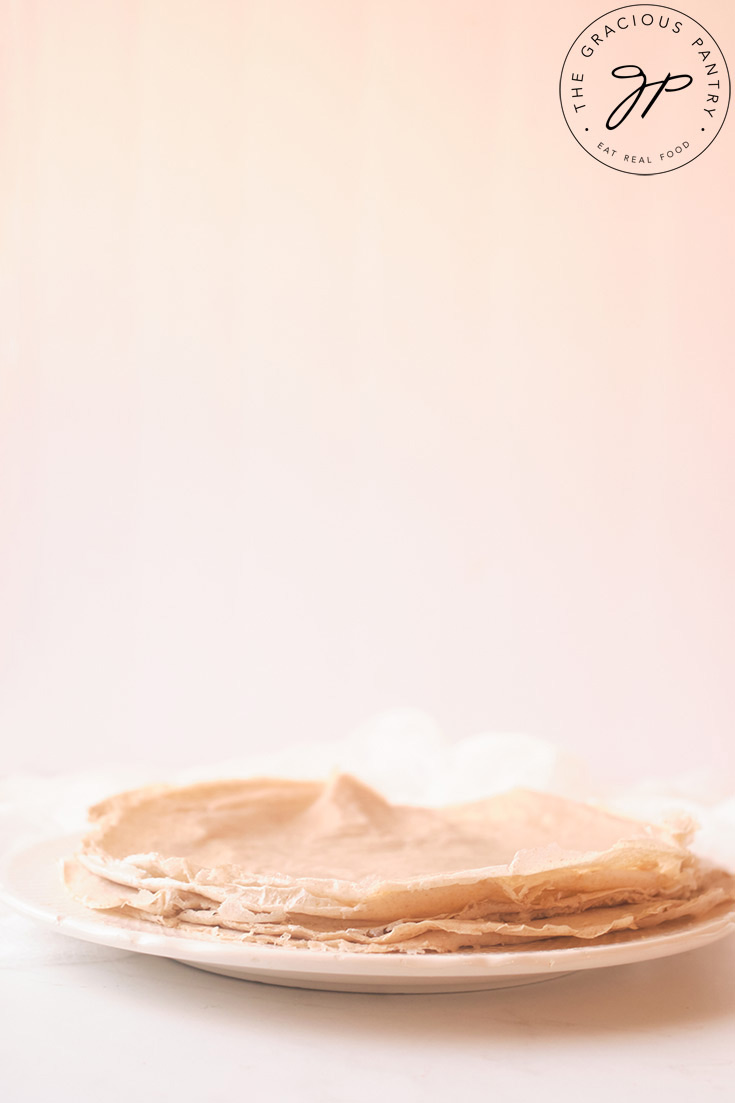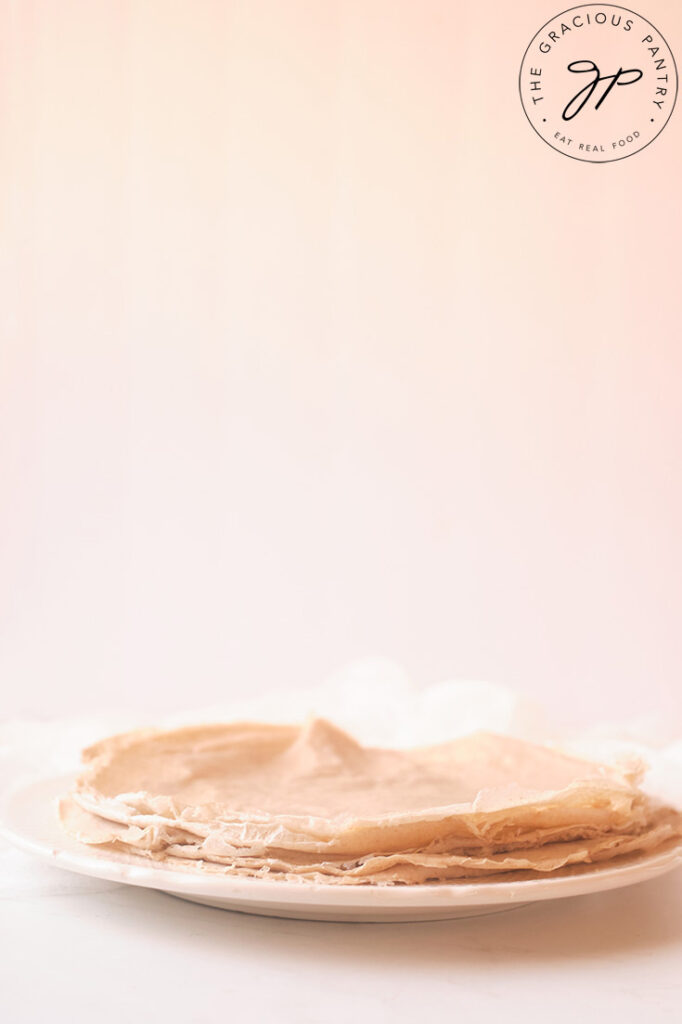 Tips For Making Buckwheat Crepes
Crepe #1 – It is well known that the first one to two crepes you make can be disasters. They can easily fall apart and become a general mess. Why? Typically because the pan is adjusting and reaching the proper temperature for the batter. So don't get frustrated if the first crepe or two end up in the trash. (Or at the very least, as scrambled pancakes on your plate). This is normal for any kind of crepe, even buckwheat crepes.
Eggs – This recipe calls for 1 egg. However, if you have made your third or fourth crepes and they are not holding together, you can add an extra egg.
Whisk – You'll want to whisk this batter well to get it to the right consistency. In fact, an electric hand mixer is a very good idea here. In a pinch, you can even mix this all in a blender and simply pour the batter onto the skillet from the blender cup.
Oil – Whether you use oil or not will depend on your pan. If you have a non-stick pan, you may not need it. Or like me, you may need to use it with the first few crepes only. If you need to use oil, I highly recommend using an oil sprayer for even coverage. If your pan is not non-stick, you may need to use a bit of oil with every crepe you make. Avocado oil or coconut oil work well here.
About The Ingredients
1 cup buckwheat flour
4 cups unsweetened milk – Any type will work, even non-dairy. The only type I would not recommend is full-fat coconut milk. Whole milk will work just fine.
1 tsp. pure vanilla extract – Use the real stuff, not vanilla flavoring.
2 large egg whites – You can also use 1 whole egg instead of two egg whites if you don't want to waste a yolk.
How To Make Buckwheat Crepes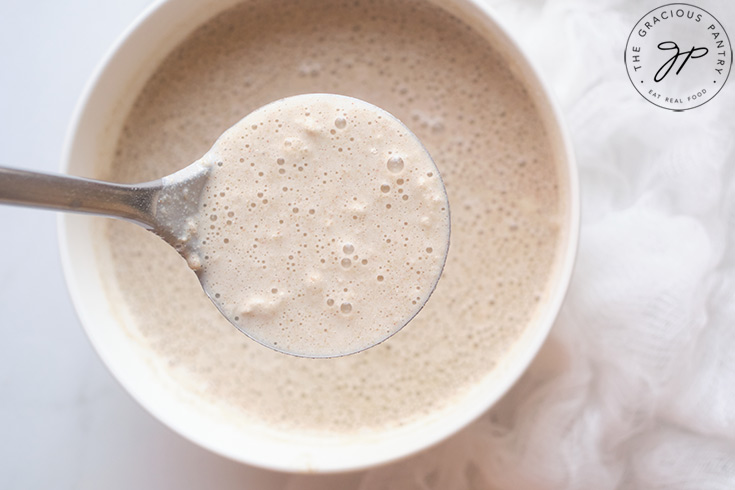 Place all the ingredients into a mixing bowl (both wet ingredients and dry ingredients), and whisk well to remove as many clumps as possible.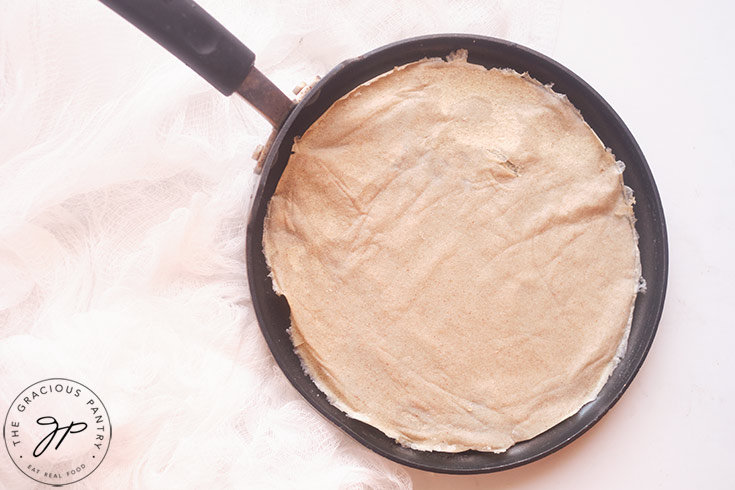 Pour the batter in a thin layer onto a hot, non-stick pan over medium heat. Keep it thin and on the smaller side. Spread it evenly with a crepe spreader. This will help with thinness as well. Flip, and when done cooking, use a spatula to transfer the crepe to a plate.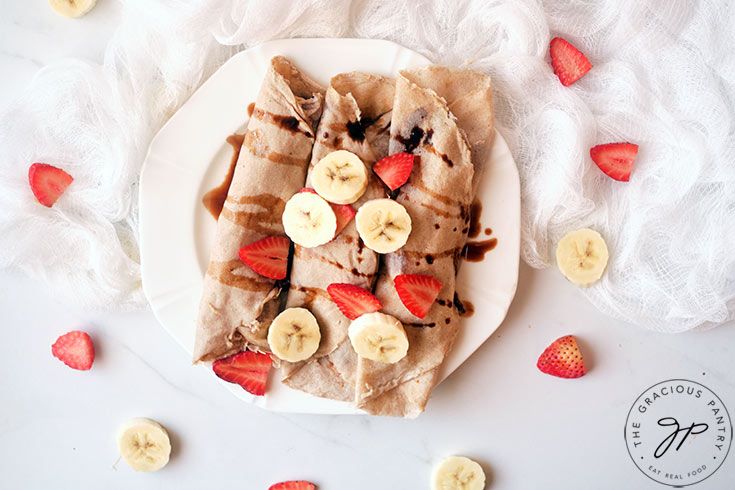 When cooked, add your favorite filling and either roll it up like a carpet or fold it in half, twice.
Can You Make Buckwheat Crepes Ahead Of Time?
You can! Make them one to two days ahead of time and keep them well wrapped in the fridge until you are ready to serve them. See below for reheating instructions.
How Long Does Buckwheat Crepe Batter Last In The Fridge?
If you can't make all of the batter in one go, you can pack up the patter in an airtight container and store it in the fridge for up to 2 days. Do not freeze the batter.
How Long Do Buckwheat Crepes Last In The Fridge?
Once cooked, buckwheat crepes will last in the fridge for up to 3 days, if packed well. Plastic wrap is always a good option.
Can You Freeze Buckwheat Crepes?
You can. However, I recommend putting at least a small piece of parchment between each crepe to help with separation when you get ready to use them.
How To Reheat Buckwheat Crepes
From Fridge – You can briefly microwave them for about 10-20 seconds at most (for a stack). A single crepe will take, at most, 5-10 seconds in the microwave. Otherwise, you can simply reheat them on low to medium heat in your crepe pan or any skillet.
From Freezer – Thaw these in the fridge overnight, then proceed as instructed above.
More Healthy Breakfast Recipes
Buckwheat Crepes Recipe Card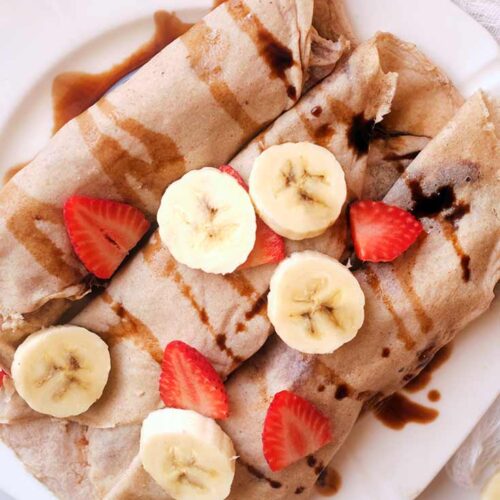 Buckwheat Crepes
Delicious crepes made with healthy buckwheat!
Print
Pin
Rate
Add to Collection
Go to Collections
Servings:
10
crepes (approximately 10 inches diameter)
Ingredients
1

cup

buckwheat flour

4

cups

unsweetened milk

(I used unsweetened almond milk)

1

tsp.

pure vanilla extract

2

large

egg whites

(or 1 whole egg)
Instructions
Place all the ingredients into a mixing bowl, and whisk well to remove as many clumps as possible.

Pour the batter onto a hot non-stick pan over medium heat. Keep it thin and on the smaller side.

When cooked, add your favorite filling and either roll it up like a carpet or fold it in half, twice.
Notes
Please note that the nutrition data given here is a ballpark figure. Exact data is not possible.
Nutrition
Serving:
1
crepe
|
Calories:
77
kcal
|
Carbohydrates:
10
g
|
Protein:
5
g
|
Fat:
2
g
|
Saturated Fat:
1
g
|
Polyunsaturated Fat:
1
g
|
Monounsaturated Fat:
1
g
|
Sodium:
48
mg
|
Potassium:
197
mg
|
Fiber:
2
g
|
Sugar:
1
g
|
Vitamin A:
201
IU
|
Calcium:
126
mg
|
Iron:
1
mg
This recipe is from the Gracious Pantry® archives, originally posted 11/10/2009.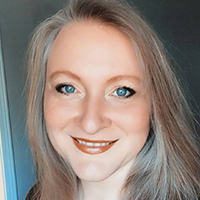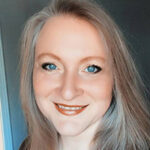 Who me?
I'm Tiffany, a cookbook author, food lover, mom, and writer for MSN and the AP Newswire.
   
Looking to stock your freezer for busy weeknights?
I wrote the book! Grab a copy of my book, Clean Eating Freezer Meals on Amazon here, or at select bookstores nationwide!   
Did you make one of my recipes?
Tag @graciouspantry on Instagram or post your pic on Facebook! I love to see my recipes in action!