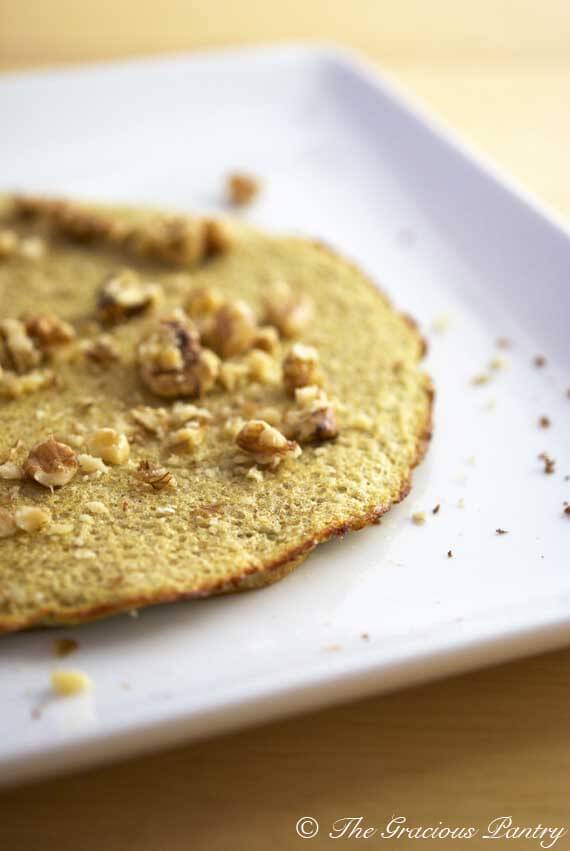 Okay, so I have to admit that while this recipe is completely doable with 2 ingredients, I just could not leave well enough alone. So technically, this is a 5 ingredient pancake. But don't stress out on me yet, it's still a very simple recipe with ingredients you probably have in your kitchen.
I've been hearing a lot lately about 2 ingredient pancakes. So when I woke up this past Saturday morning and realized I was supposed to be making pancakes or waffles but didn't have a clue what type to make, I remembered these and gave them a try.
I have to be honest, this is the best pancake I've ever had. And yes, I meant to say pancake. Not pancake"s". I didn't want the mess and hassle of a frying pan, so I baked it as one big pancake, and my oh my, was it delicious! And the best part was, I didn't have to use any syrup! (My blood sugar is still thanking me for that one!)
Mini Chef loved it as well. In fact, I would say this is a very kid-friendly recipe. Just try it, you'll see! And if you don't have all the ingredients, don't worry. You can still make these just with eggs and bananas and have it turn out great. Enjoy!
Note: If you want to make more than 1 serving at a time, simply double the recipe and use a bigger baking dish. (Who says pancakes have to be round?) The pie pan I used was a 9 inch pan.
Also, these are great with just the eggs and bananas, I've also made them with a few additional ingredients I mentioned earlier. So I included them as optional. You can make them any way you see fit.
YOU MIGHT ALSO ENJOY:

Clean Eating 2 Ingredient Baked Pancake
(Makes 1 servings)
Note: You can make this with 4 egg whites and omit the whole egg to get the cholesterol down, but the sodium content will go up.
Ingredients:
1 whole egg
2 egg whites
1 medium banana
1/8 teaspoon ground cinnamon (optional)
1/2 teaspoon pure vanilla extract (optional)
1/4 cup walnuts (optional)
Directions:
Place all ingredients in a mixing bowl (or blender) and mix with a hand blender until smooth.
Pour into a parchment lined baking dish, pie pan or cake pan. Whatever shape you want it is fine so long as it's lined with parchment.
Bake at 350 F. for 25-30 minutes.
Serve topped with walnuts if you wish. They are so sweet that there is really no need for syrup. But some fruit would be yummy as a topping!