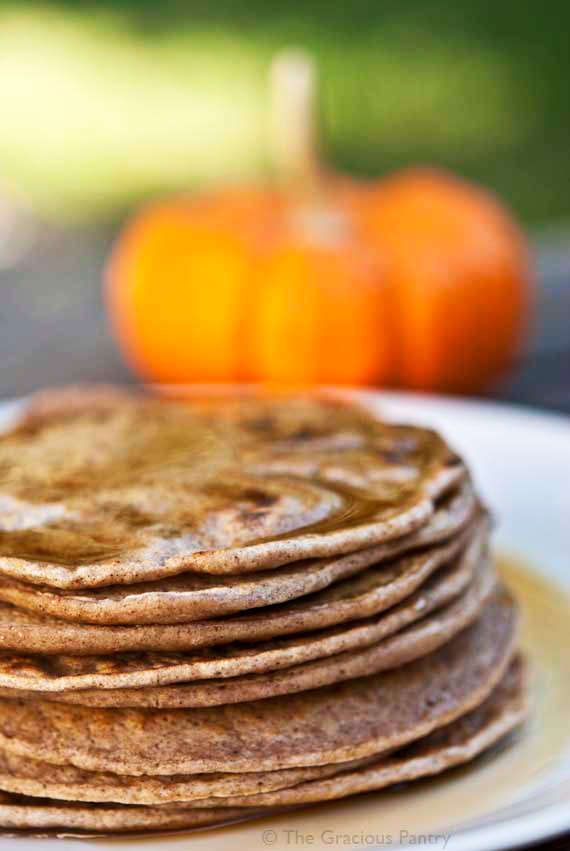 Mini Chef was bugging me for pancakes the other morning. Normally, these are a Saturday morning affair around here. But he wanted them NOW. And I caved. Good thing too, because these were scrumptious! 
I have to tell you that this will be the first of two recipes. I was in a hurry when I made these, so I simply used pumpkin spice for flavor. But I'm also working on a batch of pancakes that will have actual pumpkin in them. So stay tuned for that!
In the mean time, these should keep you (and any Mini Chef in your home), quite happy for the time being. Scrumptious. Just….. scrumptious.
YOU MIGHT ALSO ENJOY:

Clean Eating Pumpkin Spice Pancakes
Ingredients:
1 cup whole wheat pastry flour
1-1/2 cup unsweetened almond milk (any milk will work)
1 tablespoon pumpkin pie spice (no sugar added)
2 egg whites
1/2 teaspoon vanilla extract
Maple syrup for topping
Directions:
Whisk together all ingredients (except maple syrup) in a medium mixing bowl.
Using an oil sprayer, spray a non-stick pan with a very light coat of olive oil. Pour on your pancakes and cook until done.
Serve a stack of hot pancakes topped with maple syrup and a side of scrambled egg whites.