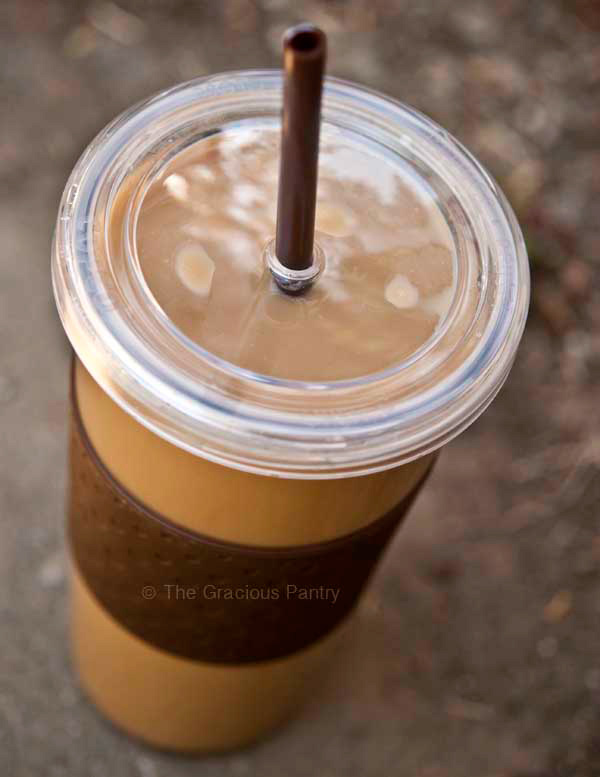 Can you believe I've never had a pumpkin spice latte until now? For some reason, the idea just never appealed to me. But something about the coming fall season inspired me, and now I'm hooked. Absolutely, positively, unequivocally hooked.
In fact, I have to be careful not to let Mini Chef get ahold of this because it's almost like candy. Hot or cold, this is seriously good stuff! I would even be willing to bet that you could kick the Starbucks habit completely with this little recipe.
I mentioned this on Facebook yesterday, and the response was so enthusiastic, that I felt the only responsible thing to do would be to move a few posts around and share this with you a.s.a.p.
YOU MIGHT ALSO ENJOY:
NOTE: I made this using a French press. So it was easy to get these specific measurements. If you use a coffee maker, you'll need to adjust the amounts of all the ingredients based on the amount of coffee you use. You can double or triple or….
IMPORTANT: If using a coffee maker, be sure you use the type that requires the paper coffee filters. The spices will clog your machine if you have the other type that does not use these filters.

Clean Eating Pumpkin Spice Latte
(Makes 2 lattes)
Ingredients:
4 tablespoons ground coffee
1 tablespoon pumpkin spice
2-1/2 cups water
2 cups unsweetened vanilla almond milk OR…
2 cups milk
1/2 tsp. vanilla extract
2 tablespoons pure maple syrup
Directions:
Combine the coffee and the pumpkin spice and brew as usual with the specified amount of water.
Pour the maple syrup in the bottom of your cup with the vanilla extract and pour half of the hot coffee over that.
Add 1 cup of milk and stir.
Repeat steps 2-3 for the second serving.