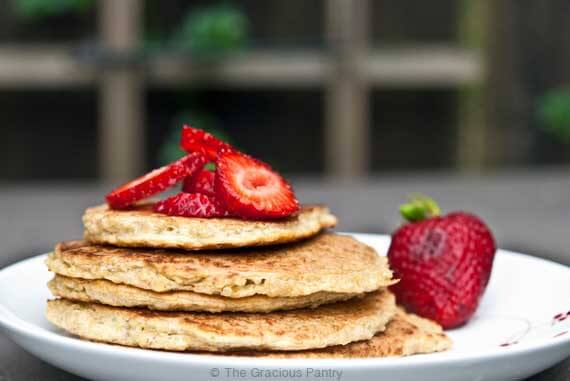 I don't know about you, but I love trying new things in the kitchen. I love to experiment and tweak ingredients until I get something different and delicious. It's what I live for when I'm cooking.
This is a totally new way to make your pancakes in the morning. The texture is not like a traditional pancake. But it's fun and it's tasty! I think the next time I make these I'll blend the quinoa until it's smooth to see if the texture comes out like a regular pancake. I'm curious that way.
I love using quinoa in new ways because it's such a wonderfully nutritious ingredient. As far as I know, it's actually not a grain. It's a seed. AND…. it's a complete protein! It has all 9 amino acids just like meat! I could be wrong, but I don't think any other grain or seed can claim that. Is anyone here a bit more educated on this than I am? I'd love to hear what you know!
YOU MIGHT ALSO ENJOY:

Clean Eating Quinoa Pancakes
(Makes 4 pancakes)
Ingredients:
1-1/2 cup cooked quinoa
2 whole eggs
2 egg whites
Topping Suggestions:
Fruit
Honey
Maple syrup
Parmesan cheese
Avocados (thats how I ate them! Mini Chef at them with strawberries and honey)
Directions:
In a large mixing bowl, combine the cooked quinoa, eggs and egg whites. Whisk until smooth and creamy.
Mist a non-stick pan with oil and cook as you would any pancake. Do NOT cook these on high heat. The outsides will burn and the insides will still be raw. Use medium heat and cook for a little longer until golden brown.
Top with any clean topping such as fruit, honey or maple syrup.
NOTE: Do not cook these on high heat. Lower the heat and cook them for longer otherwise you'll end up with a pancake that is burnt on the outside and raw on the inside.