My son is developing quite the palate. He comes by it honestly, but some days, it's interesting to try and keep up with his developing tastes.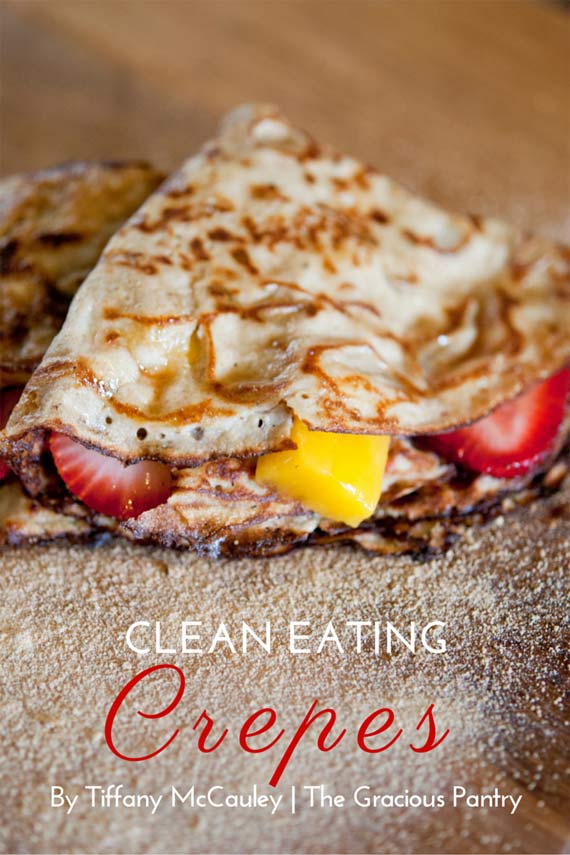 Normally, we are a pancake or waffle household. I love waffles simply because I can make a big batch for freezing and then just pop them in the toaster in the morning for a quick breakfast. Especially topped with peanut butter. Yum!
But this past weekend, he decided that wasn't good enough anymore, and suddenly crepes were the only thing that would do.
It's not a bad thing since I've been meaning to do a basic crepe recipe for a while now. But he and I are going to have to do a crash course in the kitchen so he can satisfy his own, "shee-shee" cravings on demand. Thank goodness I taught him to eat clean because if he was craving the regular versions, The poor kid would be far less healthy than his current, vibrant condition. But on the other hand, I have a kid that eats well. And that's saying something!
YOU MIGHT ALSO ENJOY:

Clean Eating Crepes
Ingredients:
2 large whole eggs
1/2 cup milk ( used almond milk. )
1/4 cup water
1 tsp. vanilla extract
1 tbsp. honey or maple syrup
1/4 cup whole wheat pastry flour
1 tbsp. oil (I used unprocessed sunflower oil)
Sucanat (amazon affiliate link), blended into powdered sugar, used as needed
Directions:
In a large mixing bowl, whisk together everything except the sucanat (that's just for topping).
The trick with crepes is to keep them thin. These are not pancakes. They should be about the thickness of a tortilla.
Ladle some batter slowly into an oiled, non-stick pan. Rotate the pan to get the batter to spread thinly over the entire base of the skillet.
Cook on low to medium heat, flipping as needed until cooked.
Place the cooked crepe on a plate, add your favorite fillings, and either roll them up like a burrito or fold them into quarters.
Sprinkle with a little powdered sucanat and enjoy!
Number of servings (yield): 6