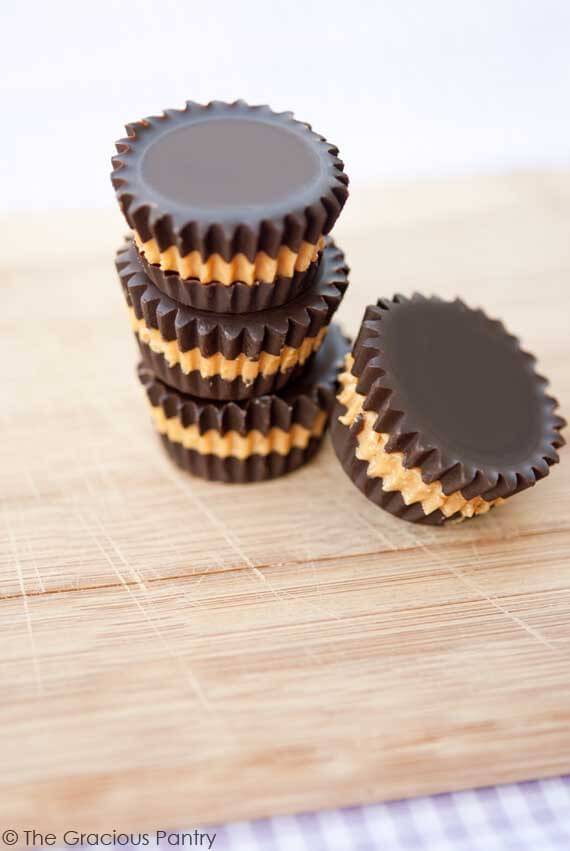 Clean eating doesn't have to mean that you give up everything you've ever liked in favor of cardboard and saw dust on your dinner plate. In fact, it's quite the opposite.
You can still enjoy your favorites. Favorites such as Peanut Butter Cups. Yes, chocolate and peanut butter were meant to go together. But it doesn't have to be unhealthy. Things that taste good CAN actually be healthy too! <gasp!>
This recipe is a case in point. I hope you'll enjoy them!
Recipe notes: This is best made in a slow cooker if you have one. But I'll give instructions for the stovetop as well.
YOU MIGHT ALSO ENJOY:

Clean Eating Peanut Butter Cups
(Yield will vary depending on size of mold used)
Ingredients:
3/4 cup virgin coconut oil
1/2 cup unsweetened cocoa powder
1/2 cup honey
2 teaspoons vanilla extract
16 oz jar clean peanut butter, smooth works best
Directions:
In a medium pot, combine all ingredients except the peanut butter.
Whisk thoroughly over low heat until the chocolate is smooth.
Using either an oiled silicone mini muffin pan, like this one (regular size works too) OR foil cupcake papers in a regular muffin pan, fill the wells 1/3 of the way up with chocolate. Keep the chocolate warmed over low heat if possible or on the warm setting in your slow cooker.
Freeze these for 15 minutes.
Remove them from freezer and add another 1/3 using peanut butter.
Freeze for 15 minutes.
Remove them from freezer and add the last 1/3 with more chocolate.
Freeze for at least 2 hours.
Store in freezer. These get melty pretty quickly, so if you want to serve them but don't want them frozen, put them in the fridge for about 20 minutes, then serve.
Note: These are very good straight out of the freezer.