This post may contain affiliate links. Read my
Privacy Policy.
As an Amazon Associate I earn from qualifying purchases.
This baby kale salad is a fabulous lunch or lighter dinner any day of the week. It's filling, tasty and great with many different types of dressing.
This delicious salad is perfect to take to work or to enjoy with a few people at the dinner table. It has a little bit of everything that makes a salad truly wonderful.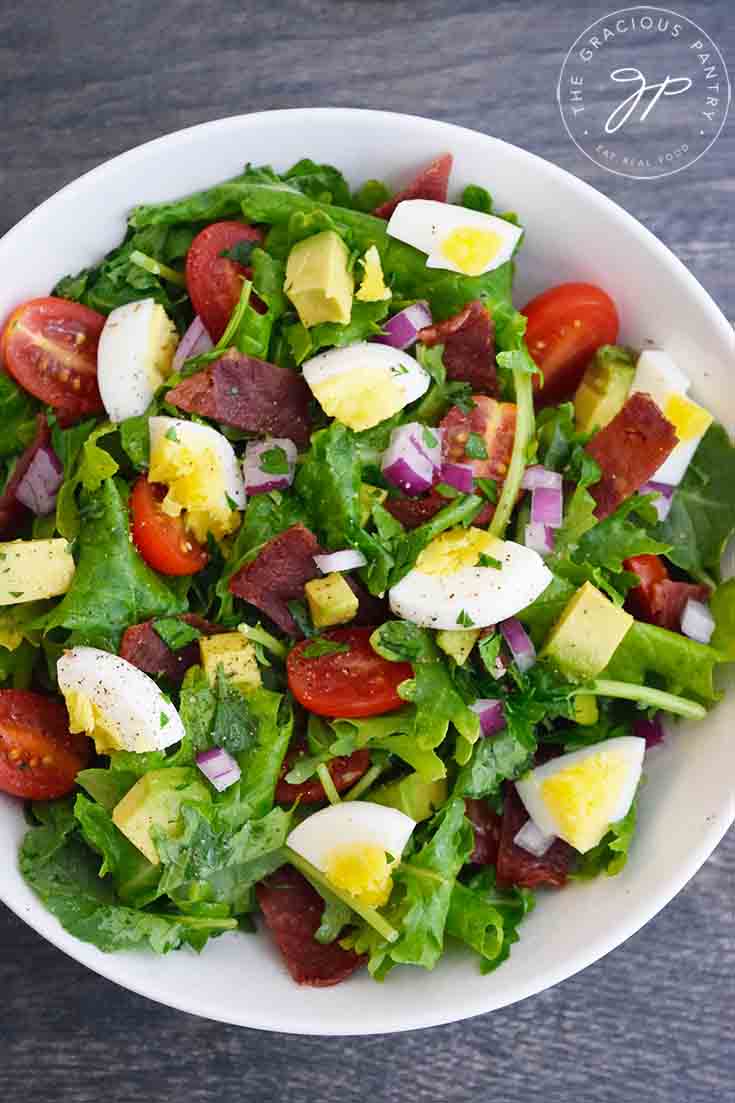 Baby Kale Nutrition
This powerhouse green packs a nutritious punch! For 2 cups of baby kale, you'll get this approximate nutrition:
45 calories
.5 g fat – most of which is alpha linolenic-acid (omega 3)
35 mg sodium
9 g carbs
2 g fiber
3 g protein
But the area where baby kale truly shines is in the nutrients it gives you. There is some research that indicates that baby green might possibly have better nutrition than fully grown greens, but none of the studies were totally conclusive. Make of that what you will. Either way, you'll get, at the very least, all the wonderful nutrition of fully grown kale!
For the same 2 cups of baby kale, you'll get:
261% of your daily vitamin A requirements
255% of your daily vitamin C requirements
10 % of your daily calcium requirement
9% of your daily iron requirement
430 mcg of vitamin K
Not to bad for a simple salad! Add in some protein with the turkey bacon and eggs, as well as healthy fats from the avocado and you've got yourself one powerhouse of a nutritious salad!
Why Baby Kale?
Baby greens (and even micro-greens) of any kind are perfect for salads. They often come pre-washed and ready to go, so the convenience factor is always there. Baby greens have a milder flavor than fully grown greens. They are typically picked 3-4 weeks after planting and tend to be far more tender and tasty than their more bitter, full-grown counterparts.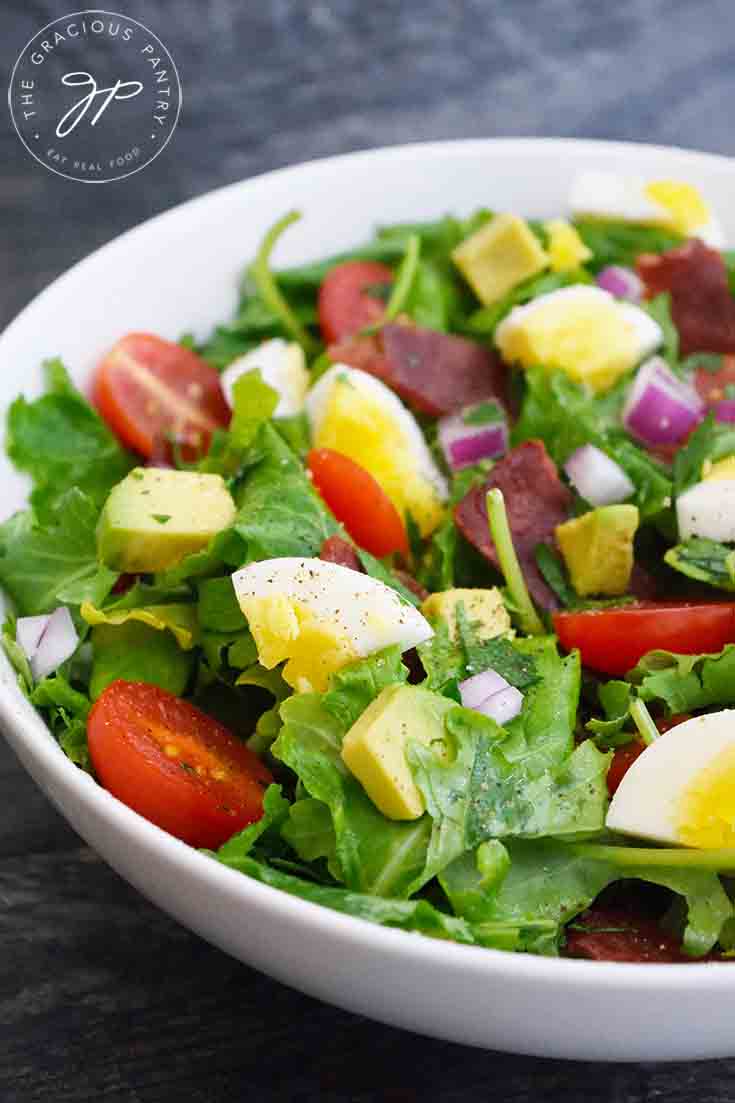 Healthy Bacon
It's no secret that bacon is pretty processed stuff. Especially if you get the more commercial brands. Many have added sugar in different forms and the sodium is often enough to give you a stroke just by reading the nutrition label. But healthier choices are out there! I always buy the Applegate brand turkey bacon. It has a small ingredient list of things I recognize. None of which are sugar! So that's what I used here in this salad, and it was absolutely delicious!
What Goes Good With Baby Kale Salad?
Kale salad is generally versatile. A good kale salad will typically be a mix of much more than just kale and dressing. Baby kale is delicate stuff and nowhere near as strong in flavor as its fully grown counterparts.
But if mix-ins aren't the only thing you want to enjoy with your salad, one of the best pairings for any salad is generally a nice bowl of soup. Even a side of rustic garlic bread can be delicious on the side of a kale salad.
Kale Vs. Baby Kale
If you've ever tried regular kale, you may not have totally enjoyed the experience if it wasn't prepared correctly. The first time I had it, it was juiced. Ack!
So there are two types of kale. The curly kind and Lacinato kale.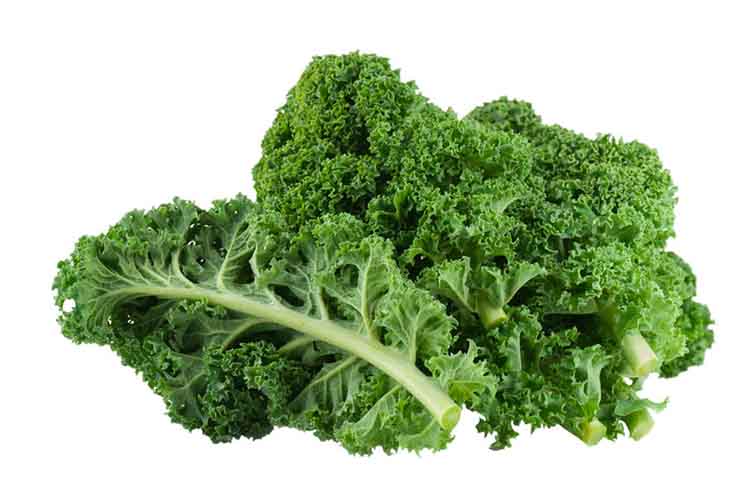 Curly kale is the tough stuff that has very curly, kind of "bushy" leaves on a hard stem. To eat it, you need to remove the stem and massage the leaves thoroughly. The flavor is quite bitter, which can be good for some dishes, and not-so-good for others. Curly kale has its place in the culinary world, but it has to be prepared properly to be enjoyable. I find, personally, that this sort of kale is best when cooked, though if properly prepared, it can be quite enjoyable in its raw state as well.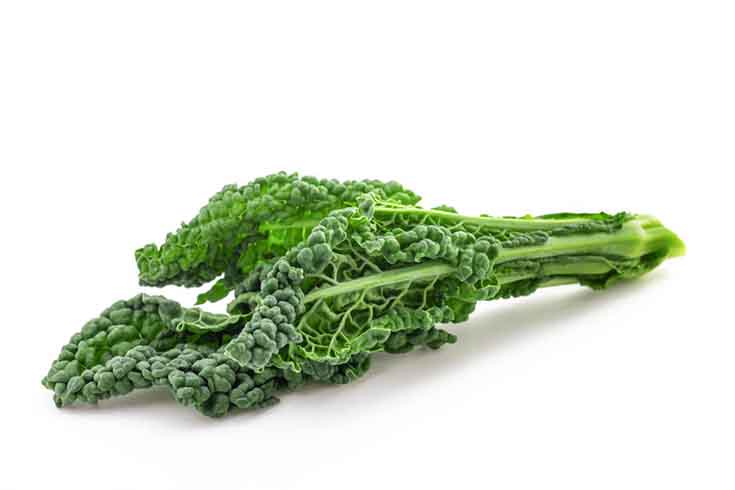 Lacinato kale has a softer leaf with a milder flavor. It's less "bushy" and more elongated. You still have to remove the stem and massage the leaves, to make it enjoyable when raw. This type of kale is better suited for salads, in my opinion. The gentler flavor makes for a better match with a wider variety of ingredients.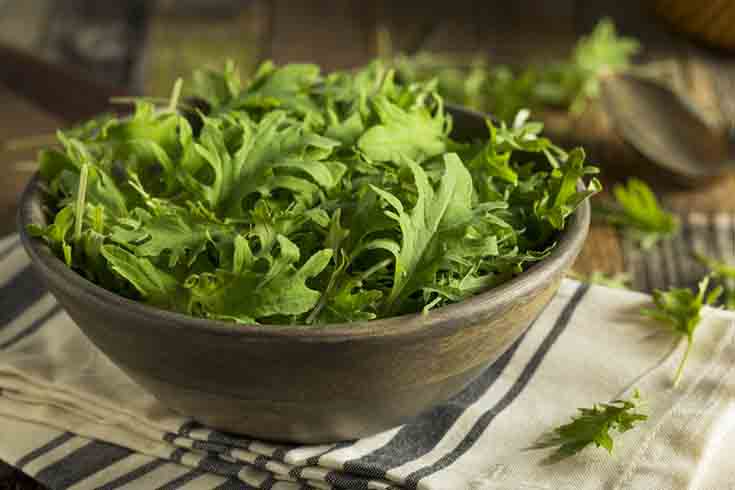 Baby kale are the leaves of young kale plants. Baby kale can be derived from one type of kale, such as curly kale or Lacinato (dinosaur) kale, or it can be a mix of different types of kale. 
Tender baby kale is far more delicate and milder in flavor. It cooks faster and is a bit more versatile in general where flavor combinations are concerned.
Massaged Kale Salad
What's the deal with massaging kale?
No, kale does not get stressed out.
Massaging kale is something you do with fully grown, mature kale leaves. You combine it with a little acid and salt, and then basically "squish it" and knead it to break down the tough leaves. This not only softens the leave making them far easier to chew, but also cuts down on the bitterness.
The nice part about baby kale is, that you don't have to do that! It's good to eat straight out of the package with no massaging needed.
About The Ingredients
Baby kale – It's easiest to purchase this pre-washed and prepped.
Grape tomatoes – Halved.
Cooked bacon – I used Applegate turkey bacon.
Red onions – Chopped small.
Hard-boiled egg – chopped.
Avocado – Cut into chunks.
Italian parsley – The flat leaf kind. Curly parsley will work, but it's not as good.
Vinaigrette – Buy some with no added sugar, or make your own.
How To Make Baby Kale Salad
Generally speaking, I find that it's best to toss baby kale leaves with dressing first. Then add everything else. This ensures that the leaves all get a nice coating of dressing without overpowering the flavors of anything else you add to the salad.
So simply toss the greens with dressing, and then add on all the other cooked ingredients for a delicious, healthy meal.
Optional Additions
Here are some additional ingredients you can easily add to this salad if you wish.
Cheese
Pine nuts
Chickpeas
Almonds
Arugula
Lemon juice
Black pepper
Apple
Baby spinach
Need Supplies?
Subscribe:
Remember to subscribe to my free, Gracious Pantry Newsletter to receive all my latest recipes in your inbox! Click here to sign up!
More Kale Salad Recipes
Baby Kale Salad Recipe Card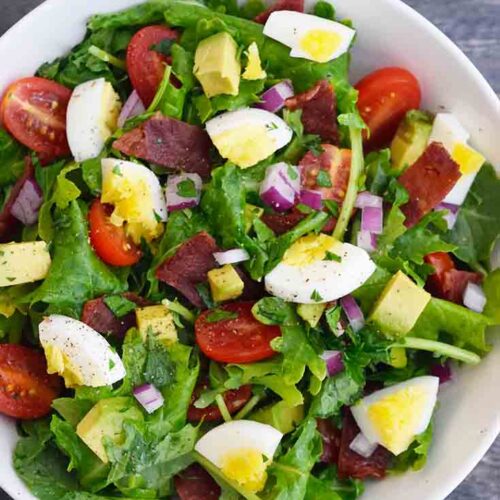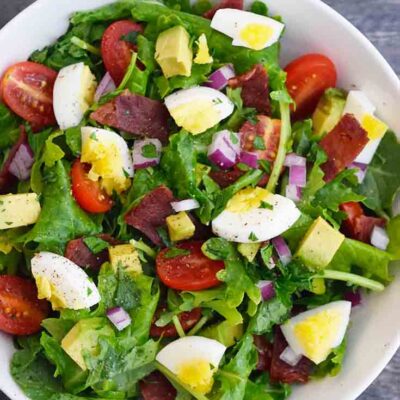 Baby Kale Salad
A delicious kale salad you can enjoy as a main meal for lunch, or as a side dish for dinner with friends. Note that the preparation times assume that your bacon and egg are already cooked.
Print
Pin
Rate
Add to Collection
Go to Collections
Ingredients
2

cups

baby kale

5

medium

grape tomatoes

(halved)

4

strips

cooked bacon

(I used Applegate Turkey Bacon)

2

tbsp.

chopped red onions

1

large

hard boiled egg

(chopped)

½

small

avocado

2

tbsp.

fresh, chopped Italian parsley

2

tbsp.

vinaigrette
Instructions
Place your baby kale in a medium bowl.

Slice your tomatoes and chop your bacon, onions and avocado.

Layer everything on top of the kale and add your favorite vinaigrette.
Notes
Please note that the nutrition data given here is a ballpark figure. Exact data is not possible.
Nutrition
Serving:
0.5
the recipe
|
Calories:
292
kcal
|
Carbohydrates:
10
g
|
Protein:
11
g
|
Fat:
24
g
|
Saturated Fat:
5
g
|
Cholesterol:
109
mg
|
Sodium:
322
mg
|
Potassium:
603
mg
|
Fiber:
4
g
|
Sugar:
3
g
|
Vitamin A:
2992
IU
|
Vitamin C:
42
mg
|
Calcium:
56
mg
|
Iron:
1
mg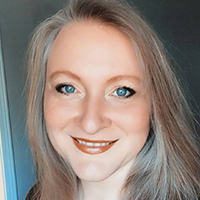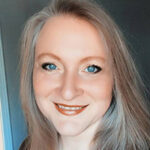 Who me?
I'm Tiffany, a cookbook author, food lover, mom, and writer for MSN and the AP Newswire.
   
Looking to stock your freezer for busy weeknights?
I wrote the book! Grab a copy of my book, Clean Eating Freezer Meals on Amazon here, or at select bookstores nationwide!   
Did you make one of my recipes?
Tag @graciouspantry on Instagram or post your pic on Facebook! I love to see my recipes in action!