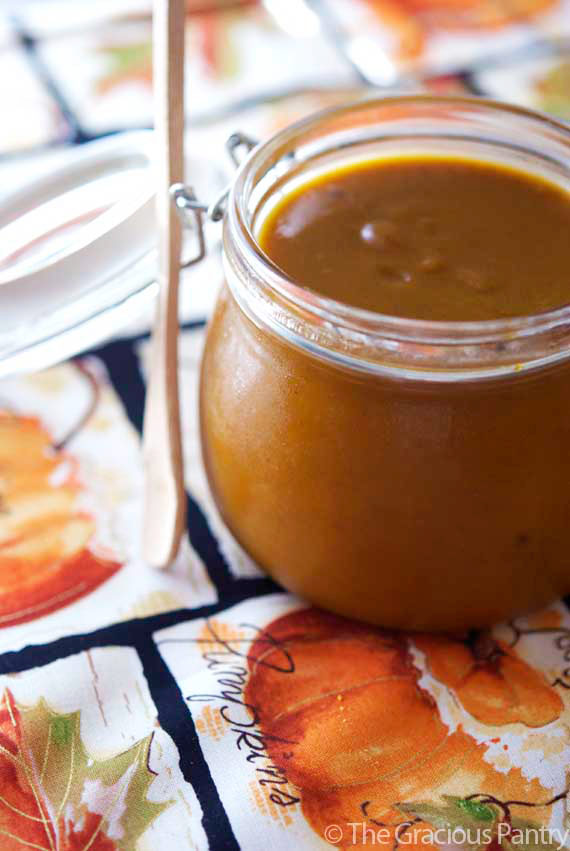 Aaaah, fall has arrived in all it's red, gold and brown glory. It's my absolutely favorite time of the year. I seem to come alive during this season, and so does Mini Chef. All the leaves to jump in, tree branches to shake (leaf rain!) and of course, PUMPKINS!!!!
Pumpkins are my absolute favorite part of the season (well, and Halloween…). They are so delicious regardless of how you prepare them, and packed with nutrition too!
Last year, I tried my hand at creating a pumpkin butter recipe and failed miserably. I tried again and again and just could not get it right. I guess timing is everything because this year, I hit a home run on my first attempt. I just love it when that happens!
Mini Chef LOVES this on toast with peanut butter. It's a great way to start your morning!
UPDATE: Here is why you should NOT can pumpkin butter.
YOU MIGHT ALSO ENJOY:

Clean Eating Pumpkin Butter
(Makes 5 cups)
Ingredients:
2 (15 ounce) cans pumpkin puree (NOT pumpkin pie filling)
1 cup apple juice, no sugar added
1 cup honey
1/4 cup pure maple syrup
2 teaspoons molasses
2 tablespoons lemon juice
1 1/2 teaspoons pumpkin spice, no sugar added if purchased
Pinch of salt (very small just to enhance the flavor a little)
Directions:
Place all ingredients in a small slow cooker and cook on low for 5-6 hours.
Allow to cool for a while, pour into storage jars and keep it in the fridge overnight. Enjoy the next morning!