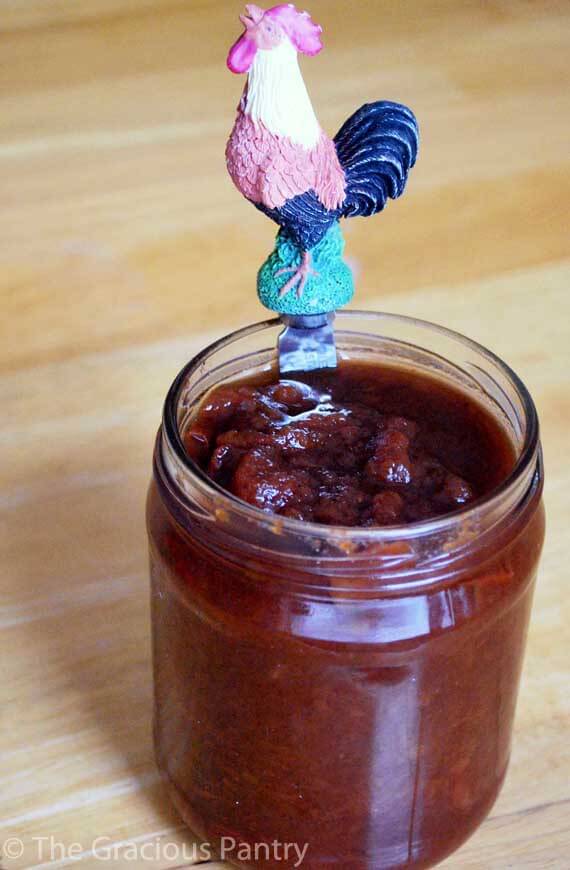 I love it when a recipe is easy to convert to a Clean Eating recipe. It makes life so much simpler, don't you think?
Now that my two year old is demanding to eat with his "hork" and "poon" at every meal, I feel good about the fact that the food he's putting in his mouth is nothing but healthy. This recipe, is no exception.
I learned to make apple butter years ago, but thought I was out of luck once I started trying to give up sugar. So I was happy to find that that was not the case.
This recipe is adapted from the SouthernGraceGourmet.com web site. This fabulous lady really knows her way around the kitchen. I love reading her blog posts. Her recipes are usually easily converted to the Clean Eating lifestyle. Here's the original recipe.
I hope you'll give this recipe a try. It's really very yummy!
YOU MIGHT ALSO ENJOY:

Clean Eating Apple Butter
(Makes 50 – 55 servings)
Ingredients:

12 small apples of a mixed variety
2 cups apple and grape juice (no added sugar, this is  a mix I found. It's 2 cups total, not 2 cups of each. Use 2 cups of either/or if you can't find the combo at your store.)
30 grams molasses (2 tablespoons)
90 grams honey (scant 1/2 cup)
1 teaspoon cinnamon
1/4 teaspoon nutmeg
1/4 teaspoon allspice
1/4 teaspoon cloves
1/4 teaspoon salt
Directions:

Cut and core all your apples and place them in the slow cooker.
Add your juice.
Add your honey.
Add your spices.
Mix everything up and turn the heat on high. After a couple of hours, the juice should be boiling. Once it boils, turn the heat to low.
Note: The original recipe says you have to cook for about 6-8 hours after turning down the heat. However, with the substitution of honey, you have to cook it a bit longer. I had to let mine cook for about 12 hours. Remember to stir occasionally. The apple butter should be a nice dark brown color when it's finished. Also, I do not recommend this recipe for canning.
Nutritional Content:
(Data is for 1 tablespoon)
Calories: 35
Total Fat: 0 gm
Saturated Fats: 0 gm
Trans Fats: 0 gm
Cholesterol: 0 gm
Sodium: 13 mg
Carbohydrates: 9 gm
Dietary fiber: 1 gm
Sugars: 7 gm
Protein: 0 gm
Estimated Glycemic Load: 3
Please Note: Nutritional Information estimated at Nutritiondata.com. Data may not be accurate and is subject to the availability of specific foods in their database. Where one ingredient is not listed, substitutions must be used. Therefore, you should not refer to this data as being exact. It's more of a ballpark figure. The Gracious Pantry does not take responsibility for the inadequacies of the nutrition calculator used. This data is provided as a courtesy and general reference only. It is not exact.