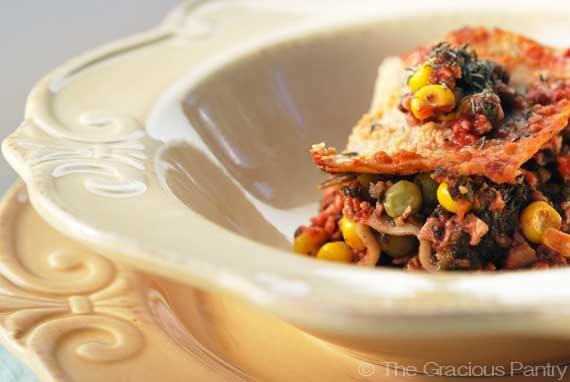 Every time I make lasagna, it always tastes different because I never follow a recipe. I use whatever vegetables and spices I have on hand.
The version I made last night for dinner was especially good though. So I thought I'd hang on to the recipe by publishing it here. I'm sure I'll post many more lasagna recipes in the future. But this one is really yummy! Even my 2-year-old couldn't stop eating it.
Make sure you have a very large lasagna pan, or two medium ones. It freezes well, for a quick and easy meal on the go.
YOU MIGHT ALSO ENJOY:
Clean Eating Vegetarian Lasagna
(Makes 26 servings)
Ingredients:

1 pound bag frozen spinach
1 pound bag frozen peas
1 pound bag frozen corn
1 (10 ounce) package TVP (Textured Vegetable Protein) – Optional
6 (15 ounce) cans tomato sauce, no added sugar, low sodium is best
2 cups fresh basil
1/8 cup dried parsley
2 (10 ounce) packages whole wheat lasagna noodles
1 cup grated parmesan cheese
Directions:

Preheat oven to 350 degrees F. Put your noodles on to cook.
Empty packages of spinach, peas, corn and TVP into a large mixing bowl. Add parsley and fresh basil, as well as 4 of the 6 cans of tomato sauce. Mix well.
Once your noodles are cooked, place a layer on the bottom of your lasagna pan(s). Then add a layer of filling. Over this, pour one can of tomato sauce.
Top that with a layer of noodles and repeat until you reach to top layer (ending with a layer of noodles). Top it off with your parmesan cheese and place in a preheated oven until warmed through (about 45 minutes).
Note: You may want to put some foil over the top, and then remove it for the last 10 minutes, otherwise the top layer of noodles gets very brown and crunchy.
Freezing Instructions: Divide the lasagna into individual servings and freeze. You can freeze the whole thing too, but it will take a long time to defrost and reheat. Freeze for up to 6 months.
Nutritional Content:
(Data is for 1 cup)
Calories:156
Total Fat: 2 gm
Saturated Fats: 1 gm
Trans Fats: 0 gm
Cholesterol: 3 gm
Sodium: 169 mg
Carbohydrates: 24 gm
Dietary fiber: 4 gm
Sugars: 2 gm
Protein: 10 gm
Estimated Glycemic Load: 13
Please Note: Nutritional Information estimated at Nutritiondata.com. Data may not be accurate and is subject to the availability of specific foods in their database. Where one ingredient is not listed, substitutions must be used. Therefore, you should not refer to this data as being exact. It's more of a ballpark figure. The Gracious Pantry does not take responsibility for the inadequacies of the nutrition calculator used. This data is provided as a courtesy and general reference only. It is not exact.