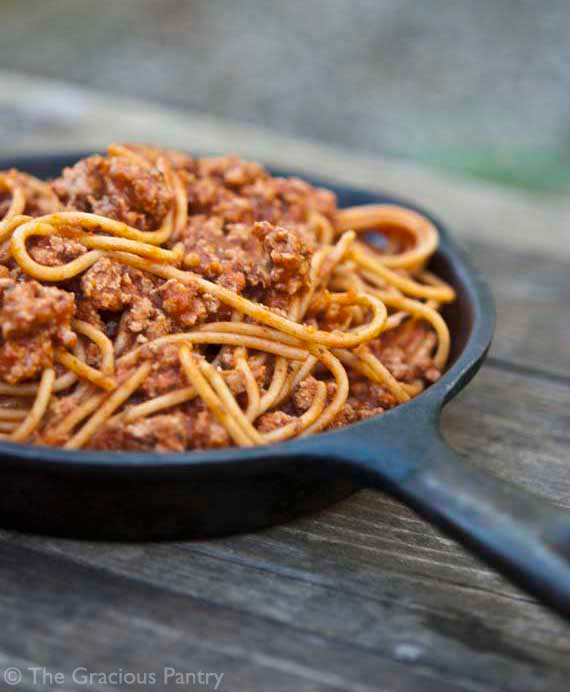 I love spaghetti.
Maybe it's my not-so-Italian heritage (my dad was adopted by my Italian grandfather), but show me a plate of spaghetti and I go absolutely weak at the knees.
So when I came across a recipe that didn't involve boiling pasta first, I was intrigued and gave it a shot.
Not only did Mini Chef have 3 servings, but Mama Chef was pretty happy too. Yummy!

Clean Eating Skillet Spaghetti
(Makes 10 servings)
NOTE: You will need a very large pan for this. Mine was a 10 cup, cast iron pan and it was just barely large enough.
Ingredients:
1 1/2 pounds lean ground turkey
1 tablespoon olive oil
2 tablespoons onion powder
1 tablespoon chili powder
1 1/2 teaspoons dried oregano
2 teaspoons dried basil
1 tablespoon garlic powder
3-4 cups water
2 (15 ounce) cans tomato sauce, no sugar added
1 (16 ounce) package whole grain spaghetti
Grated parmesan cheese
Directions:
Brown the turkey in your pan, using the olive oil.
Once the meat has lost all of it's pink color, add all the spices to the pan and stir well to combine.
Pour in the water (start with 3 cups, you can always add more as needed) and tomato sauce and stir gently while bringing the sauce to a gentle boil.
Add the pasta, stir and cover the pan with a lid.
Check on the pasta often so as to keep it from burning on the bottom of the pan. Cook until the pasta reaches your desired level of "doneness" (Is that a word?). About 20-30 minutes. Remember to stir!
Allow to cool a bit and top with parmesan when serving.