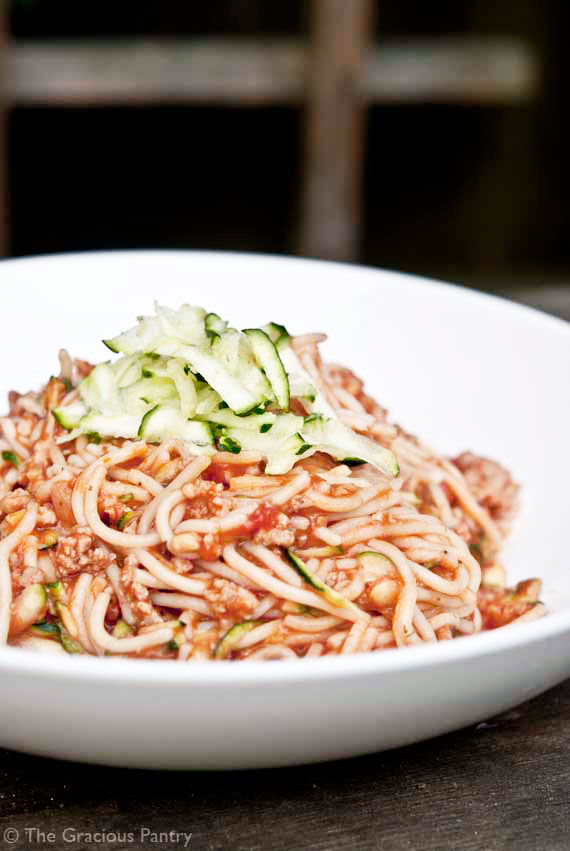 I don't know about you, but as a busy Mom, wife, student and blogger, there are just some nights when I absolutely do not want to have to think about what to make for dinner.
For those occasions, I have several recipes in my back pocket that are tried and true. The family loves them, they are clean, nutritious and tasty, and most importantly they are simple and quick to get on the table.
While I love pasta, I always have to be sure I'm balancing all those carbs with some protein and veggies. So I came up with this little concoction that makes for a really great meal.
Hope you enjoy it as much as we do!
YOU MIGHT ALSO ENJOY:

Clean Eating Weeknight Spaghetti
(Makes 8 servings)
Ingredients:
1 pound whole grain spaghetti noodles
1-1/2 pounds lean, ground turkey meat
3 medium zucchini, grated
1 tablespoon garlic powder
1 tablespoon onion powder
1 tablespoon olive oil
1 jar clean spaghetti sauce (or as much as you like)
Directions:
Cook your pasta to package directions.
While the pasta cooks, place turkey meat, zucchini, garlic powder, onion powder and olive oil into a large frying pan and cook until the meat is done. You are not using a lot of oil, so be sure to keep the heat at a lower setting. The water from the meat will help to cook everything.
Drain your pasta and return to the pot.
Stir in the meat and then the sauce.