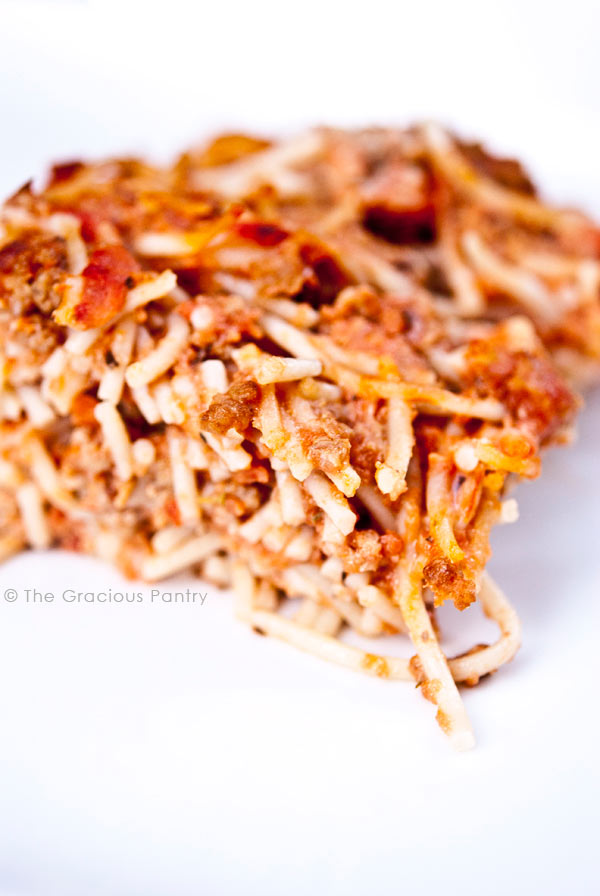 The Italian dinner table is the epicenter of everything that happens in the lives of the people who sit at it.
Often large and welcoming, this table, with all its comfortable chairs, seems to call out to you…
"Mangia!! Mangia!!" (Eat!! Eat!!)
And typically, you do just that.
Italian meals are an experience unto themselves. There is a whole world of excitement, emotion, and hands waving passionately in the air with every word. You come away from a meal feeling as though you've experienced a lifetime of emotion in one evening's dinner. You feel a strong sense of family and contentedness. It's a fabulous experience. I highly recommend it.
The Italian kitchen is also worth a visit. Buzzing with chit-chat and steamy from large, bubbling pots on the stove, you enter into a world of strong opinions, excess amounts of advice, and usually more food than you can handle.
Often, that food includes a nice big plate of spaghetti.
I will never get tired of spaghetti. Since I was little, it's been one of my favorite dishes. A go-to comfort dish that seems to drown all my troubles in warm, tangy, basily, saucey goodness.
That said, every once in a while, I like to "mix it up" a little. Try something different with a traditional recipe. And Spaghetti Pie was definitely a new phenomenon for me.
While it's definitely easier just to make a pot of spaghetti, this dish makes for a nice change when the same ol', same ol' gets… well…. old!
So pull up a chair and Mangia!!!

This recipe from the Gracious Pantry archives. Recipe originally posted on 1/12/11.

Clean Eating Spaghetti Pie Recipe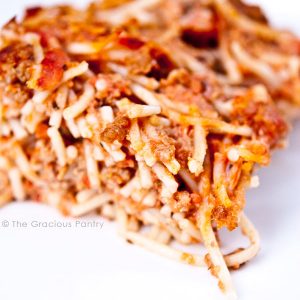 Author:
Tiffany McCauley | The Gracious Pantry.com
Ingredients
1½ pound ground turkey meat, cooked with 1 tbsp of olive oil
2 teaspoons garlic powder
2 teaspoons onion powder
1 (15 ounce) jar clean spaghetti sauce, no sugar added
8 egg whites
1 tablespoon italian seasoning
1 (16 ounce) whole grain spaghetti, cooked and drained
1 cup parmesan cheese (optional)
Instructions
Preheat oven to 350 degrees F.
Crack your eggs in a medium-sized mixing bowl and whisk slightly with a fork.
Combine all ingredients (except the parmesan) in a large mixing bowl, and stir until the egg is well-distributed.
Transfer to a 9x13 baking dish.
If using the parmesan, sprinkle over the top of the spaghetti pie.
Bake 50-60 minutes. There should be no liquid (egg white) visible when you cut into the middle of it.