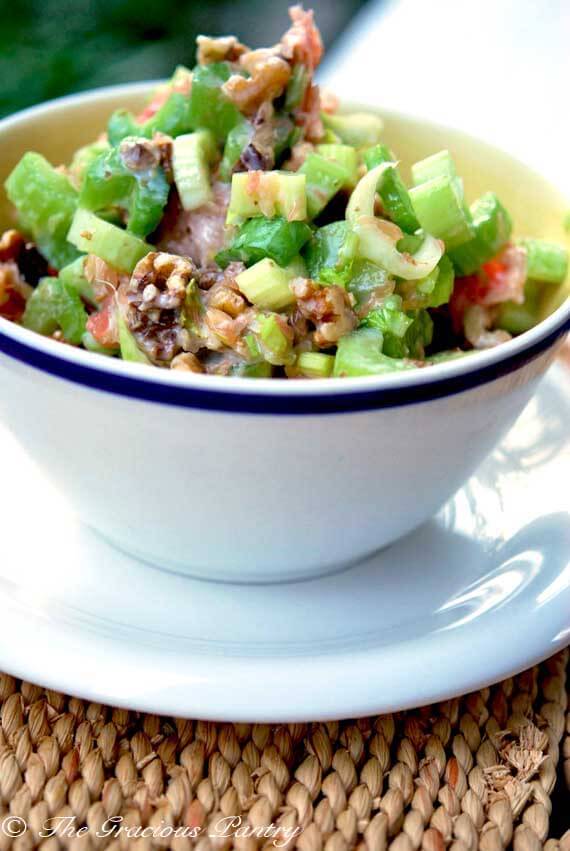 The thing I've always hated about celery is that you generally only add a stalk or two to whatever you are cooking, and then the rest sits in the fridge and tends to go bad.
Determined not to waste an entire bunch of celery this time, I came up with this salad. Pretty darn tasty if I do say so myself.
YOU MIGHT ALSO ENJOY:

Clean Eating Celery Salad
(Makes 4-5 cups)
Ingredients:

1 grapefruit
9 stalks celery
1 teaspoon honey
1 teaspoon lemon juice
1/4 cup plain non-fat yogurt
1 cup chopped walnuts
Directions:

Chop your celery and grapefruit and place in a large mixing bowl.
Add walnuts and honey.
Add yogurt and lemon juice and toss well.
Note: If this is a main meal and you need more protein, vegetarians can add edamame beans, and meat eaters can add chopped, baked chicken.
Nutritional Content:
(Data is for 1 cup)
Calories: 204
Total Fat: 15gm
Saturated Fats: 1gm
Trans Fats: 0gm
Cholesterol: 1gm
Sodium: 76mg
Carbohydrates: 14gm
Dietary fiber: 3gm
Sugars: 7gm
Protein: 5gm
Please Note: Nutritional Information estimated at Nutritiondata.com. Data may not be accurate and is subject to the availability of specific foods in their database. Where one ingredient is not listed, substitutions must be used. Therefore, you should not refer to this data as being exact. It's more of a ballpark figure. The Gracious Pantry does not take responsibility for the inadequacies of the nutrition calculator used. This data is provided as a courtesy and general reference only. It is not exact.