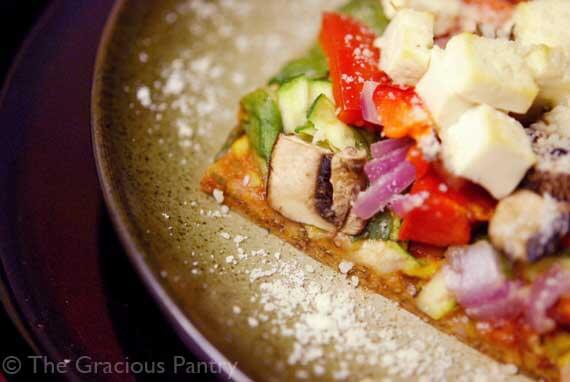 If you love pizza, but think you have to give it up to be healthy, think again!
About a year ago, I was making pizza for dinner for my husband. I chopped all my veggies and put my beautiful pizza together and in the oven. I pulled it out, served it, and we ate it. It was fabulous! The catch?
It didn't have any cheese! We had eaten almost all of it when I realized I hadn't put any cheese on the pizza. I was shocked that we hadn't noticed. But it got me thinking. If you don't really need all that fattening cheese to have a tasty pizza, why put it on there?
I've been making this low-fat pizza ever since. And every time I do, it's an absolute hit.
YOU MIGHT ALSO ENJOY:
Clean Eating Thin Crust Pizza
(Makes 12 servings)
Pizza Dough:

1 package active dry yeast
1 cup warm water
2 cups whole wheat pastry flour
1/4 cup ground flax seed
1 teaspoon salt
1 tablespoon honey
2 tablespoons italian seasoning
2 tablespoons garlic powder

Pizza Sauce:

1 (15 ounce) can tomato sauce
1 tablespoon italian herb spice
1/2 tablespoon garlic powder

Pizza Topping Suggestions:

2 red bell peppers
3 small zucchini
1 package sliced mushrooms
1 red onion
9 ounces organic tofu (optional)
1/2 pound prepared fresh spinach
24 teaspoon parmesan cheese. (Weird measurement, but I'll explain below)
Directions:

Preheat oven to 350 degrees F.
Place the yeast in a large mixing bowl, and add water. Set aside.
Chop and prepare all your toppings.
Make the dough. Combine all dough ingredients with the yeast mixture. Knead until you have a nice firm ball of dough. Let stand, covered with a towel, for about 10 minutes.
When the dough has set, spray a cookie sheet with a light coat of olive oil spray, and press your dough out until it covers the cookie sheet. This may take a few minutes. Place in your preheated oven for about 15 minutes, or just until dough is cooked through. Try not to let the edges brown. It may help to lightly lay some aluminum foil over it as it bakes.
Make the sauce. When the dough is finished baking, remove it from the oven, and spread the sauce over the crust. (Careful, the pan is hot!) Distribute your veggies evenly over the sauce and dough, and return the entire thing to the oven. Bake for approximately 20 – 30 minutes, or until vegetables are cooked. Again, you may want to use some foil over the top as it bakes to keep the edges of the dough from getting to brown.
When the pizza is finished baking, remove from oven, allow to cool slightly, and cut into twelve pieces.
Each piece should then be sprinkled with 2 tsp. parmesan cheese, after being served on a plate. (That's why I said 24 tsp. – easier if you add it after you've put the pieces on a plate)
Freezing Instructions: Bake the crust for 10 minutes. Cool completely. It's best to freeze the dough without any toppings. But if you really want a "ready-to-go" pizza, add all toppings except the basil and tofu. Cover with plastic wrap and freeze for up to 3 months.
Nutritional Content:
(Data is for 1 slice or 1/12 the recipe)
Calories:143
Total Fat: 3gm
Saturated Fats: 1gm
Trans Fats: 0gm
Cholesterol: 3gm
Sodium: 285mg
Carbohydrates: 25gm
Dietary fiber: 5gm
Sugars: 5gm
Protein: 8gm
Estimated Glycemic Load: 12
Please Note: Nutritional Information estimated at Nutritiondata.com. Data may not be accurate and is subject to the availability of specific foods in their database. Where one ingredient is not listed, substitutions must be used. Therefore, you should not refer to this data as being exact. It's more of a ballpark figure. The Gracious Pantry does not take responsibility for the inadequacies of the nutrition calculator used. This data is provided as a courtesy and general reference only. It is not exact.