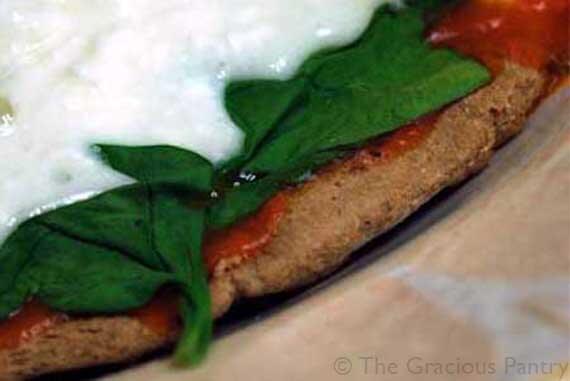 I realize that pizza made on pita bread is not a new concept. I'm sure many of you have tried it.
But years ago, I belonged to weight watchers (haven't we all at one point?), and I remember sitting in class wildly scribbling down recipes that some of the ladies were sharing.
At first, the idea of this pizza didn't sound very appetizing. But if you've done weight watchers, you know that after a while, you just NEED to try something new. So I went for it.
OMG!!!! It was so good! I ate this pizza for the next week straight. True story.
The part I love is that it's so quick and easy to make. Just layer your ingredients on a plate, pop it in the microwave for 2 minutes, and you've got dinner. How's THAT for a quick meal???
YOU MIGHT ALSO ENJOY:
Clean Eating Quick Pizza
(Makes 1 pizza)
Ingredients:

1 whole wheat pita
1/4 cup tomato sauce or clean eating spaghetti sauce
1/2 cup low fat cottage cheese
Fresh spinach – as much as you can cram onto the pita
Directions:

Place your pita on a microwave-safe plate.
Layer on the ingredients in the order listed.
Microwave for about 2 minutes until you have a nice, melted, cheesy mess on your plate.
Note: Don't forget the knife and fork. This is not the kind of pizza you want to eat with your hands. Trust me. I tried. It wasn't pretty. My favorite (white but now red) t-shirt will never recover.
Nutritional Content
(Data is for 1 pizza)
Calories: 297
Total Fat: 4 gm
Saturated Fats: 2 gm
Trans Fats: 0 gm
Cholesterol: 10 gm
Sodium: 1064 mg – This will vary depending on the ingredients you use.
Carbohydrates: 45 gm
Dietary fiber: 6 gm
Sugars: 6 gm
Protein: 21 gm
Estimated Glycemic Load: 24
Please Note: Nutritional Information estimated at Nutritiondata.com. Data may not be accurate and is subject to the availability of specific foods in their database. Where one ingredient is not listed, substitutions must be used. Therefore, you should not refer to this data as being exact. It's more of a ballpark figure. The Gracious Pantry does not take responsibility for the inadequacies of the nutrition calculator used. This data is provided as a courtesy and general reference only. It is not exact.