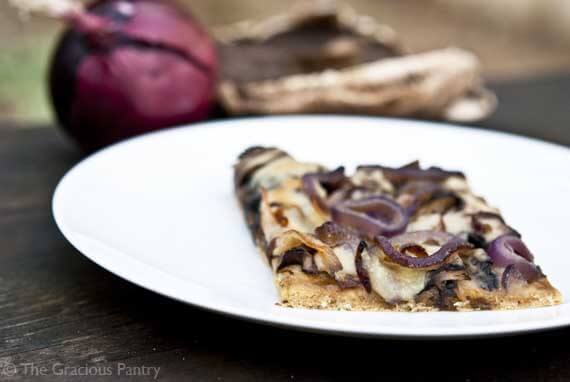 I have to tell you, I'm going out on a limb here calling this pizza.
But that's what this started out as. That's what I intended this to be.
What I actually ended up with was something just between a pizza and a fancy focaccia bread. But I'm still calling it pizza.
You see, the main difference here is that I didn't use any sauce. None at all.
Now I realize this is pure sacrilege for most pizza purists. But I have to tell you that I really feel that any sauce I used would have somehow detracted from the wonderful flavors of the caramelized onions. It really is that enjoyable without the sauce.
So before you get upset with me for turning the world upside down by forgoing the sauce, please try it first. I promise you'll survive the experience, and I'd be willing to be you'll even enjoy it.
YOU MIGHT ALSO ENJOY:

Portobello Mushroom Pizza with Caramelized Onions
(Makes approximately 20 servings)
NOTES: For my pizza, I used approximately 1/2 pound mushrooms and 2 medium red onions. But you can never have enough, and I wish I had used more.
Ingredients:
1 batch clean eating pizza dough
3 tablespoons olive oil (approximately)
Red onions, sliced – as many as you like
Portobello mushrooms, sliced – as many as you like
Onion powder
Garlic powder
Parmesan cheese
Directions:
Start your dough according to directions. While it is rising, continue with preparing the onions.
Caramelize your onions in 2 of the 3 tablespoons of oil. Save that last table spoon for later. Once the onions are caramelized, set them aside. It's okay if they get cold.
Roll your dough out thin onto a lightly oiled cookie sheet. It should be rolled to about 1/4 inch thick, give or take a little.
Brush the top of the dough with that last tablespoon of oil, and then sprinkle the garlic and onion powder over that.
Cover the dough with mushrooms.
Spread the onions evenly over the mushrooms.
Sprinkle the parmesan cheese over the pizza.
Bake at 350 degrees F. for 25-30 minutes or until the mushrooms are completely cooked.
Allow to cool and serve.