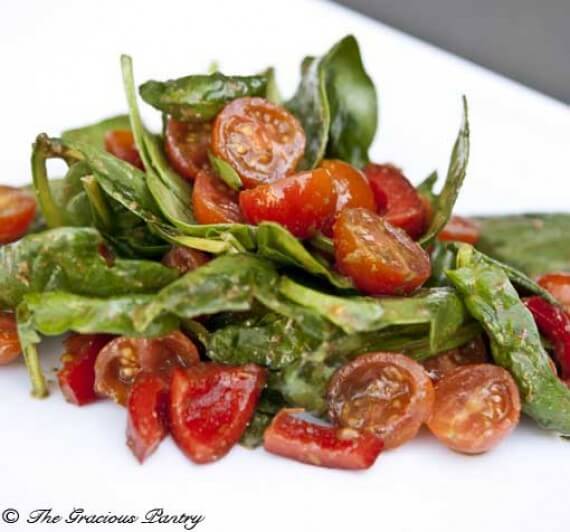 Recently, this salad reminded me of the story, "The Little Engine That Could".
In the book, the first engine trying to get over the mountain is bringing many things to the boys and girls on the other side, including… spinach. For some reason, this has always stuck out to me in this story. I'm not exactly sure why, except that now, thanks to Mini Chef, I have a bit more to add to the story.
In the story, the first engine that the dolls and toys come across is rather arrogant and refuses to take them across the mountain because he thinks he's too good for towing a small engine.
In the picture illustrated for that particular part of the story, it shows the toys, particularly the dolls, being very upset because he won't tow them over the mountain.
I finished reading this part of the story to Mini Chef, and just before I turned the page, he pointed to one of the dolls and said:
….and then SHE said, "He has ISSUES!"
To say I nearly dropped the book is a complete understatement. In fact, that comment warranted a phone call to grandma to tell her what he had said. Both of us sat on the phone line cackling for a good 10 minutes.
So now, instead of this salad reminding me of the story, the story reminds me of a train with "issues".
Ahhh, the joys of motherhood…
YOU MIGHT ALSO ENJOY:

Clean Eating Spinach Salad with Pesto Dressing
(Makes 2 servings)
Salad Ingredients:
2 cups raw spinach, tightly packed
1 cup cherry tomatoes, halved
1 medium red bell pepper
Directions:
Prepare salad by combining the spinach, tomatoes and bell pepper in a medium mixing bowl.
Whisk together all the dressing ingredients in a small mixing bowl and pour over salad.
Dressing recipe can easily be doubled or tripled if desired. Note that nutrition data will vary based on pesto used.