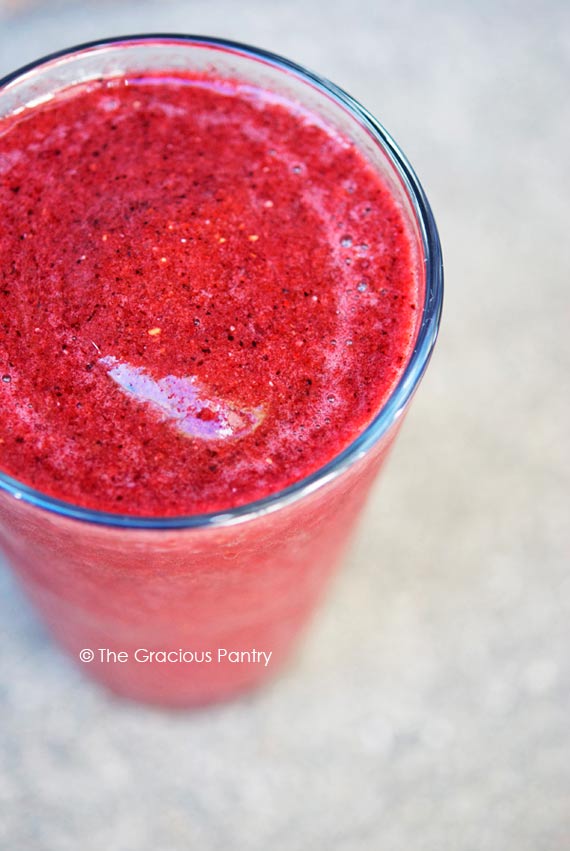 Some smoothies I do specifically to get some good nutrition into my day. Others, I do just to enjoy something refreshing. This definitely falls into the later category except that it's still packed with good nutrition!
I had some frozen Triple Berry Blend from Costco left over and a big ol' watermelon that needed eating in the fridge. So I got creative. I have to say that for a recipe of leftovers, this was pretty darn good. Perfect for a hot summer day!
It was completely refreshing and I felt pretty good about sharing it with Mini Chef as well. I love it when kids love food and have absolutely no idea how good it is for them. You know it's good when they take one sip and smile from ear to ear!
YOU MIGHT ALSO ENJOY:

Clean Eating Triple Berry Watermelon Smoothie
(Makes approximately 5 cups)
Ingredients:
2 cups triple berry blend, frozen (or any combination of frozen berries)
2 cups apple juice, no sugar added
1 cup fresh watermelon
1 tablespoon lemon juice (optional)
Directions:
Blend all ingredients in a blender until smooth and serve.