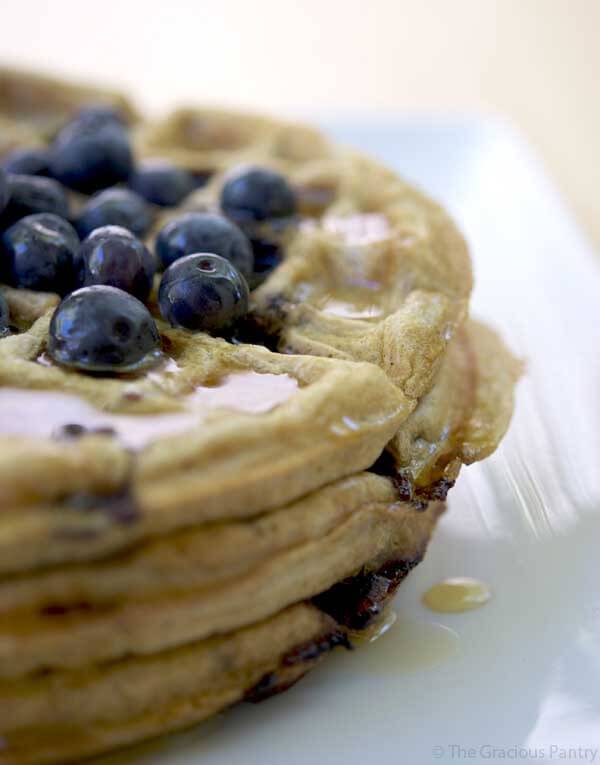 Fresh blueberries are a marvelous way to get some very concentrated, superfood nutrition into your eating plan. I add them to many recipes in the summer.
Now that I'm in my new apartment, I just had to keep our Saturday morning "waffle or pancake" tradition going. I mean, why would anybody want to leave behind a tradition like that???? That's just crazy talk.
So I got to work and made these and I must say that our first Saturday morning waffles in our new home, were just downright marvelous.
Mini Chef enjoyed them with peanut butter and maple syrup on them and I had them with just a a few fresh blueberries on top and a touch of honey. A positively wonderful way to start our first weekend in our new town.
YOU MIGHT ALSO ENJOY:

Clean Eating Lemony Blueberry Waffles
(Makes 8 waffles – belgian size)
Ingredients:
3 cups white, whole wheat flour
4 cups unsweetened almond milk
3 eggs
2 cups fresh blueberries
2 teaspoons baking powder
2 teaspoons vanilla extract
1 teaspoon pure almond extract
Zest of 1 lemon
Directions:
Blend all ingredients together in a large mixing bowl and mix until there are no clumps of flour.
Cook as you normally would on a waffle maker (mine is the Belgian waffle type)
Note: Due to the fresh blueberries, this does tend to stick a bit to the waffle maker. If you don't want to mess with that, just make pancakes instead. Also, these will take a little longer to cook due to the extra moisture in the blueberries. But I promise they are worth the wait!