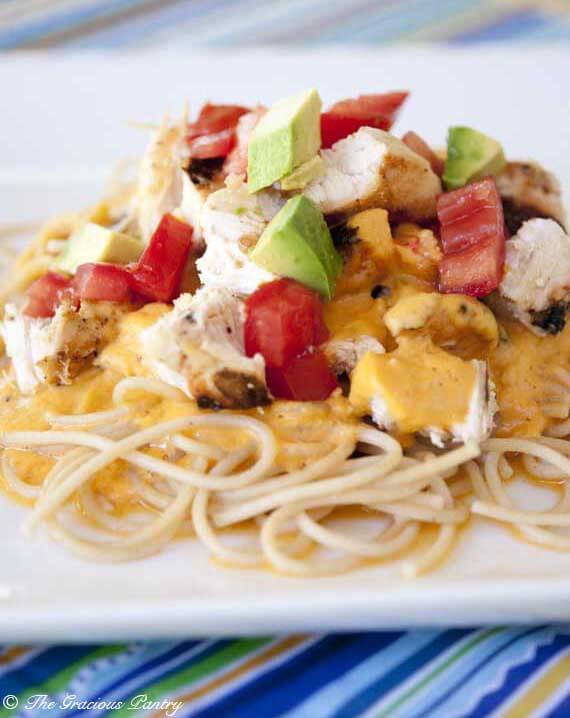 I really wanted to try something unique for dinner the other night, so I checked my list of recipe requests and this one really jumped out at me.
It's a tiny bit time consuming (about an hour), but it's fairly simple to make and completely delicious. The only thing to remember is to keep the sauce warm (not hot) and pour it on just prior to serving. It cools and thickened pretty quickly. But outside of that, this was so yummy!
YOU MIGHT ALSO ENJOY:

Clean Eating Chicken Tex Mex Alfredo Pasta
(Makes 8 servings)
Ingredients:
1/2 pound cooked whole wheat pasta
3 cooked, large, boneless, skinless chicken breasts, shredded or cubed
Sauce Ingredients:
1 (16 ounce) container plain, low-fat cottage cheese
1/2 cup salsa, no sugar added
1 dash cumin (optional)
1 dash chili powder (optional)
Topping Suggestions:
Chopped, fresh tomatoes
Chunks of avocado
Fresh cilantro
Olives
Shredded cheddar cheese
Directions:
In a double boiler, liquify the cottage cheese. With some brand, this may not happen completely. You'll still have chunks of cottage cheese left. But that's okay. You'll be blending it anyway.
Put the warm cottage cheese and the rest of the sauce ingredients in a blender and blend until smooth. If you feel the sauce is too thick, feel free to add a splash or two of milk until you reach your desired constancy.
In a large mixing bowl, combine your pasta, chicken and any toppings you'd like to add. Mix well.
Put your pasta mix on a plate and pour some sauce over the top to serve. Serve quickly as the sauce cools off fast.
NOTE: If using avocados, you may want to top the sauce with the avocado as mixing it in can make it rather mushy.