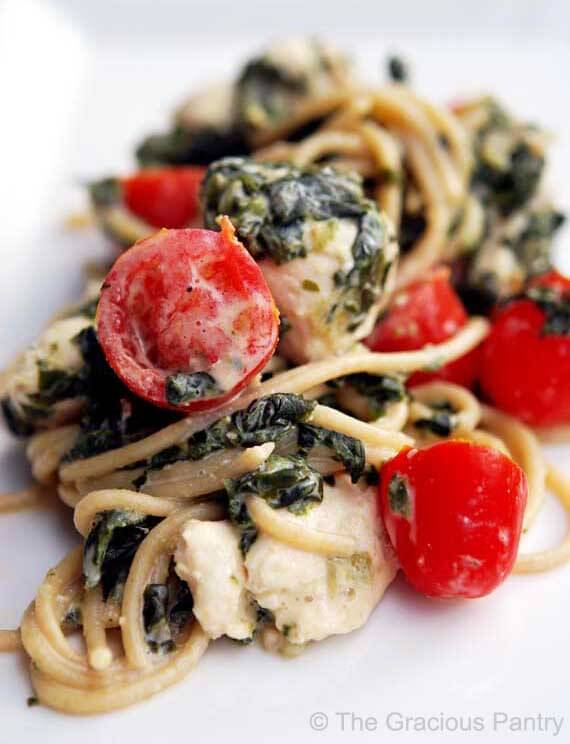 Ya, this one is goooood.
My friend brought me a plate of something the other day and asked if I could make a "healthy" version. She got it at the cafeteria where she works.
I never even got to try it. I just looked at what was in it, took a sniff, and got to work.
I still don't know if I came close or not, but she sure did love my version. I did too. I'll make this one again and again. Seriously yummy!
I should mention here that I love strong flavors. So the peanut sauce is heave on flavor. If you prefer a milder flavor, add an extra 1/4 cup of milk to the sauce and go light when pouring it on. You should taste the sauce before stirring it into the pasta.
YOU MIGHT ALSO ENJOY:
Clean Eating Chicken Broccoli Fettuccine
Clean Eating Peanut Tahini Pasta
(Makes 16 servings)
Ingredients:
8 ounces whole wheat spaghetti noodles
16 ounces frozen spinach
4 raw chicken breasts (about 7 ounces each)
1/2 cup chicken broth
8 ounces cherry tomatoes, cut in half
1 teaspoon olive oil
1/2 cup peanut butter
8 ounces tahini
1 cup milk (approximately)
Directions:
Cook noodles and spinach in the same pot.
Cut up chicken and cook in a pan using olive oil and chicken broth.
In a medium mixing bowl, whisk together the peanut butter, tahini and milk, adjusting milk to get a nice, creamy and smooth consistency.
After draining the noodles and spinach, transfer to the mixing bowl and stir until the noodles are well coated with sauce.
Lastly, stir in the tomatoes and serve.
Nutritional Content:
(Data is for 1 cup)
Calories: 237
Total Fat: 14 gm
Saturated Fats: 2 gm
Trans Fats: 0 gm
Cholesterol: 12 mg
Sodium: 105 mg
Carbohydrates: 18 gm
Dietary fiber: 4 gm
Sugars: 2 gm
Protein: 14 gm
Estimated Glycemic Load: 7
Please Note: Nutritional information estimated at Nutritiondata.com. Data may not be accurate and is subject to the availability of specific foods in their database. Where one ingredient is not listed, substitutions must be used. Therefore, you should not refer to this data as being exact. It's more of a ballpark figure. The Gracious Pantry does not take responsibility for the inadequacies of the nutrition calculator used. This data is provided as a courtesy and general reference only. It is not exact.