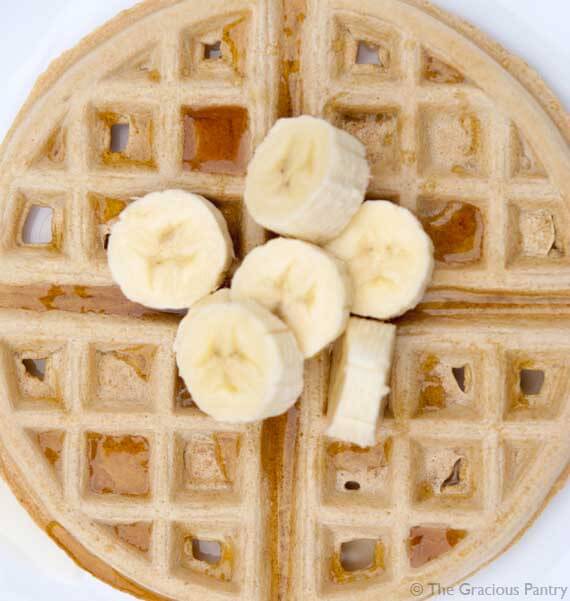 I never had a Belgian waffle before this. Call me crazy, but I just never understood the difference between a regular waffle and a Belgian waffle. And frankly, I never wanted to pay extra for something that was essentially the same.
Well, I'm here to tell you that I am not only humbled by the difference now that I've had one, but over-the-top crazy about them! I may never make the regular kind again!
These come out much lighter and crispier. Perfect for just about any topping you want to add.
I had to play tug-of-war with Mini Chef just to get one last bite before he finished scarfing the majority of them down. Growing boys sure can eat!

Clean Eating Belgian Waffles
(Makes 6 waffles)
Ingredients:
1 cup (140 g) whole wheat pastry flour
2 teaspoon baking powder
1 teaspoon vanilla extract
1 teaspoon almond extract
3 egg whites
1-1/2 cups (355 ml) unsweetened almond milk
1 teaspoon active dry yeast
Directions:
Warm the milk in a pot until it reaches between 105-115 degrees F. This happens pretty quickly, so keep an eye on it.
Add the yeast to the milk and allow to stand until it has a small amount of foam on top. It won't foam a lot because there is no sugar to feed the yeast. But there will be a small, thin layer as the yeast dissolves.
Combine everything together in a medium mixing bowl and whisk until you have no lumps left.
Let the batter rest for about 20 minutes. (I used this time to start heating the waffle iron and slicing fruit for toppings, setting the table, etc…)
When your batter has rested and your waffle iron is hot, pour the batter in and cook as usual. The waffles are done when they are crispy.
Top with fruit or whatever toppings you prefer and enjoy!