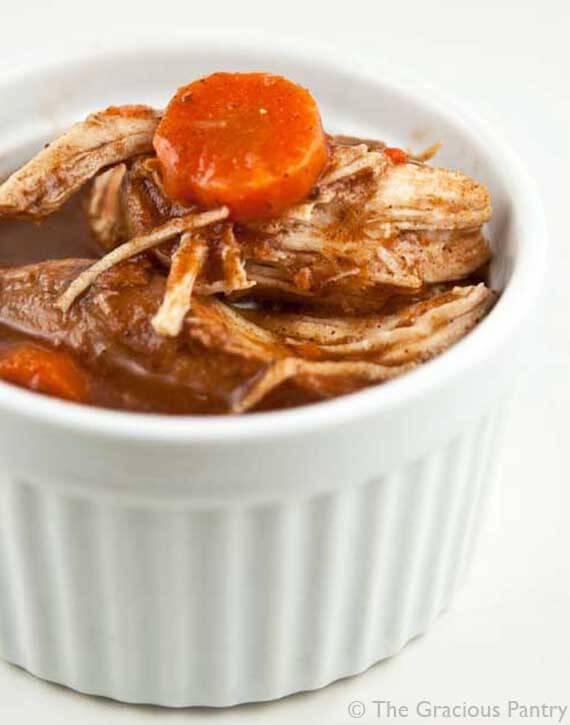 I know, I know. The thought of cinnamon and chicken didn't sound very appetizing to me either at first.
But man am I glad I tried it! In fact, I only got a small bowl of it because everyone around here scarfed it down so fast. You'll have to trust me on this. It's good!
And I should also mention that it is "Mini Chef Approved" which is saying something around here! It was simple to put together with easy-to-find ingredients and made enough for leftovers the next day. I enjoyed the last of it for lunch and can't wait to make it again. Give it a try!

Clean Eating Slow Cooker Cinnamon Chicken
Author:
Tiffany McCauley | The Gracious Pantry.com
Yield:
Approximately 20 servings
Ingredients
5 raw, skinless, boneless chicken breasts (approximately 2 pounds)
1 tablespoon ground cinnamon
¼ teaspoon ground cloves
¼ teaspoon ground cardamom
1 (15 ounce) can light coconut milk
1 (15 ounce) can tomato sauce
6 medium carrots, peeled and sliced thin
Instructions
Place the sliced carrots in the bottom of the slow cooker's ceramic insert.
Place your raw chicken on top of that.
Put everything else on top and turn on the pot.
Cook on low for 4-6 hours, or until the chicken easily falls apart when poked at with a fork. (Internal temperature should be a minimum of 165 degrees F.)