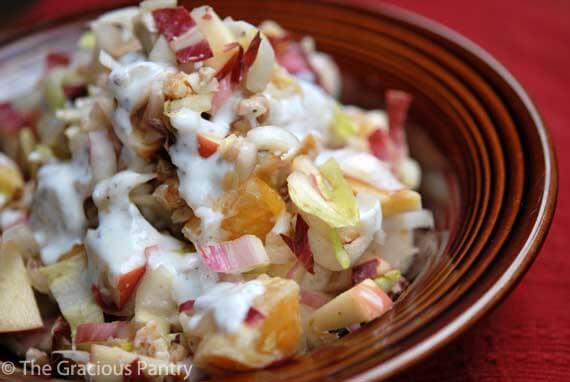 I clearly recall the first time I ate this salad. I had never heard of endive before, much less eaten it. If you had put an endive in front of me, I would have told you it was a baby lettuce heart (or something of that nature. I was only 18 at the time).
But I distinctly recall taking my first bite, and being absolutely consumed by the explosion of flavor in my mouth. I had never had anything so varied in its flavorful experience.
Try this salad and tell me if you don't agree. It's a power house of flavor from the first bite to the last. So delicious! It's naturally sweet and sour, and is a fabulous reminder of how light and flavorful autumn and winter produce can be.
YOU MIGHT ALSO ENJOY:

Clean Eating Endive Salad
(Makes 7-8 cups of salad / Makes 1 cup of dressing)
Ingredients:

2 packages endive (3 pc per pack)
1 apple
1 orange
1 cup chopped walnuts
1 cup non-fat plain yogurt
1 teaspoon herb salt
1 teaspoon marjoram
1 teaspoon honey
Directions:

Gather your endive, cut off and discard the bottom ends, cut in half, then chop. Place in a large mixing bowl.
Chop your apples and oranges into small, bit size pieces, and add to the bowl containing the chopped endive.
Chop walnuts into small bits, and add to the bowl.
Place yogurt in a small mixing bowl, add honey, salt and marjoram. Mix well.
Toss your salad and serve with dressing.
Nutritional Content:
1 serving = 1 cup salad with dressing
Calories: 236
Total Fat: 12 gm
Saturated Fats: 1 gm
Trans Fats: 0 gm
Cholesterol: 1 gm
Sodium: 289 mg
Carbohydrates: 28 gm
Dietary fiber: 16 gm
Sugars: 11 gm
Protein: 10 gm
PLEASE NOTE: Nutritional Information estimated at Nutritiondata.com. Data may not be accurate and is subject to the availability of specific foods in their database. Where one ingredient is not listed, substitutions must be used. Therefore, you should not refer to this data as being exact. It's more of a ballpark figure. The Gracious Pantry does not take responsibility for the inadequacies of the nutrition calculator used. This data is provided as a courtesy and general reference only. It is not exact.