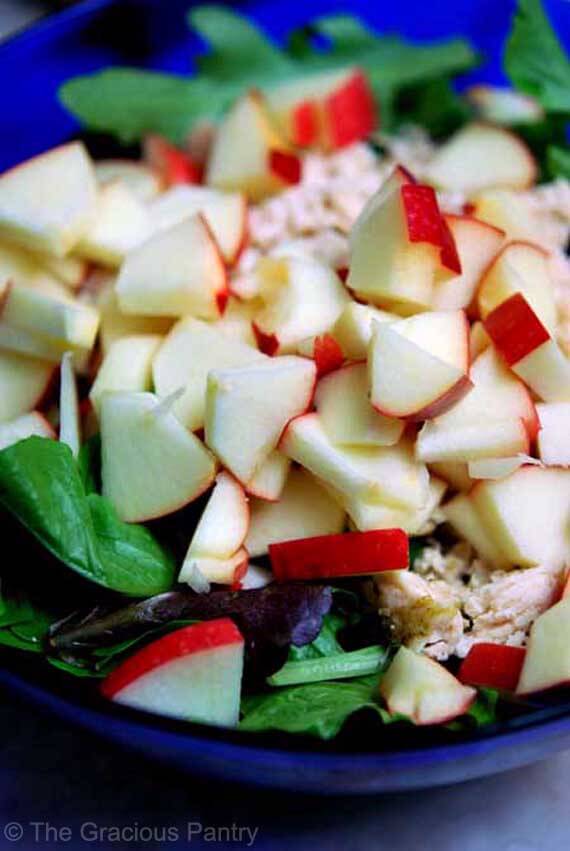 There are few things I enjoy more than a fabulous salad. And it's been my experience that the simpler you keep things, the better the salad tastes.
Maybe that's just me. I'm not much of an "exotic ingredient" kinda girl. I like to have a good and basic understanding of what I'm eating. If I've never heard of something (even if it falls into the clean category), I'm far less likely to try it. I know this is not very adventuresome of me and I'm sure there is a whole world of fabulous food out there that I'm missing.
Thankfully, this salad falls into the "simple foods I know" category, and it's nothing short of amazing. I absolutely adore this salad and eat it every chance I get.
YOU MIGHT ALSO ENJOY:

Clean Eating Chicken Apple Salad
(Makes 1 salad)
Ingredients:
1 chicken breast, baked with whatever herbs you like best
2 cups lettuce (I prefer spring mix)
1 small apple
2 tablespoons vinaigrette (you'll find the recipe here)
Directions:
Dice or shred your chicken breast.
Dice your apple.
Toss all ingredients in a large salad bowl.