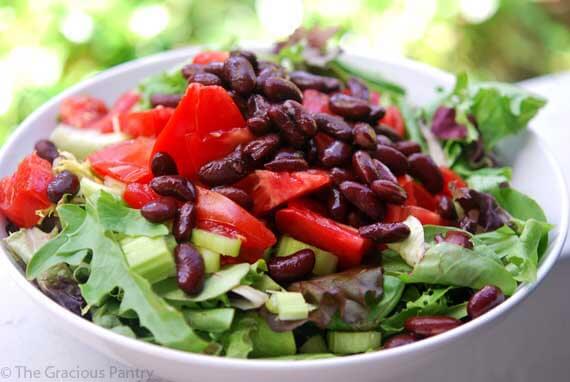 When you first start to eat clean, it's easy to rely on salads because you know they are healthy.
The problem I run into now that I am publishing this blog is that I often forget that salads are a great way to go. I get so wrapped up in creating new meals, that I tend to forget about the simple ones that don't need as much creative imagination. So I thought I would share with you a salad that I made the other day.
I've really been craving lettuce for some reason over the past week, so I just went with it and dove into a huge bowl of it. I mean, there could be worse things to be craving and indulging in, right?
Add a little chicken or tuna to this and you've got a full meal!
YOU MIGHT ALSO ENJOY:

Clean Eating Garden Salad
(Makes 1 serving)
Directions:
Combine all ingredients in a bowl.
Nutritional Content: – Does not include dressing.
(Data is for entire recipe)
Calories: 151
Total Fat: 8 gm
Saturated Fats: 1 gm
Trans Fats: 0 gm
Cholesterol: 0 gm
Sodium: 414 mg – (Depends on the beans you use.)
Carbohydrates: 30 gm
Dietary fiber: 10 gm
Sugars: 7 gm
Protein: 9 gm
Please Note: Nutritional information estimated at Nutritiondata.com. Data may not be accurate and is subject to the availability of specific foods in their database. Where one ingredient is not listed, substitutions must be used. Therefore, you should not refer to this data as being exact. It's more of a ballpark figure. The Gracious Pantry does not take responsibility for the inadequacies of the nutrition calculator used. This data is provided as a courtesy and general reference only. It is not exact.