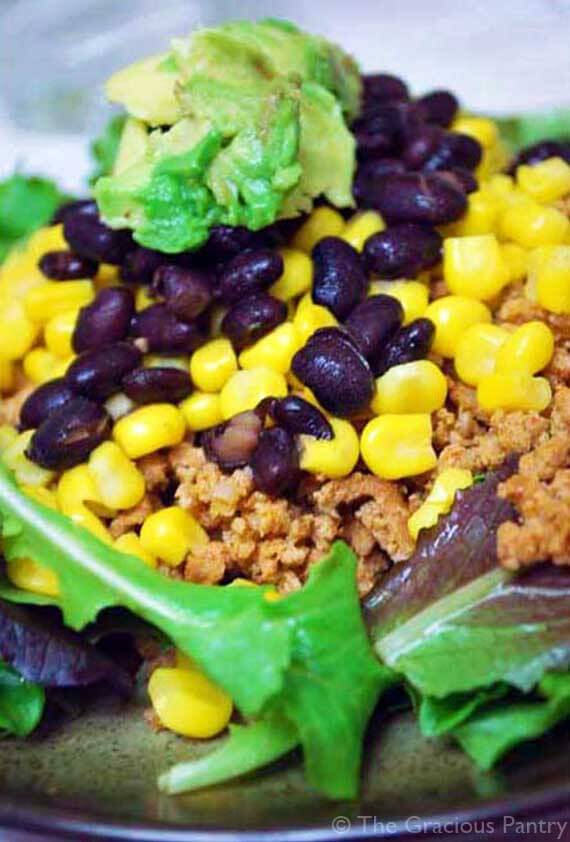 I've recently returned to work after being a stay at home mom for nearly two years. What a culture shock! I'm working as a clerk in a hospital, and there is TONS of new stuff to learn. So needless to say, I've been pretty wiped out when I get home at night (The first week is always the hardest!).
So my honey has pitched in with trying to make dinner for us, and I have to say, he's doing a FABULOUS job! I might make a cook out of him yet!
Tonight he made us this lovely taco salad, and I almost over ate because it was so delish! I was able to stop myself before I ate too much, but boy am I looking forward to lunch tomorrow!
YOU MIGHT ALSO ENJOY:

Clean Eating Taco Salad
Ingredients:
1 1/2 pounds learn ground turkey meat
2 teaspoons garlic powder
2 teaspoons chili powder
2 teaspoons paprika
Salt and pepper to taste
Avocado – sliced or mashed (Try my clean eating guacamole)
Corn – no sugar added
Lettuce
Black beans – no sugar added
Salsa
Tomatoes
Onions
Olives
Low fat shredded cheese
Fresh cilantro
Directions:
Prepare your meat in a non stick pan using either chicken broth or 1/2 teaspoon olive oil to cook it. Add all meat mixture ingredients to the pan and cook until the meat is done.
Prepare all other ingredients.
Layer all the ingredients in a large baking dish or directly on your plate and serve.
Please Note: Nutritional information not available for this recipe and will depend on toppings used.