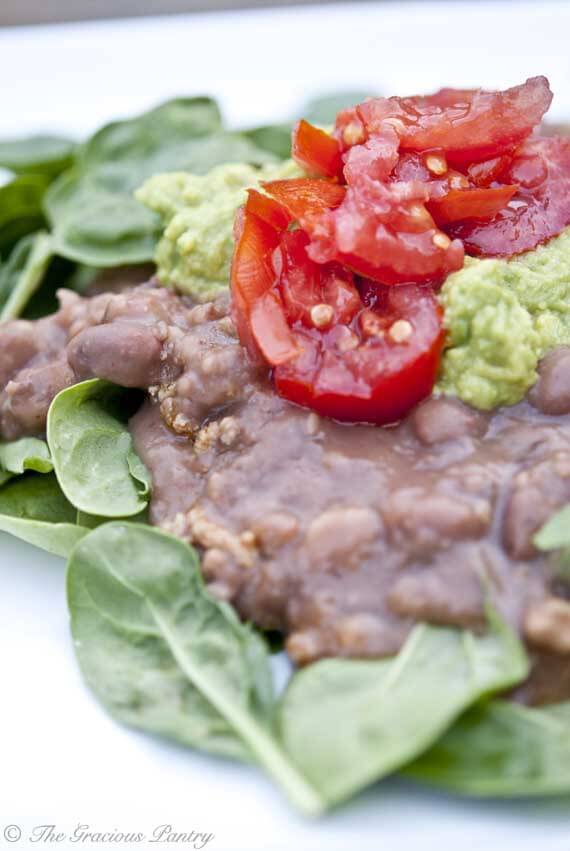 I love taco salad. It's one of those dishes you can make any time and you know everybody will love it. No complaints, no wishing for something else. Everyone likes it. Period.
But over time, the way I make it has changed. It's just one of those evolving recipes that gets better every time I make it. And by now, it's evolved so much from the first time I posted my recipe, that it's pretty much an entirely different recipe all together. So I thought I would post this newer version for you as well. I mean really, you can never have too many recipes for taco salad.
YOU MIGHT ALSO ENJOY:

Clean Eating Taco Salad
(Makes about 12 servings)
Ingredients:
1 1/2 pound lean, ground turkey
1 tablespoon garlic powder
1 tablespoon onion powder
1 tablespoon cumin
1 tablespoon chili powder
1 tablespoon olive oil
2 (15 ounce) cans non-fat refried beans (Trader Joe's has a great one!)
Tomatoes, chopped
Spinach
Olives
Salsa
Clean corn chips (Trader Joe's has them) or make your own
Directions:
In a large skillet, cook the turkey with the spices in the olive oil.
In a medium pot, warm the beans. You may have to add some water to get them more "fluid". They should be thick, yet still pourable.
Spread the turkey in a 9×13 baking dish and layer the beans on top.
Put some spinach on your plate, put a serving of meat and beans on top of that, and then layer with any other toppings you'd like to add. Serve with corn chips.